There are several resources available that can help you prepare and manage your business during the COVID-19 pandemic. In addition, we are gathering resources to assist businesses with their plans to re-open. Below you will also find links to other COVID-19 portals for your reference. The information on this page will be updated as new information becomes available.
Daily Screening Tool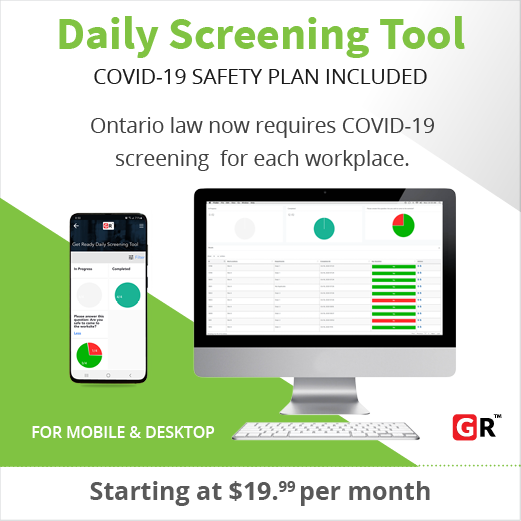 We have partnered with Get Ready, a CBRN and Chamber Member, to deliver this tool so local businesses can meet compliance and be better prepared to work with Public Health should a worker get sick or exposure occurs in the workplace.
The Get Ready Daily Screening Tool™ is available starting at $19.99 per month. There are no additional fees for screening and tracking essential visitors, customers, or contractors.
This tool gives staff the ability to fill out the tool on their mobile device or desktop. Managers have access to the dashboard to review staff and visitor screening results.
The Ontario Government requires that all workplaces must implement Daily Screening for any workers or essential visitors entering the work environment.
Please click on https://getreadyglobal.com/shop/?ref=40 to be taken to the Get Ready shopping cart to make the purchase. Enter COUPON CODE 4BQZN8GQ to receive a 10% discount. 
**Please note this program and the coupon code are available both to Chamber Members and Non-Members**
YOUR BUSINESS
PERSONAL PROTECTIVE EQUIPMENT (PPE)
MANAGING YOUR BUSINESS THROUGH the PANDEMIC
OTHER COVID-19 PORTALS