Female Founder (June): Shelby Plaskett
On the first Tuesday of every month, we'll announce a new Female Founder, including a video interview of them sharing their business story. Want to be featured as a Female Founder? Contact Heather Hutchings for more details.The Female Founders Program would not be possible without our Title Sponsor, Scotiabank.
To learn a little more about the Scotiabank Women Initiative, and why they've chosen to sponsor this program, see the video below.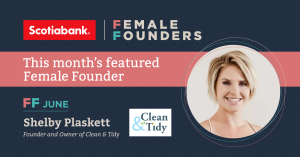 The next Female Founder we're featuring is Shelby Plaskett, Founder and Owner of Clean & Tidy.
Shelby Plaskett has always been passionate about cleaning and organization, even from a young age. She saw how much her friends and family appreciated her help and realized how much she loved helping others. Throughout school, she was repeatedly told that she wouldn't go far or succeed. This hardened her resolve to prove everyone wrong. She wanted to make sure no one could tell her what she couldn't do.
In 2013, Shelby founded Clean & Tidy with the goal of making a difference in people's lives: for clients, by giving them back the time to focus on what matters most to them; and for Clean & Tidy staff, by creating a positive workplace where they can feel valued, supported, and appreciated. Choosing to use all-natural cleaning products was the clear choice to prioritize the health of clients, their families, and staff.
Within one month of starting Clean & Tidy, Shelby was already hiring her first team member; after one year in business, she had grown that to a team of 10. Within three years, Shelby had to step away from cleaning in order to focus on running the company, allowing her to hire more team members and help more clients. Ten years in, Clean & Tidy has a team of 40 staff and over 600 clients a month stretching across Waterloo Region.
To learn more about Shelby and her journey as a Female Founder, watch the interview below (or read the written format).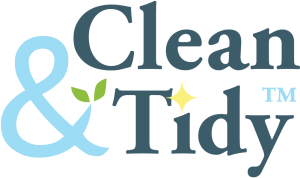 Tell us a little bit about your business.
Clean & Tidy started in October 2013. I started the company soon after going to school for public relations. Little did I know that Clean & Tidy, 10 years later, almost would grow to a team of 40 staff members and between 600-700 clients a month.
Where did your business idea come from?
Clean & Tidy originated from a good friend at the time. I graduated in public relations at Conestoga College, I worked in PR for about a year and quickly discovered it wasn't the career choice for me. I was then encouraged to try opening a cleaning company. Being used by family and friends oftentimes in my life, it was destined that I would do what I do today, little did I know that at the time, as well as my sister's encouragement by having me clean her room on a regular basis.
When I started Clean & Tidy, I had no idea it would be where it is today, but I am so happy it is.
What did you do before starting your business?
Before I started Clean & Tidy, I was working for a financial company in public relations and I enjoyed some of the work, but I didn't absolutely love it. I wasn't passionate about what I was doing and I'm a big believer that you have to be passionate about your work.
What have been some of the highlights in your journey as an entrepreneur?
Clean & Tidy consists of so many fun times, so many fun memories. There are so many things I've learned through owning a company.
Never in my life did I think I was going to own a company. Something that I was often told growing up was that I wouldn't amount to anything. So, when I was in kindergarten, all the way up until high school, teachers had a very difficult time with me because I was a slower learner and that was hard on me.
I had to do a lot of pushing in myself in order to graduate and come as far as I have. The highlights for me are very easy: I succeeded. I pushed myself to a point I didn't think was possible and no one around me thought was possible. So, the biggest highlight is that Clean & Tidy has become the success that it is. I've learned so much in doing that. I found strength in myself that I didn't know was there. And I learned that it takes a lot of self-encouragement to push yourself a little bit more to get where you want to be.
The other highlight of owning the company is meeting some amazing individuals, between clients and staff. I have the opportunity to hire some incredible human beings who, as well, were told much of their life that they wouldn't go far or have struggled themselves, and to be able to help them and encourage them in any way I can, that's the biggest gift of all.
What have been some of the challenges you or your business have faced?
Owning a company, I feel, comes with so many challenges, especially since I had no background in owning a company to begin with. Starting it and knowing where to start and how to do it – that was my biggest struggle. Again, it took a lot of self-motivation. Luckily for me, I have an incredible family who was right there alongside me, encouraging me and pushing me to keep going.
The other challenge is just learning through your mistakes. And, man, are there mistakes you make when owning a company at the beginning. Whether it be undercharging clients, which I learned the hard way, or trying to figure out the process and how to do things, how to get your name out there, how to become known or how to handle concerns or how to handle questions or when is big enough or when is too small or what's your goals, what're your dreams… I feel there are challenges every day, and those challenges become easier to face as you become more knowledgeable owning the company. They definitely don't go away, but you become stronger and you become wiser, and you become more confident in yourself and your abilities.
From a young age, I was always a slower learner. My parents were told when I was in kindergarten that I would not amount to anything, I would not go to college, and I would not have a successful career. I was just a slower learner. It just wasn't in the cards for me. And my mom never looked at that as a way to give up on me, she looked at that as a way to encourage me to keep going. It doesn't matter what people say. My mom's been my biggest supporter.
With that, I grew up and never knew in elementary school that teachers were saying this. I didn't discover this until grade five. In grade five, one of my teachers, when I was sick, put one of my work pieces on the overhead and it was full of red ink and making fun of my work and saying how horribly done it was. My name was on this piece of work. And instead of looking at this as an opportunity for failure, I looked at this as an opportunity to prove them wrong. I took that and I ran with it.
And when grade six rolled around, I still struggled and grade seven and grade eight to the point I was removed from French class because I wasn't able to learn a second language, to me being pulled out during tests and exams to write them in a different room with extra help. I didn't use those as ways that I failed or I'm not doing my job correctly or I'm not smart enough, I use them as "this is going to help me grow, this is going to help me be better". When high school rolled around, I pushed myself so much to do whatever I could. It was my inspiration to myself to do this. I have to be better. I have to prove to myself that I can do this. And I wanted to prove everyone who doubted me wrong.
So, use your bullies as what motivates you. Use your bullies as what pushes you to show them you're better than that and they are not going to get the last laugh. You are.
Knowing what you know now, is there anything that you would do differently?
I don't believe in looking back in terms of changing how I did things. For me, the journey is what makes it fun.
Going through everything I had with Clean & Tidy… I also went through a divorce when I started owning Clean & Tidy and even though I was terrified of what that would lead to and how the company would survive after that, I feel that that was part of the journey and Clean & Tidy wouldn't be where it is if I didn't go through all the steps and all the hurdles and mountains and whatever else you want to call them. And I believe that everything happens for a reason. I've learned so much about myself and so much about this company. So, I'm a huge believer in looking forward and looking at your past as a way of growing.
What are some of the methods you use to grow your business?
Luckily for us, we have been word-of-mouth from day one, which has been a huge help. We make sure that our name is known as someone they can trust. Our communication is key in this company. We are very quick when it comes to communication. Our clients can always call or email us anytime.
Phones are answered during business hours, but emails are answered any day, anytime. I treat my company the way I would want to be treated as a customer and for that reason it is why our communication is key. It is also why word-of-mouth is so important to me because I know how quickly that travels. If I can communicate to our clients quickly and easily, then I know that they're going to trust me more and they're going to put my name out there more. Luckily for us, we haven't had to advertise, but there are many companies that have to and that's okay. For us, it's just all about communication and having our clients trust us.
How do you define success?
Success is what you make it. And I know that's such a cliche, we hear that so many times, but you have to look at yourself and, if you have goals in mind, or you want to be somewhere, success is: are you able to push yourself and encourage yourself enough to reach those goals? Maybe those goals slightly change as you get closer to them. Maybe they're not so much what you want any more, but success is how you feel inside. If you feel good and you're happy, that is a success. There is no such thing as failure. There is no such thing as "you did a poor job". There's a such thing as learning and growing.
What are some of the core values you've integrated into your business?
Communication is key for me, as well as making sure our staff are always feeling valued, supported, and cared about. This is huge. I am a big people person, and I also come from a background of being told: "I can't". So for me, having my staff know that they can do anything so long as they put their mind to it and they know they have the support behind them. These are so big for me, these are huge values in our company and something that I stand behind.
Communication, respecting our team, and also respecting our clients. You have to understand that people have feelings and you need to remember how would you feel when you read that email, how would you feel when you deal with that phone call, or how would you feel with anything. And I treat my service the exact same way. I want my clients to walk in and look around and be wowed. Just wowed by the work that was completed, wowed by the team, the way that they present themselves, and how they feel.
I also want to make sure that when our clients come home, they don't have to lift a finger. These are my core values, is making sure that our clients are happy, and my team is happy, and that's all that really matters. At the end of the day, a happy team will always do you right.
What are some strategies you've used when building your team?
I feel that interviewing has changed from day one. What used to be a coffee shop interview has quickly grown to a phone interview, especially with COVID, and I've changed the questions. I had grown up in management, in retail, for many, many years. And sure, I was used to interviewing, but I wasn't used to interviewing for my own company. And I feel it's different when it's your own, as opposed to working for someone and you have set questions that you were given by the head office.
I had to tailor my questions as I understood Clean & Tidy. I tailored them to fit what was needed for the company. I had to see what needed to change, what worked, what didn't work, and learn from every hire – learn what worked with that hire, learn what didn't work with that hire. And I felt the interview questions changed throughout the process of that. I learned what my staff needed, what was important to them, and what I needed to do to make that a reality for them.
A typical question that we ask is, "Why do you love cleaning?" A typical answer is, "I have OCD". I love it. The problem is someone can say they love cleaning, and someone can say they have OCD until they come in, and then they realize the detailed part of it. So, it isn't necessarily always accurate, but it's interesting to see how their standard of clean is compared to our standard of clean.
The other question that we always ask is, "What are your strengths?" People have a hard time thinking of themselves and what they feel is a strength to them, especially if they've been told in the past something negative about themselves. You want to try to turn it on them to make sure that they're thinking of themselves. And I'll even give examples to them: "Hey, are you a good communicator? Do you feel like your time management is good? Do you have an understanding of time management?".
You have to tailor those interview questions based on the person as well. So, another thing for us is we are pet friendly, we love our animals. We are partners at the Humane Society here in KW, and it's important to us that our staff is loving their pets because we are around many, many pets and they are our babies, and we want to treat them like family.
That's always a favourite of mine because then I get to hear about their pets. Oftentimes they'll say, "I have a dog" or "I have a cat" or "I have both" and we end up going on a rant about dogs and cats and breeds and all the fun stuff. It's always a fun question because it allows them to feel more comfortable and get out of their shell and warm up during the interview process.
How do you define a good leader?
Someone who believes in their team, someone who inspires their team, and someone who believes that your team deserves the best. For me, what is the best? It is not only just treating them right, but also understanding what's important. And at the end of the day, it's paying your bills as well. I am a living wage employer. That was always top of mind whenever I hired anyone. I made sure that I did my homework. I had my staff actually come up with budgets for me – they have to be completely honest – but I had someone come up with a budget for a single household, I had someone come up with a budget for a single parent, and I had someone come up with a budget for a dual-income household. Those numbers allowed me to figure out a wage that made sense that each of those individuals could live off of.
They could pay their bills, they could have extra to go and have fun, and they can come to work and enjoy where they work and not feel like this is an in-between job until something better comes up. You have to treat your staff right. And that's not just about communicating, that's not just about believing them, that's providing what's needed as well. And they have to pay their bills. They have to survive.
The other thing for me: is what else costs money? Benefits. And I want my staff to be able to go to the dentist when they need to. I want them to be able to pick up medical supplies if they need to. So, benefits were a big deal to me. My staff are equipped with all the benefits they need. I want them to feel that they can rely on this job, not just as an intern, but as a long-term career. Because I don't want them to go. Just like our clients become attached to our cleaners, I become attached to our team.
I get to know them. I take the time to really get to know who they are as individuals. And that is what makes a good employer. Get to know who you have on your team. Make them a family because they deserve it.
What have been some of the benefits of establishing your business in Waterloo Region?
KW is such a community-driven place. I've never seen somewhere so community driven. I've lived in many cities, but KW has always felt like home.
Having the chamber also helps. They are able to put your name out there. They care about their local businesses, they want to promote them, they want to show them off. They're proud of what KW has become and they want to help them in any way they can.
I also feel the networking in KW is so incredible. You can network with just about anyone here. You can be at the grocery store and find someone to network with.
It's just a welcoming city. It's beautiful, it's friendly. You're always going to make a friend.
What inspires you?
Myself. I think you need to be your own inspiration. At the end of the day, you have to believe in yourself, because that's who you have to look at in the mirror. You have to inspire yourself to keep going. You have to inspire yourself to push yourself.
You have your friends, you have your family. And I can name so many people that I look up to as female entrepreneurs and successful business leaders. Of course, there are successful business leaders and there are people that I look at – I'm like, wow, that's incredible, good for you. But myself. I've come so far and I have myself to thank for that because I pushed myself out of my comfort zone so many times. And if I wasn't my own inspiration, where would I be today?
What advice would you give to other aspiring business owners?
Never give up. Even when it seems impossible. There are days, there are weeks, there are months where I cry or I'm aggravated or I'm stressed. And the one thing I remind myself is: you can get through this.
You can. You've done it before, and you'll do it again. Even when it seems impossible, you will get through this. And one day you'll look back and you'll laugh and you'll look at those memories and you'll grow from them and you'll learn from them. And the next time that situation happens, you'll know how to handle it.
The first five years of owning a business are your hardest five years. You learn so much. You're growing. You're understanding what to do, and what not to do. You're going to make mistakes, but you're going to be okay because you believe in yourself.
So keep pushing yourself. Surround yourself with great people, network, and get to know those around you.
When I go into something, if I'm studying something, I'm going to freak out, I'm going to get nervous, and I don't like that. I like to just go in and be myself. And that's what I've learned through owning Clean & Tidy – to not study notes. Do not study anything. Just be yourself. People will love you just because you're you, you're natural. So that's what I love.
What audacious goals do you have for your business in the future?
My number one goal when I opened Clean & Tidy, when I actually understood what I wanted it to become, was to become a household name. We became a household name and I'm so proud of that. I didn't know how long it would take. I didn't know how quickly our name would get there, but the fact that it's in so many households in the KW region and beyond makes me so happy.
When I think of my future goals for Clean & Tidy, it's just to continue to be better, continue to be more knowledgeable, continue to become even more of a household name in our community, to walk down the street and people just know who we are. Not only that but to just inspire those around us. I do presentations for high schools here in KW, encouraging them to believe in themselves and to try something different. If you're interested in this, try it, why not? Give it a shot.
I love that I have the opportunity to inspire. I love that I have the opportunity to inspire our community in any way I can. So my goals are just to continue to inspire those around me, continue to push people out of their comfort zones, and continue to be a household name.
What can we expect from you in the meantime?
To continue to network, to continue to get to know our community even more. I feel I know so much about our community, but I want to get to know even more. I want to continue to push Clean & Tidy. I want to continue to just see what it's capable of doing with our incredible management team, with our incredible team, and with our incredible clients.
So keep watching for us because we're going to be out there. We're going to continue to kick some serious butt in our community. We volunteer at so many different places as a team, with the Food Bank and with the Humane Society. We also do cleanups in Victoria Park three times a year as a team, just on our own free time. So continue to watch for us, continue to believe in us, and continue to follow our success because our team is so amazing, they deserve to be acknowledged for all their hard work.
Where can we find out more about your business or connect with you directly?
You can follow us on Instagram @cleanandtidyinc or you can follow us on Facebook, which is also Clean & Tidy. Look for our logo. You'll find us easily. Nice, beautiful, Clean and Tidy clean words. And you can also look up our website, www.cleanandtidykw.com.
*This interview has been edited for length and clarity.