The Business Success Series is a free weekly event that explores timely topics and resources for businesses. Sessions are hosted live every Wednesday at 1:00 pm, and a recording of each session is made available below, to watch on-demand.
In the current environment, it is more important than ever before to learn, adapt and grow as an organization.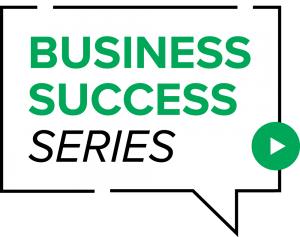 These educational sessions will provide crucial information to organizations of all sizes. Industry leaders and experts in our community will present on topics including recovery, return to work, financial support, marketing strategies, health & wellness, recruiting & retaining talent, inclusion & diversity, among many others. The Business Success Series will give your organization the tools it needs to thrive.
Visit the Events Calendar for details and to register for our next session.
This series would not be possible without the continued support of our sponsors. Thank you to:
TITLE SPONSOR – Manulife
PLATINUM SPONSOR – Immigration Partnership of Waterloo Region 
---
Past Webinars
WHY WATERLOO REGION NEEDS THE YOUTH CREATIVITY FUND
YOUR LEGAL QUESTIONS ANSWERED
HIRING DISPLACED TALENT TO MEET LABOUR NEEDS
ALLIES AGAINST ISLAMOPHOBIA
ACCESSING TALENT THROUGH THE CONESTOGA GIG MARKETPLACE
EMERGING TRENDS THROUGH THE PANDEMIC
CANADA'S IMMIGRATION ADVANTAGE
WHAT DOES THE METAVERSE MEAN FOR BUSINESS?
MANAGING CHANGE AND UNCERTAINTY WITH RESILIENCE
time Management – How to Effectively Navigate Work/Life Balance and Planning
Health Equity – Addressing the gaps in the Healthcare System
Strengths Based Leadership – How to Maximize Your Leadership Potential By Focusing On Your Strengths
The Age of Fraud – How to Best Protect Yourself and Your Business
Top Things Employers Need To Know About Immigration LAws When Hiring Or Retaining Immigrants and International Students
What you need to know about your legal options when it comes to Eliminating & forgiving Your debt
Accessing Student Talent: A Discussion With Waterloo Region's Post-Secondary Schools
Best Practices for Attracting Talent Through Your Job Posting
what Can We Learn From The Land: Stewardship AND MOnitoring Efforts And Opportunities at rare
Promoting Workplace Mental health in CHALLENGING TIMES
Triple Bottom Line – People, Planet & Profit
bill 27 Working for Workers Act – What It means for your business
GET TO KNOW THE IMMIGRATION PARTNERSHIP of waterloo region and their impact in the community
In conversation with mike morrice
The Power of investing in a diverse workforce – essential for business
Building a better workforce through connecting students & business
State of the workforce in waterloo region
New Leaders: Revitalizing Waterloo's Tech Community
Project Arrow: A New Era In Canadian Automotive
Proof of vaccination: enhanced measures & How it affects your Business
COvid Vaccine Protocols and safe workplace strategies
Why your business needs a board? (and how to build one)
Business after covid: "For Sale" – What happens now?
how students can help: a discussion with small businesses
Developing strategies and tools for harnessing international talent in the workplace
Covid-19 vaccines and what that means for your return to the office plan
what to consider when re-opening your office
Watch our 2020 – 2021 Business Success Series webinars HERE.