Manulife Business Success Series
The Manulife Business Success Series is a free weekly event that explores timely topics and resources for businesses. Sessions are hosted live every Wednesday at 1:00pm, and a recording of each session is made available below, to watch on-demand.
In the current environment, it is more important than ever before to learn, adapt and grow as an organization.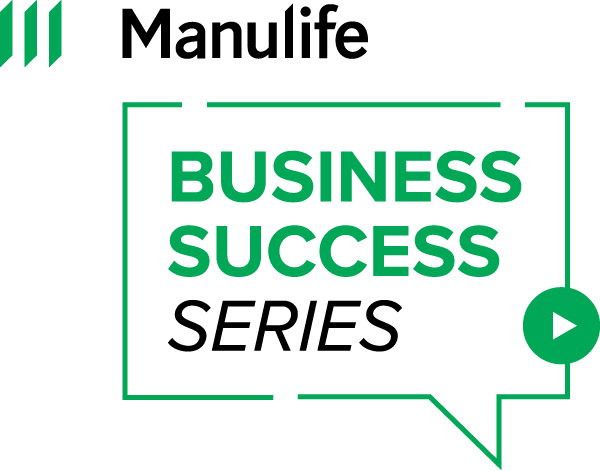 These educational sessions will provide crucial information to organizations of all sizes. Industry leaders and experts in our community will present on topics including recovery, return to work, financial support, marketing strategies, health & wellness, recruiting & retaining talent, inclusion & diversity, among many others. The Manulife Business Success Series will give your organization the tools it needs to thrive.
Visit the Events Calendar for details and to register for our next session.
This series would not be possible without the continued support of our sponsors. Thank you to:
TITLE SPONSOR – Manulife
PLATINUM SPONSOR – Immigration Partnership
---
Past Webinars
Celebrating Indigenous and Pride Month: You & Your Business 
COVID Questions: Mandatory Vaccinations, Rapid Testing, Screening, Record Retention, and the Law
What Employers Need to Know when Hiring International Students
Business Resources: Tools for Working with Students
Gore Mutual Insurance, A 1839 Start-Up Transforming During COVID-19
Managing Creditors One Year into COVID
'#ImmigrantsWork​' Initiative Comes To Waterloo Region
Operating Your Business During COVID 19
Privacy and Employment Law Issues in the Age of COVID
Building Your Business Through COVID and Beyond
COVID-19 and Your 2020 Taxes
Attracting Diverse Talent
The Future of Work: What our Current and Future Workforce Thinks
Strengthening Talent Through Leadership
The Working Together Project
What Students are Doing to Help Businesses through COVID 19
Hiring Great Employees and Leaders – How to Select the Right Mix of Experience and Ability, Soft and Hard Skills, to Build a Successful Team 
Ergonomics for Performance at Work 
Anti-Racism and Work: Increasing Work Opportunities for New Comers Through an Anti-Racist Approach 
Diversity & Inclusion in the Workplace
Access to Quality PPE for Small Businesses and Public Institutions
Applying to the Regional Relief and Recovery Fund
Workplace Mental Health During COVID-19
E-Commerce in Time for the Holidays
Funding Options for Businesses Who Want to Hire Students
Forging the Way Forward: How Entrepreneurs Are Adapting to the Pandemic
Small Business Making a BIG Difference
Access Student Talent Program
Employment Law: What You Need to Know
Lesson's Learned by Charitable Foundations
Adapting Your Social Media Strategy During COVID-19
Mental Health at Work During COVID-19
Business Decision Making During Re-Opening