2017 Business Excellence Awards Gala – Congratulations!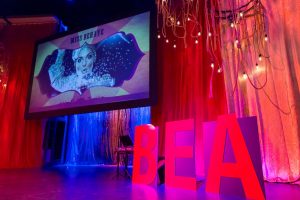 On Wednesday, March 1st we hosted over 900 people at the 2017 Business Excellence Awards Gala at Centre In The Square. Drawing inspiration from the travelling circuses of the 1920s, the Centre In The Square was transformed into the 'big top', wrapped in crushed red and gold velvet draping, rope chandeliers, and topped with dramatic gold-dipped feathers and burgundy elephants.
Between the sword swallower, contortionist, yo-yo champion, and ring master, the main event celebrated organizations and businesses in the Waterloo Region who have made exceptional contributions to our community. With 74 separate nominations spanning 12 award categories, this year was one of the most competitive to date.
Congratulations to the 2017 Business Excellence Awards recipients!
2017 Business Excellence Awards Gala Video
Small Business of the Year Award (1-10 Employees)
For nearly 7 years, Fairway Divorce Solutions has been teaching the community that divorce can be amicable and fair – they believe that divorce does not have to devastate families and deplete assets. With over 300 couples utilizing their mediation services, they have celebrated a 95% success rate. Their approach to divorce has been nothing short of transformative!
Business of the Year Award (11-50 Employees)
Serving over 150 clients throughout Southern Ontario and as far as Quebec, Alberta, and British Columbia, Intrigue Media has received a 90% client satisfaction response from their most recent survey. In 2016, they hit $2 million in revenue and they continue to grow and make businesses known in the community through quality marketing strategies.
Business of the Year Award (Over 50 Employees)
With internal and global collaborations, partnerships with local technology suppliers and advancements in their homegrown web-based support tools, Conestoga Meat Packers are unmatched in the protein industry. As a major employer in the community, they have doubled in production to over 28,000 hogs a week, becoming the second largest pork producer in Ontario.
Employee Engagement Award
Quality training is an integral pillar for S.G. Cunningham Limited. For the past 40 years, they have been committed to helping their employees develop the skills and knowledge to work safely. They motivate their employees to be more productive through encouraging community service initiatives. For example, in 2016, they successfully raised $40,000 for St. Mary's Regional Cardiac Care Centre's new heart Rhythm Program.  Congratulations!
Environment & Sustainability Award
As one of 17 Certified B Corporation companies in the world, Borealis is audited bi-yearly on environmental, employee, community and governance initiatives, going above and beyond their corporate social responsibilities. Not only do they serve delicious food and drinks that are 80% locally sourced, but they truly understand the significant toll humans have on the environment. Borealis epitomizes this award and are worthy recipients!
Health & Wellness in the Workplace Award
Dillon Consulting offers a range of programs that demonstrate their leadership and innovation in health and wellness for their staff, including what they call the "THRIVE" program. This initiative encourages a more active approach to staff wellbeing as they participate in annual fitness challenges, movement breaks, lunch and learns, meditation moments, and enjoy flexible work hours, making Dillon Consulting deserving of this award.
Hospitality & Tourism Award
This non-profit organization plays a lead role in showcasing the best in local, national and international arts and culture for the benefit of our entire region. Last year, they staged more than 180 events to more than 190,000 people. This year, they were integral in helping make Gala a night to remember. Congratulations!
Innovation Award
This socially responsible franchise has been listed as one of Canada's Emerging Brands by the Canadian Franchise Association. Driverseat provides Coachmen and women for customers who need their vehicle driven for them, whether it's as a designated driver or to assist in transporting customers with special needs. Through their unique and accessible model and easy-to-use mobile app, they have grown from one corporately owned site in 2012 to an impressive 25 sites!
Non-Profit/Charitable Award
Strong Start works in partnership with schools, community centres, donors and volunteers to create lifelong readers. Serving over 245 schools across Waterloo Region and surrounding, they have successfully served over 3,000 children. As they embrace the beauty and diversity of all children, their volunteers work diligently to ensure that the generation of today has the language skills to lead the generation of tomorrow.
Young Entrepreneur of the Year Award
A former student of the University of Waterloo, Hongwei has already been named one of Toronto's 20 most brilliant tech innovators. Seeing a gap in the world of geographical information systems, Hongwei realized there was no way to navigate dynamic indoor spaces – have you ever gotten lost at the University of Waterloo campus or couldn't find a specific store at the mall? I have. Hongwei and his team developed a software platform that allows retailers to make their indoor maps accessible to all customers through kiosks and smart phones.
Volunteer of the Year Award
Karen has been an advocate for the community in many ways, through her commitment to volunteerism and also in her corporate role at BDO. She has been an active volunteer at the Chamber since 2011 through committee involvement, including the Business Excellence Awards Nominations Committee from 2011-2014 and the Women's Leadership Committee, which promotes the development of leadership skills, knowledge, and confidence for women. Her commitment to following through, being supportive, and having an impact in the community is to be applauded. Congratulations Karen and thank you for all that you do!
Michael R. Follett Community Leader of the Year Award
Murray Gamble has been an entrepreneur in the region for over 25 years, founding a number of technology companies with his partner Cameron Wood. Currently the President of the C3 Group of Companies, an innovative engineering and advanced construction technology organization, he is an active mentor and leader in the Region. Not only does Murray support local investor networks, but he continues to support the local arts scene through as a Board member for Centre In The Square, The Museum, and the KW Art Gallery. Thank you for your incredible contributions in the Region!