HOW TO HOST A SUSTAINABLE CONFERENCE IN WATERLOO REGION
By Alex Kinsella | May 2022
Sustainability was top of mind when the Canadian Society of Professional Event Planners (CanSPEP) chose Waterloo Region as the host city for their 2021 national conference. Hosted at The Walper Hotel in Downtown Kitchener, the CanSPEP conference was an opportunity for event professionals and planners from across Canada to come together to share ideas, concepts, and insights. It was also a time to focus on finding innovative ways to incorporate sustainability into conferences and events
Jennifer Eddings, Director of Business Development for Explore Waterloo Region, was instrumental in bringing the conference to the region. Explore Waterloo Region is committed to helping associations and corporations host their events here while minimizing the environmental impact of travel, catering, and other event-related activities. 
The team at The Walper Hotel has a robust sustainability plan, including a waste separation recycling and compost program. Eddings was able to find additional ideas and ways to reduce the environmental impact of the conference thanks to the large network of sustainable organizations across Waterloo Region. She reached out to a contact at the Region of Waterloo's Transportation Demand Planning team who introduced her to local organizations and leaders dedicated to sustainability, including the University of Waterloo and Sustainable Waterloo Region.  
"The goal of the event was to make it carbon neutral, which we are proud to say we achieved," Eddings said. 
THERE'S ALWAYS MORE WE CAN DO TO BE SUSTAINABLE 
Organizations across Waterloo Region are focused on sustainability, including Sustainable Waterloo Region, a social enterprise non-profit that helps the local business community become more environmentally and economically sustainable.  
But Eddings is quick to point out that while Waterloo Region has made significant strides in sustainability, there is still much more that we can do to protect our resources and environment for future generations. 
"We're here to help event planners produce more sustainable events. That being said, there's always more work that we can do, and that our venue, hotel and catering partners can do," Eddings said.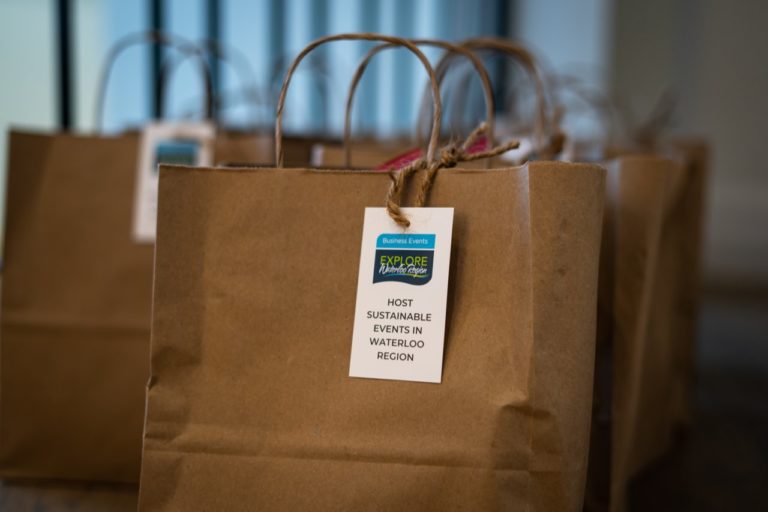 One of the ways to improve event sustainability is in swag and gifting. Eddings was recently in Ottawa for a conference and ensured that Explore Waterloo Region showcased sustainability front and centre.
"All the gifting we did in Ottawa was sustainable and sourced locally. We also worked with our sign vendor to make sure even our banners were environmentally-friendly," Eddings said (the vendor used eco-friendly ink to create the signs, and built banner stands by re-using  hardware from leftover materials and banners). 
HOW TO BUILD SUSTAINABILITY INTO YOUR WATERLOO REGION EVENT 
Gifting is one part of the "sustainability continuum" that planners can work with to increase the sustainability of their events while still delighting guests and attendees. In addition to gifting, Eddings shares four examples of ways Explore Waterloo Region can work with planners to incorporate local sustainability initiatives into their events.  
Transportation 
There are multiple ways to help reduce the environmental impact of travel, whether your attendees are arriving by air, rail, or car. Waterloo Region International Airport has flights to and from several Canadian and U.S. destinations. Arranging for shuttle buses or offering a carpool option are great ways to help attendees reduce or offset the carbon emissions from air travel. 
Reducing the weight of luggage attendees bring to an event is another way to help make your event more sustainable. Eddings said they had a contest at the CanSPEP conference to inform attendees about the impact of luggage weight.  
"The heavier your bag, the heavier your car, the heavier the airplane—all that extra weight leads to higher emissions. We decided to make it a game and told the attendees we'd weigh their luggage at the event. You can make sustainability fun," Eddings said. 
Carpooling 
Another great option to reduce the environmental impact of travel is travelling by train with VIA Rail or GO Transit services. Both lines share a station in Downtown Kitchener with easy access to the Grand River Transit ION light rail system for intra-city travel in Waterloo and Kitchener. Arranging for your attendees to carpool or use the ION light rail transit system is another way to help make your event's carbon footprint even smaller. 
Conferences and events can generate a large amount of printed materials—but that doesn't have to be the case. Instead of printing conference agendas and guides, consider using a website or mobile application. Eddings also said that many event giveaways typically end up in landfills.  
If your organization uses a booth for conferences or trade shows, Eddings recommended renting a booth at the location rather than shipping heavy booth setups by air. 
If you want to give your attendees a gift, try sourcing from vendors who offer sustainable items or even look at providing attendees carbon offsets for their travel to say thanks for joining you in Waterloo Region. Eddings added that carbon offsets are also a part of your event that could be a potential sponsorship opportunity.  
Food waste and food choices
The majority of hotels and conference venues in Waterloo Region use food composting and waste separation recycling programs to improve sustainability. Explore Waterloo Region can connect you with venues to learn more about their green programs and provide ways to communicate these initiatives to your attendees.  
When it comes to catering, Waterloo Region is home to many catering companies and foodservice providers who pride themselves on their sustainability programs. Reducing high carbon menu items like beef can also be a way to help reduce your event's carbon footprint. At the CanSPEP conference, the Walper Hotel served a dinner with an entirely plant-based menu that Eddings said conference attendees rated higher than another meat-based meal.
WATERLOO REGION'S HOMETOWN ADVANTAGE
If you're a member of an association, business, or other organization looking for a location to hold an upcoming event, the Explore Waterloo Region team is here to help with its Hometown Advantage program. Our team can assist with everything your event needs—from transportation and venues, to entertainment and everything in between.  
Contact our team today to learn more.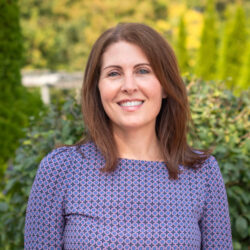 JENNIFER EDDINGS
Director of Sales
519.585.7517 ext. 210 
jeddings@explorewaterloo.ca