Struggling With Cash Flow? Take These 6 Urgent Steps Now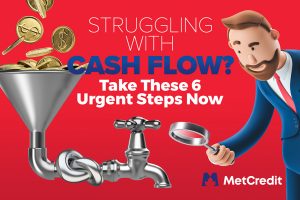 By Brian Summerfelt
President and CEO, MetCredit
Maintaining reliable cash flow is among the toughest challenges for any business. And a critical part of that is collecting bills that become overdue. But reaching out to hard-earned customers to ask for payment has always been one of the most uncomfortable and delicate tasks in business.
In a time of crisis, it becomes infinitely more challenging.
Suddenly, previously reliable customers no longer pay on time. Some stop paying entirely, and even the best ones may stop taking your calls while their voicemail becomes uncharacteristically full.
Even when they DO answer, it isn't helpful. With apologies, they can't resolve the account for an indeterminate period because of the pandemic, supply chain issues, or their own receivables running slow. Some may chastise you for even asking at a time like this.
It isn't just you. Virtually all business models, both B2B and consumer-facing, from healthcare providers and trucking companies to landlords, are in a similarly precarious situation.
In many cases, the customer may have an impeccable track record, and collection issues can be an entirely new kind of problem—one that changes the relationship. Good customers are hard to find, cost of sales is higher than ever and every single customer relationship is cherished. Most importantly, your brand reputation is priceless and can easily be damaged forever.
But here you are. Even your best customers are holding out, and you have growing obligations of your own.
It's painful and a source of tremendous stress for business owners and Accounts Receivable managers.
Here's the kicker: it may still become worse.
Ongoing restrictions have only just begun to take their toll on businesses and consumers. Most are sitting on a decimated cash stockpile (if not a debt burden), waiting for a turnaround that has been promised for many months. Those who have access to money are clinging to it or paying essential bills and taxes—until it the last of it runs out.
And despite the sparse optimism from a minority of politicians and analysts, the crisis continues to worsen for many. The subsidies, stimulus packages and deferrals are gone, and payback time is looming for Canada Emergency Business Account loans.
Buying habits and spending patterns have been massively disrupted, in many cases permanently.
If your business is already struggling to collect overdue receivables, it doesn't take a master economist to envision what could be in store. And most experts concur it will remain very bad, for longer than many independent businesses can withstand.
What can businesses do?
There are 6 important steps every business owner needs to take in order to minimize risk and be as proactive as possible.
Evaluate the entire situation. Fully review your accounts receivable and red-flag everything past due. Contact all delinquent customers and be clear that for your business' continuity you must be firm about due dates. Alert these customers that collection action is imminent, and give a specific date by which you require payment in full.
Take action now. Send all non-responsive accounts and any that are more than 60 days past due to your collection agency (as we remind our clients, 60 is the new 90 in times of dire uncertainty). This important action will establish a high payment priority for future dealings with these customers. Remember, anyone who does not respect their end of a deal are no longer customers, but accounts in default and an imminent danger to your business.
Update your business processes. The way customers paid you in the past may not be suitable to the new normal. Risk reduction should be number one priority: sales are a high-risk liability when customers are on slippery ground and giving your bills low priority. Insist on full payment or substantial deposits—and make a credit application mandatory whenever you grant credit (which is any sale for which you are not paid in full on delivery.) Be sure buyers fully understand when payment is due and acknowledge their commitment to you in writing.
Make it easy to pay—safely. We recommend Interac eTransfer or debit payments because funds are immediate, fees are low and there are no chargebacks. If you offer financing for larger amounts, partner with a leasing or finance company that is structured to take on the risks.
Enforce late payment fees. While in Canada, it is a criminal offence to charge a rate of interest exceeding 60 percent a year, it is reasonable to charge customers for the cost of servicing their debt beyond the agreed-upon payment date. If you're forced to use your own funds or credit to pay for what someone else now owns, it's only fair. Explain your late fee structure in your contract and reference it on invoices—and only waive late fees if there is good reason to do so or customers will see them as meaningless.
Lean into the new ways. If you have been waiting patiently for former payment habits to resume, stop! Many business models, such as airline travel and buffet restaurants will surely never be the same. Instead of praying for the good old ways to come back, find ways to help customers with their new needs. And while you do it, protect your own business' future.
It's past the time to accept that this is a hard reset, not a simple reboot (or a series of them). It is a golden opportunity to reinvent your business to become better, more efficient, and eventually more profitable than ever.
Numerous businesses have failed, and many more still will. It's becoming clear that those who survive to reinvent the future will be the ones whose leaders are smart, bold, innovative and highly proactive.
I hope the latter group includes your business. Get energized, summon up your most inventive self, and take action! With that in mind, I've created a Business Recovery Guide you can download free of charge, to help you get inspired and on track.
Need more help? Reach out to me or one of my friendly debt collection experts. And for fellow Chamber members, we offer our lowest available rate!
Keep staying safe and healthy—and do everything possible to be sure the same applies to your business!