"We wanted to find a way to take our professional experience and use what we've learned to give back to our community in a significant way," says Simon Fallows of himself and his Grappleworks Ltd. co-founder Jeff MacIntyre.
The result was ScrewCancer™ and a simple everyday tool with the potential to drive massive change: a screwdriver. Working with former BlackBerry industrial designer Joseph Hofer, Grappleworks designed the screwdriver to revolutionize a common household object into a powerful tool to raise much needed funds for cancer programs not just Nationally but in our local communities as well.  .
ScrewCancer™ is more than just a way to raise funds – it's a new way of engaging people in supporting the Grand River Regional Cancer Centre, specifically programs like patient support groups. "Our patient support groups are a critical piece of our fully integrated cancer care program," says Tracey Bailey, President and CEO of the Grand River Hospital Foundation. "Grappleworks is a wonderful partner who brought forward a compelling idea that helps us keep these groups running for those who need support. The tool will be used for years and serve as a reminder for the continued need to raise awareness and funds for cancer support in the Region."
The impact of ScrewCancer™ locally is significant, imagine if every business owner in Waterloo Region purchased this innovative Screwdriver for the office, for their staff or as client gifts. Not only would they have a useful tool around the office but collectively One Million Dollars would be raised.
A locally designed screwdriver – it's like nothing you've seen before.
Bereskin & Parr

BERESKIN & PARR DOTS THE "I" IN INTELLECTUAL PROPERTY
Since 2003, the Bereskin & Parr office here in the Region of Waterloo has established itself as the area's largest Intellectual Property (IP) firm. In fact, they are the only IP specialty firm in the Region. Strictly speaking, that's all they do.
Proudly protecting clients' IP assets for more than 50 years, their stellar reputation extends throughout Bereskin & Parr's four offices which include Waterloo, Toronto, Mississauga, and Montreal. With more than 70 lawyers and patent/trademark agents, the firm is considered to be among the best IP firms in Canada, with dedicated expertise in trademarks, patents and litigation.
Here in the Region, partners Tim Sinnott and Jason Hynes are much more than lawyers. Sinnott has his Bachelor and Masters in Physics while Hynes has his Bachelor of Applied Science in Mechanical Engineering.  While Sinnott works on patents and trademarks, Hynes focuses mainly on patents, from prosecution through to litigation. Their involvement in the community includes Sinnott's long-time membership in the Christian Legal Fellowship as an executive on the board of directors, and Hynes's role as Chair of the Trade and IP Policy Committee for the Intellectual Property Institute of Canada.
The other four lawyers in the firm are James Hinton, a mechanical engineer and trustee with the Waterloo Law Association, Maria Wei, an electrical engineer, David Morrison, a chemical and biomedical engineer, and Elizabeth Afolabi, a trademark specialist. This hybrid combination of legal and technical expertise provides a unique understanding and insight into their clients' business that sets Bereskin & Parr apart from other firms in the Region. The team also routinely draw on other technical experts from the firm's other offices.
From ideas and inventions to product launches, Bereskin & Parr's clients range from large corporations and manufacturers to local start-ups in the ever growing high tech sector. With an eye to the future, a Bereskin & Parr lawyer is onsite once a week at Communitech as part of the ProSquad, a group of professionals who are on hand to answer questions and provide direction to start-ups and SMEs.
For those businesses interested in learning more about the many facets of intellectual property law, Bereskin and Parr will be conducting a breakfast seminar for businesses in the Region on Wednesday April 19 at Whistle Bear Golf Club. Topics will range from software patents to trademarks, identifying IP needs, and tools that are available for businesses to better understand and protect their IP.
For more information, contact Bereskin & Parr by calling 519-783-3210 (Toll-free  1-888-364-7311)
OR e-mail events@bereskinparr.com
Gowling WLG

GOWLING WLG – THE LOCAL LAW FIRM WITH GLOBAL REACH
Thirty years ago, Gowlings was a respected local law firm in the Region of Waterloo, with legal roots in the area dating back to 1887. Today, it's the largest private law firm in the region and the first Canadian co-led international law firm. As a result of its combination with the United Kingdom's Wragge Lawrence Graham & Co (WLG) in February of this year, Gowling WLG is now in 10 countries, with offices in London, Paris, Monaco, Brussels, Dubai, Munich, Moscow, Singapore, Beijing, Guangzho, and of course, across Canada.
Here in its own backyard, Gowling WLG credits its success to its diverse clientele, which primarily comprises privately owned owner/operator companies. The legal firm represents and has built lasting relationships with many of these companies through all stages of their business growth. In fact, Gowling WLG works with businesses of all size – from tech startups to established corporate entities.
FULL SERVICE WITH DEEP EXPERTISE
With a staff of 115, including 43 lawyers, Gowling WLG's office in Waterloo Region services clients across Southwestern Ontario and beyond. Consisting of specialists in all areas of law, the firm's legal team offers a full range of services, with a  strong focus on advocacy (employment & labour, commercial litigation, municipal), intellectual property (patents, trademarks, copyrights), and corporate (commercial, M&A, real estate, banking, insurance, private wealth).
ACCESS TO A GLOBAL MARKET
Gowling WLG's clients benefit from the firm's access to a national, and now global, platform. Recently, a client who was looking to build their business wished to make a connection with a company in Germany. By networking with Gowling WLG's offices in Europe, the firm was able to arrange the connection. It's these types of opportunities that add even more value to the firm's client relationships. This is especially important with increasing cross-border activity around the world and a heightened desire among businesses to reach a global market. Gowling WLG's international platform also positions the firm to advise companies outside the country on a range of matters with respect to setting up business in Waterloo Region.
ACTIVELY INVOLVED IN THE COMMUNITY
Outside of the office, Gowling WLG's team members volunteer with non-profit organizations, hospital boards, and arts, cultural and educational organizations – as well as with the local chamber of commerce. The firm's active involvement in the Waterloo Region community is all part of its belief in giving back.
Gowling WLG lawyers are regularly recognized by Canada's leading legal publications and rankings organizations for their depth of experience and expertise. In 2016, Lexpert magazine named 17 lawyers in the firm's Waterloo Region office among the top legal practitioners in Canada across 31 practice areas, including two lawyers who were named regional "Lawyers of the Year."
Gascho Automotive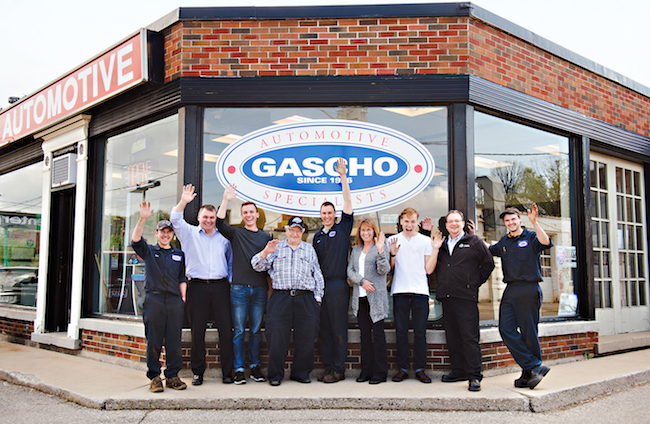 If it takes 10,000 hours to become an expert in almost anything, then what does 90 years in the business of auto sales and service make you? Pretty darn knowledgable, we'd say!
Gascho Automotive is a 3rd generation family business that has been a landmark in downtown Kitchener for 90 years, starting way back in 1923 (first as The Brunswick Garage, then Gascho Motors in 1926). Back then the city's population was 28,000 and there were very few cars on the roads. There were no traffic lights and parking restrictions were non-existent.
Founder Emanuel Gascho actually had to teach many of his early customers how to drive the cars that he sold them, so from the very start, sales AND service were what made Gascho Automotive a thriving business in the region.
Flash forward 90 years to a new light rail transit being built and a population of over 235,000. Dave Gascho is now the third generation of the Gascho family to run the business, having purchased it from his father Carl and uncle Roy in 1991.
Generation after generation, decade after decade, the Gascho's attributed their success to personalized service, repeat customers, and teachings from their father on the basics of community, honesty, integrity and relationships. Dave continues his grandfather's tradition today, to which his many long time customers serve as a testament.
Today, Gascho provides both pre-owned and new automotive sales (yes, you can indeed buy a new car, almost any make, at Gascho), regular and specialty service, and leasing. Dave works hard to ensure he is able to find his customers exactly the vehicle they want, and to make the loan and leasing process as easy as possible.
2016 not only marks a momentous 90 years in business, but also sees Gascho Automotive moving out of the downtown core to 353 Manitou Dr. in Kitchener, taking on a larger space, with easier access.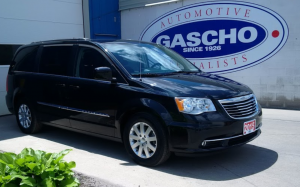 Dave says, "It will still be Gascho Automotive, but we will be in a much bigger space within the Great Canadian Holidays and Coaches building and our car sales will be along Manitou Drive. It gives us more space for inventory, more bays for servicing customers and a newer facility which our technicians love. We have a loyal client base that will know where to find us, and we are confident we will find new clients at the new spot."
To celebrate 90 years in business and to celebrate their great customers, Gascho Automotive is hosting an open house and customer appreciation party on Thursday, Sept 15, from 4 – 7pm. This free event is open to everyone, so come down and meet Dave and his team, tour the new facility, and enjoy some free food and enter to win some great prizes.
Visit Gascho Automotive's website for more information, or call Dave anytime to talk about a new or pre-owned vehicle, or to book a service appointment. His helpful and friendly staff will be sure to take good care of you.
Save Local Now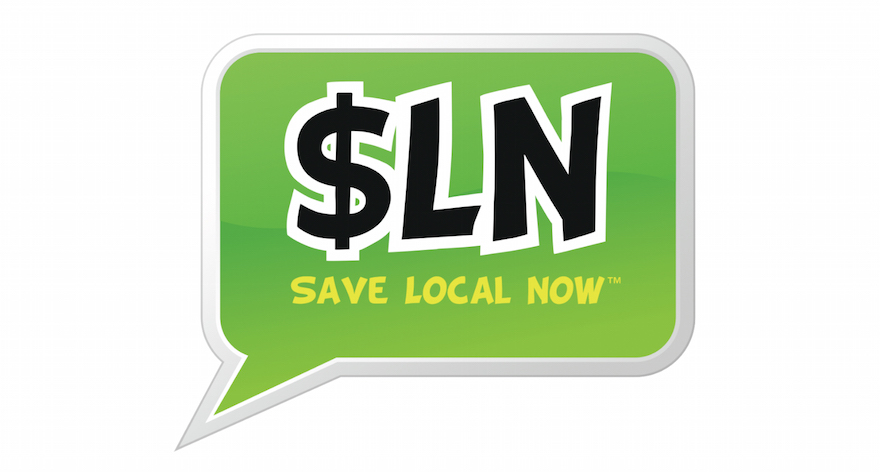 An idea scribbled on a cocktail napkin; that is the humble beginning of Save Local Now (SLN). Born in the  quaint village of Chagrin Falls, OH, SLN understands the value of connecting communities and building local economies. While serving as President of his local merchant's association, Keith Latore (SLN's Founder) identified the challenges small businesses face when it comes to digital marketing, and then set out to build the solution. "A light bulb went off," Latore said. "The traditional stuff had been done—They exist and are successful. The digital space is where businesses need the most help, and they need it to be easy, fast and cost-effective." That's Save Local Now in a nutshell; they level the digital playing field by empowering local businesses to better connect with local consumers through an easy to use, mobile friendly, integrated digital platform.
What distinguishes Save Local Now from other platforms is its simplicity. Most small businesses do not have the time, resources, or knowledge to effectively digitally market themselves, so SLN's platform allows them to manage it all from one place. The platform helps small businesses expand their customer base without the cost, complexity and time commitment of coordinating content across multiple platforms. With SLN, users can log-in, update their business information and create unlimited content in just a few minutes, then push what they create to the most popular social media platforms in one click. SLN offers content creation, social media sharing, email marketing, and complimentary SEO (Search Engine Optimization) at no cost to Chamber Members. Orlando Lopez, a Save Local Now user, explains "I have tried other email marketing systems and find that SLNs is the simplest of all. It doesn't matter what business you are in. You can create online promotions and email marketing campaigns as well gauge your results". SLN provides easy to understand analytics that shows every business what's working, and what's not, all in real-time.
SLN's team of experts will also work hand-in-hand with any business, offering personal assistance and training to get the most out of a business's digital marketing efforts. "I am not a techy person and find it most amazing that I can actually speak with a real human being," Lopez adds. "Other services must be contacted by email or access their "HELP" system, but don't allow a user to speak with anyone to answer any specific questions. I am very satisfied with the personalized assistance I have received."
In this day and age, managing a small business' digital footprint is vitally important, both to better connect with existing customers and attract new ones. Another SLN user, Darla, commented "Save Local Now has really increased my visibility online. I spend 5, maybe 10 minutes every other day updating information and I'm noticing that I'm always on the first page of Google".
Since 2012, Save Local Now has grown to work with over 80,000 businesses in the U.S. and Canada. Watch this video to see how Save Local Now can help your business grow.
Ready to start using the platform?
Contact the Greater Kitchener Waterloo Chamber of Commerce to claim your business and get started!
Learn more about SLN here!
echosims
PROFITABLE MARKETING: IT SHOULDN'T BE REVOLUTIONARY, RIGHT?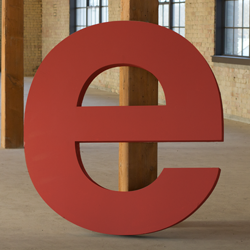 It seems obvious: don't invest in marketing that costs you more than the profit it generates, but the reality is that most businesses cannot accurately gauge the effectiveness of their marketing tactics. Usually because they haven't needed to, they don't know how or they're just too busy taking care of business.
Unfortunately, the lack of tracking leaves you open to a high probability of wasted dollars and a lot of "crossing your fingers" as you hope for more sales. These days that's all unnecessary. There are many modern tools available for accurate tracking of leads & sales, you just have to demand it from your marketing/ad agency.
Peter Wagner of Hogg Mechanical, a local HVAC company, has experienced this firsthand with 400% growth over the last 4 years. "I moved almost my entire marketing budget to digital after echosims proved how cost effectively they could generate quality leads, and the results have gotten better every year."
echosims is a local digital marketing company that builds sales-focused websites and online marketing campaigns for B2B and B2C customers with a huge emphasis on performance tracking and optimization.
Take Adwords for example, those ads on the Google search results page. They are great for most businesses because you're advertising to people searching for what you offer and only paying if they click on your ad.
"But clicks don't mean sales" says Jeff Horst of echosims. "and sales are what really matters." Yet most Adwords sales pitches still focus on the number of clicks and cost per click with no attention to the number of leads or sales those clicks generate.
For the Hogg campaign, instead of cheap clicks, echosims focused on what the hottest buyers were searching for (often the more expensive clicks) then made sure that they did a really great job of turning those clicks into leads. They even tested buying cheap clicks to prove how unprofitable they were.
According to Jeff, "It's all about how well you convert those clicks into leads. You've just paid for them so you definitely don't want to send them to your home page or an information page that isn't compelling."
"That's the not-so-secret sauce to our success. Whether it's an Adwords, display ad, Facebook or other social media ad campaign, we start with a well-crafted, highly targeted sales page with compelling copy. Then we test it, track its performance and constantly refine it to improve profitability."
"We've actually taken over existing Adwords accounts that weren't doing so great and seen a dramatic improvement in profitability using this strategy."
The end result is more consistently, profitable campaigns and a lot less crossing your fingers. Both of which are good for business.
echosims was founded just over five years ago by Jeff Horst and Matt Martin, two local boys with Mennonite heritage and a strong passion for helping local businesses flourish. They have been successful at growing a talented team that, like them, is very big on transparency, realistic expectations and having fun with their clients.
"You don't have to go to Toronto anymore to get great marketing," says Jeff, "there's plenty of great companies right here in town." And it sounds like he's right.
If you'd like to learn more about echosims and their work, grab a coffee with Jeff, he might even let you sneak a peak at Hogg's campaign. You can reach him at 519-505-4769 or jeff@echosims.com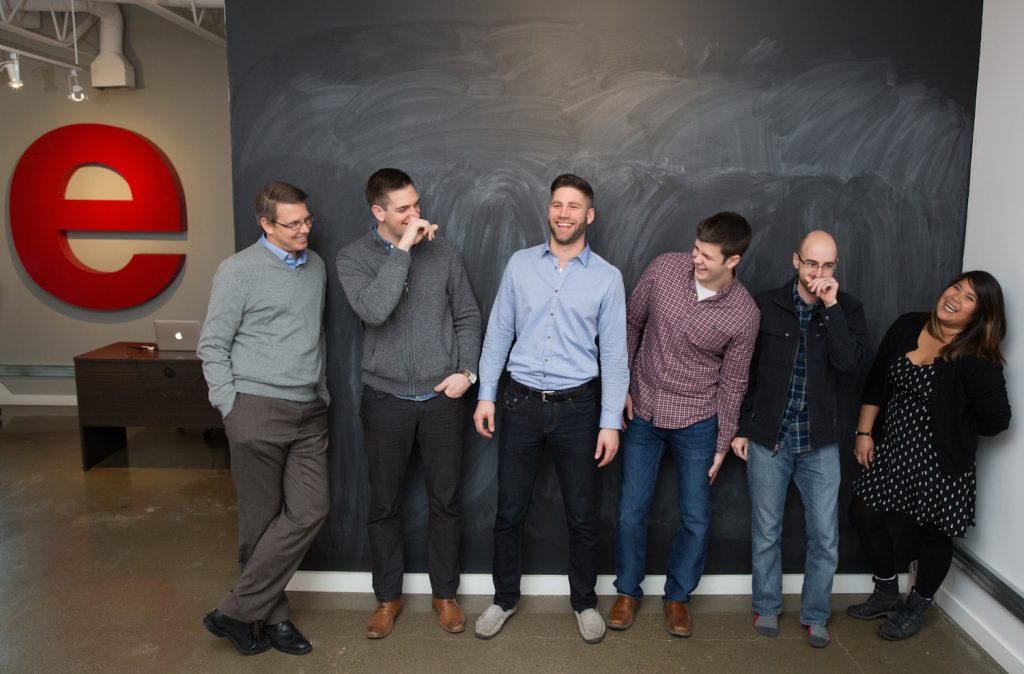 Grand River Raceway
GRAND RIVER RACEWAY – A BUSINESS OPEN HOUSE THAT REALLY GOES THE DISTANCE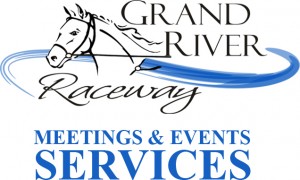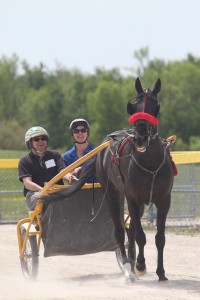 When it comes to a business open house, no one can set the pace quite like Grand River Raceway.
Where else can you put a harness race horse through its paces as you travel around the track in the company of a professional driver? Twelve sales reps actually did just that as a team building event and now you can try it out for yourself. It's just one of the many extraordinary things that the staff at the award-winning Grand River Raceway has arranged for its clients. From digging a 15-foot hole for a weekend workshop to preparing 450 bagged lunches for a conference, they really do go the distance to ensure your corporate event, conference, meeting, or party is a huge success.
You can see for yourself on Wednesday, May 18th between 3pm to 7pm when Grand River Raceway's Meetings & Events Services opens its doors to businesses who are looking for a unique and inspirational venue to host their next meeting, big extravaganza or team building event.
Once you've pre-registered online from your office, you're off to the races and a business open house like nothing you've ever experienced. On arrival, check-in at the Guest Care Counter to begin your tour of the facility. Each of Grand River Raceway's newly renovated rooms will showcase different samples from the catering menus.
Then, between 4pm and 7pm, head down to the track in your closed-toe shoes for your race horse ride. Whether you win, place, or show, everyone receives $10 to play the slots as well as exclusive offers and a chance to win prizes.
Grand River Raceway is located in gorgeous Elora — just far enough to get your head out of the office and into the game. Make sure you get on the card by getting your RSVP in by May 13.
You can do this online at http://grandriverraceway.com/business-open-house/
OR by calling Jenna or Emily at (519) 846-5455 ext. 288
OR by e-mailing bookings@grandriverraceway.com
 
VOISIN TECH SUITES
Have you outgrown your home office and need more space?  When tech companies: Big Road, Qwalify,and I Think Security Ltd. outgrew their space at the Accelerator Centre in Waterloo, they needed a location that was affordable, and large enough to accommodate their growing tech staff.  They found that space at Voisin Tech Suites,  a fully furnished, co-working space that offers a transition, from the desk and chair where you began drawing up your business plan,  to the professional corner office you've always dreamed about. "It is move-in ready," says entrepreneur Jeff MacIntyre,  "All you need to take to the office is your computer, a photo of your family and a plant."
This move-in ready space, is located above the stores of a strip mall at the corner of Ottawa Street South and Westmount Road East in Kitchener.  On function and layout, MacIntyre says,  "If you want privacy, I've got it. If you need communal space you can get that too."  The co-working office includes a reception area, common rooms, a kitchen and three conference rooms with all the digital amenities you need for the modern meeting, including 100 MB fibre internet.  No business contract is required for the internet services and utilities, as they, as well as an office cleaning service are part of the total cost.
MacIntyre explains that there are tailored layout options configured to suit the specific needs and employee count of the residing businesses. "Any kind of configuration could accommodate all types of area business," says MacIntyre, "It could be tech, real estate, an accountant or lawyer. It's perfect for non-profit groups."  MacIntyre describes a possible co-working space layout to demonstrate the variety of ways the Voisin Tech Suites space can be adapted to different needs. "Hypothetically, the configuration could include five people in suite A; in Suite B there could be twelve people; one freelancer could be in a private office; and there's another area where there could be six employees and a management office." The largest board rooms seat twelve people comfortably; two smaller board rooms have the capacity to fit six and four people.
A unique feature of  Voisin Tech Suites is its functional office furniture show room.  Jeff MacIntyre teamed up with McGowan Office Interiors, Group Lacasse, and Mohawk Flooring to showcase the office furniture clients are using in their co-working spaces. Periodically representatives from the furniture and flooring companies show potential clients how the furniture functions practically and aesthetically in a real office setting.  The showroom has also become a space for networking with other businesses.
The Voisin Tech Suites offer numerous opportunities for business professionals to network.  In a co-working space you are organically meeting and working alongside the small business owners with diverse product and service offerings and areas of expertise, with similar business growth goals.  There's a collaboration with like minded businesses," says MacIntyre who strongly believes in the benefits of networking,  "There's an opportunity to create a business collision and be part of a group. It's not forced networking. If you're looking for something, not your basement and not committing to an office space where you buy furniture and sign a lease. this is a good transition space."
MacIntyre notes, leases run from 3 to 12 months. "I structure leases with an escape clause.You don't have to buy furniture and you don't have to sign a five year lease and worry about subletting. I'm flexible."
www.voisintech.com                         jeff@jeffmac.ca  519-616-3553
Improve your visibility through the Greater Kitchener Waterloo Chamber of Commerce.