5 WAYS TO PREPARE FOR A POST-PANDEMIC WORKPLACE
Getting Back to Business
By this point in the Covid-19 pandemic, it's evident that most office employees can perform their work from home. Now, the emergent challenge for many employers is the continued management of an entirely remote or hybrid workforce, as well as the maintenance of a positive, collaborative work culture for their people. When a return to the office is feasible, how do we balance these elements with enhanced health and safety precautions to ensure the wellbeing of staff and organizations as a whole? As an architecture, design and planning firm, we asked ourselves these very questions while devising our own return to work plan. It was clear that with diligent safety protocols in place, many of our staff wanted to return to the office – or at least desired the option to do so.
This feedback inspired us to approach reopening by creating more than just a floorplan conducive to physical distancing, traffic patterns and hygiene policies. To re-occupy our workplace, we developed a hybrid model that supports staff with the autonomy to work in a flexible, safe and secure way, both at home and in the office. This allows our organization to manage the number of staff working in the office at one time and accommodates the unpredictable and often changing nature of balancing work and home life. Our model prioritizes empathy, open and transparent communication with both our team and clients, while proposing alternative methods of collaboration.
So, what exactly does the future of the workplace look like post-COVID? The reality is that no one knows for sure. It is in this interesting situation that we as designers currently find ourselves. With plentiful challenges and shifting norms, we must look to what can be gained from the pandemic experience to implement better, more human-centric, adaptive and equitable environments for the future.
What About Everyone Else?
In the midst of pandemic uncertainty, we began a dialog with our clients to gather insight on how corporate commercial and institutional sectors are mobilizing for "what's next" – which includes conversations with real estate and property management firms, owners and tenants who have faced extraordinary circumstances.
Some would assume that with fewer employees coming into the office, this could mean a reduced need for office space; however, it's likely that current safety protocols requiring six feet of separation will accustom people to maintaining safe distance as a general practice even once restrictions are lifted. Factor in hybrid work models with reconfigurable agile workstations and furniture with more space between staff, space requirements may not see a drastic change.
Wellness in the workplace is a concept that has gained momentum over the last several years, and the pandemic has mobilised organizations to consider the wellness of their workforce as a key operational program. Most recently, working remotely removed the separation of work and home, and as workplaces eventually reopen, employers will prioritize the health and safety of their teams. But beyond that, they must address how reintegration supports the values of their teams, their business strategy, and the inherently human factors of the people whom they employ.
Although a traditional open-format office isn't favourable in the short term, it isn't realistic for companies to venture into complete redesigns within the current climate of uncertainty. COVID-19 has already put enough strain on business! This is where architecture and interior design professionals can step up and support businesses during an uncertain time to provide consultation, and to create spaces that make occupants feel safe, comfortable and supported. Savvy businesses are planning now to cement a strong future for their workplace.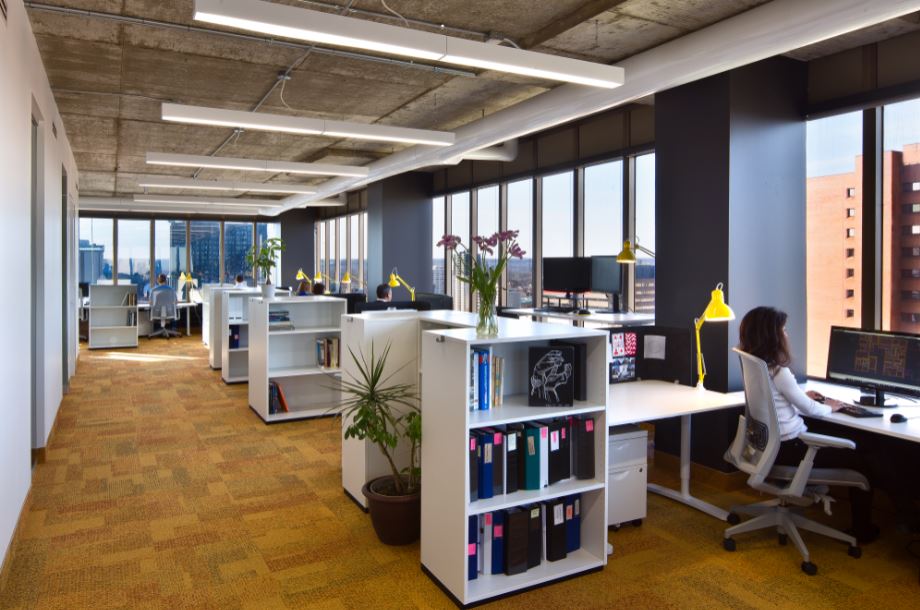 People-First Design
Even prior to the pandemic, dpai was working with corporate and commercial clients on design projects that celebrate empathy, respect and flexibility; projects that respond to the ever-changing needs of the people that make up their dynamic teams.
Universally, burnout and stress are rising factors in the workforce and companies are putting increased emphasis on the wellbeing of their people. The way employees feel in their workplace on a day-to-day basis truly matters, and well-designed spaces create connections and foster an internal culture rooted in community, support and growth.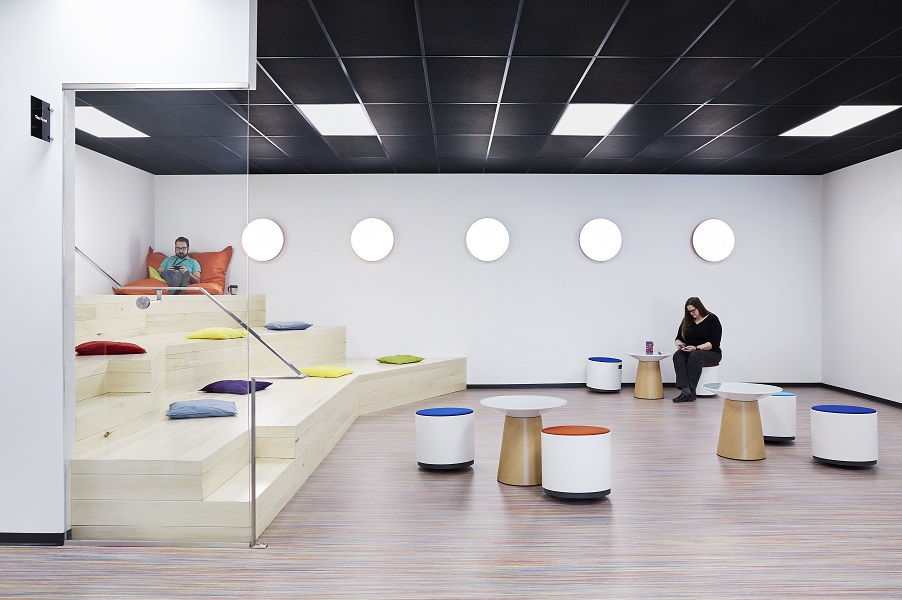 Our designs speak to a deeper conversation surrounding wellness in the workplace, as we work with forward-thinking clients to take their initiatives one step further, beyond offering trendy lunchrooms or flashy gimmicks. We recognize that the office of the future is one that promotes inclusion, and embodies a more equitable, accountable workplace.
Contemporary offices are being designed to encourage and enhance collaboration and connection. This includes functional decisions like creating common spaces for wellness and culture, for example areas for fitness and recreation classes, mothers' health and spiritual practice. Additionally, we as designers take a holistic approach to how elements like lighting, color and material can contribute to people's experience in the workplace and improve their overall quality of life.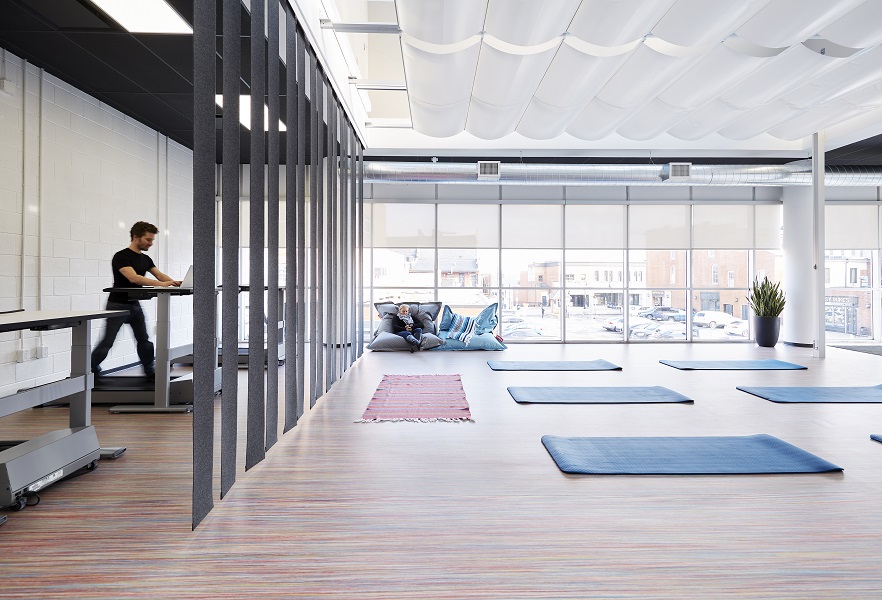 So, What's Next?
Of course, no one truly knows what awaits us once the cloud of COVID-19 has finally passed, but we can make some educated assumptions:
Companies will look to agile modular desk and furniture solutions, allowing teams to easily reconfigure on the fly. This will also afford employees the ability to personalize their work style by allowing them to have autonomy over their conditions, move furniture and make their space more functional on an individual level.
HVAC systems will be updated to ensure they effectively deter the spread of viruses and eliminate harmful gases and particles from the air. We will see office designs feature UV and HEPA filtration systems as they continue to become more advanced. As with previous major, life-altering world events throughout history, new scientific findings and subsequent regulations will result as lessons are learned and applied following the COVID-19 pandemic.
Studies show that contact with nature in the workplace can have remarkable effects on employee happiness and productivity. Initiatives such as biophilic design bring nature-inspired elements indoors. Beyond selecting natural materials and nature inspired imagery, this practice can include the incorporation of more natural light with large windows and skylights, or even the provision of direct access to the outdoors with terraces or open-air spaces for staff to enjoy as an extension of tenant occupied spaces. Of course, such trends will require changes to guidelines and standards.
Companies will place a greater emphasis on the wellbeing of their people and implement programs and spaces that are considerate, respectful and flexible. Organizations will become more empathic and inclusive, and rise to meet the external needs of their teams – bringing in elements that improve their quality of life while at work and addressing added external pressures. Millennials currently make up the largest generation within the workforce and are increasingly responsible for the well-being of their children, as well as their parents. In order to serve this demographic, a movement may be seen to improve mixed-use developments with services such as child, community and senior day centres.
Offices will go further to make sustainability a priority and incorporate embodied carbon and carbon neutral elements and systems into their long-term plans. Meeting standards such as LEED® and Passive House designation (services offered in-house by our architects and designers) will become more expected from new builds. We now see the benefits first-hand from companies who lead the way in reducing their carbon footprint; creating energy-efficient buildings reduces overall expenditure and operational costs, while increasing workforce productivity. Sustainable design is now understood to be a more wholistic cradle to grave approach in the selection of materials, finishes and products. The aim is reducing waste and environmental degradation by being conscious of a material's impact from its production to then end of its life in terms of its recyclability and biodegradability. Additionally, companies can utilize natural resources in their office design and minimize air and water pollution during and after construction.
As designers, we must be optimists to believe in the power of change to better the world around us. As we shape the world during these unique times, rebuilding means the opportunity to reject compromise and push for what we know to have the utmost value: health, wellbeing, equity and respect for the natural world. Sustainability has new meaning and human life can no longer be taken for granted. We know there is much to be done to set the groundwork for a better-functioning, more fair-minded workplace. But through intelligent and compassionate design, we accept the challenge and strive to do right by our sense of responsibility, both as professionals and as people.
At dpai, we can help you navigate your return to work fitting your unique requirements using our expertise in architectural and interior design solutions //// View our work at https://dpai.ca/