Accessing Student Talent: A Discussion with Waterloo Region's Post-Secondary Schools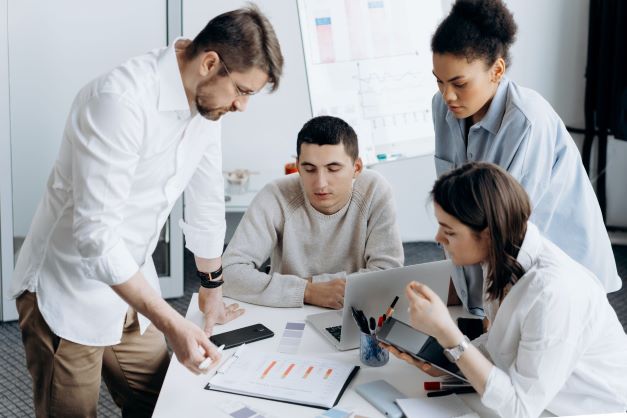 Post-secondary students can bring immense value to businesses and not-for-profit organizations by providing them with the opportunity to add temporary resources to increase productivity, access innovative ideas, raise awareness of their organization and industry as well as build a strong talent pipeline. There is an opportunity to seek out talent resources to help businesses navigate the impact that the pandemic has had on their business. The Greater KW Chamber's Access Student Talent program invited representatives from our local post-secondary schools – Conestoga College, Wilfrid Laurier University, and the University of Waterloo – to the Chamber's Business Success Webinar Series to discuss the different ways businesses and not-for-profit organizations can work with students as well as the benefits for businesses engaging in work-integrated learning.
We were joined by Linda Crawford, Associate Director of Work-Integrated Learning at Conestoga College; Lisa Jarvis, Associate Director of Community & Workplace Partnerships at Wilfrid Laurier University and Margaret Johnston, Business Developer in Co-operative Education at the University of Waterloo as they shared their insight into work-integrated learning (WIL) in the local community.
What is work-integrated learning?
Work-integrated learning (WIL) is an umbrella term used to describe the process of learning where students incorporate what they have learned academically in a workplace setting or with an industry partner. There are a number of ways that businesses and students can work together through work-integrated learning including a few listed below:
Field Placements: Provides businesses with the opportunity to work with a student for a short period of time (i.e. a few weeks) on a full-time or part-time basis on tasks or a project that are aligned to the students' field of study. Students complete field placements while simultaneously continuing to fulfill their academic requirements.
Applied Research Projects:  Provides businesses with the opportunity to partner with a student or group of students to work on a business challenge in a classroom setting. Applied research projects can take the form of in-class projects or capstone projects. These types of projects are usually planning-based in nature, and depending on the type of project, the students often conduct research and propose possible solutions for the business to consider.
Co-op Work Terms: Allows businesses to fill short-term staffing needs with a full-time student for a four-to-eight-month co-op term. Students alternate study and paid work terms that provide experience in a workplace setting related to the student's field of study. There are several funding opportunities available to employers that can reduce labour costs of students (see below for more information).
There are a number of other ways that businesses and students can work together. To learn more about the different types of work-integrated learning, visit BHER's WIL Resource Hub.
The COVID-19 pandemic and its impact on WIL
Each post-secondary school was asked about the impact of the pandemic on their WIL programs. Margaret highlighted the University of Waterloo's new offering of an innovative work term option known as the Waterloo Experience (WE) Accelerate program. This program gives students hands-on problem-solving skills curated by industry partners. Teams of students are tasked with tackling real-life projects supplied and assessed by these industry partners. This new program gives businesses the opportunity to help students develop real world skills for their future of work. Businesses are able to access innovative ideas and solutions as proposed by the students for practical work projects. Additionally, businesses are also able to enhance their talent pipeline strategy by connecting with post-secondary students and building those relationships while the students are still in school.
The University of Waterloo also highlighted their Digital Skills Fundamentals courses. These introductory mini-courses are available to University of Waterloo students at no-charge and include courses such as: Introduction to Digital Marketing, Introduction to Web Design, Introduction to Video Marketing and more. The purpose of these mini-courses is to equip their students with the proper skills and strengths to support businesses with their digital approach. With an increase in businesses looking for support to strengthen their brand awareness and online presence during the pandemic, these free courses help businesses access highly valuable skills from the next generation of the workforce.
Linda Crawford of Conestoga College highlighted that the pandemic presented the unique opportunity to offer their student placements with businesses that didn't necessarily have a brick-and-mortar site. This meant that organizations that operate their businesses remotely could now take on students which was not an opportunity that had existed prior to the pandemic. Many solo entrepreneurs are home-based or working from other sites and cannot easily bring students on to work in-person. Collaborating with students remotely is a great option for those businesses to access work-integrated learning.
Lisa Jarvis of Wilfrid Laurier University mentioned when the state of emergency was declared, industries such as healthcare and social services reached out to seek Wilfrid Laurier University student assistance with frontline support. Additionally, she highlighted that when capstone projects and in-class projects shifted to virtual presentations, it allowed employers and more of their team members, including high-level executives, the ability to log in and attend these virtual pitches and presentations. This was not a common occurrence prior to the pandemic as normally one representative of a company would attend in-person presentations.
Funding opportunities
A challenge many small businesses continue to face when considering working with students is financial constraints. All three panelists highlighted the Government of Canada's  Student Work Placement Program (SWPP), which provides wage subsidies to businesses that hire students. As of April 1, 2022, SWPP enables small and medium-sized employers (500 employees or less), including not-for-profit organizations, to apply for wage subsidies of up to 50% per student per semester (to a maximum of $5000).
For more information on SWPP and other funding opportunities, you can visit Hire Waterloo's website to learn more or contact one of their team members.
The Access Student Talent Resource Page
In addition to the helpful resources provided by our local post-secondary schools, the Access Student Talent program has created our Access Student Talent Resource Page for small businesses and not-for-profit organizations interested in exploring work-integrated learning. Resources are gathered from our local post-secondary schools, Co-operative Education and Work-Integrated Learning (CEWIL), and our partners at the Business + Higher Education Roundtable (BHER). These resources include past Access Student Talent webinars and blogs, details on the types of work-integrated learning, and answers to some frequently asked questions. We know that it can be difficult for small businesses to connect with students; these resources aim to help those businesses to get started or to continue their journey of working with post-secondary students.
Watch the webinar
If you would like to access the full webinar to hear details from the representatives of Conestoga College, Wilfrid Laurier University, and the University of Waterloo, click here or watch the video below. If you are interested in learning more about working with students or the Access Student Talent program, connect with us today to start exploring ways that students can support your business.