BEA gala – Innovation Award
Sponsored by BlackBerry Limited
Historically, the Innovation Award has been a popular category at the Business Excellence Awards Gala. Waterloo Region is often referred to as the Silicon Valley of Canada as higher education and creative thinking is fostered through various accelerators, think-tanks and of course, the world-renowned universities and colleges. Students and entrepreneurs from all over the world come to the Region to see their dreams come to life.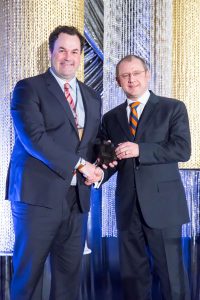 Awarded to a business or organization that has been in operation for a minimum of one full year, and has created, invented, or developed an innovative product or process, that has resulted in significant and measurable increase in revenue or job creation; productivity or quality, reduction in costs; and/or improvements in service in the following areas:
New product(s)
Technology
Management
Manufacturing processes
Customer service
Ultimately, the recipient of this award is changing the way we work, think, and interact.
In 2018, Oculys Health Informatics Inc. took home the award. They provide an innovative and technological solution to bottlenecking in hospitals to improve efficiencies. They are revolutionizing hospitals by supporting healthcare providers and reducing overcrowding. They are scaling the size of their business at an incredible rate, and participated in the Lazaridis Scale-Up Program this past year.
Good luck to all the incredible nominees below for the 2019 Business Excellence Awards!
Christie Digital Systems Canada Inc.
Conestoga Meat Packers Ltd.
Glass of Learning Inc.
Home Hardware
McIntyre Group
Powernoodle Inc.
Salesforce Inc.
Waterloo Accelerator Centre
Waterloo Wellington Local Health Integration Network
Wroute Inc.
This event is already over 90% SOLD! Come show your support for these amazing businesses and attend this memorable evening! Tickets are available on our website.