BEA Gala: Service Excellence in Hospitality & Tourism Award
This award category highlights outstanding service within the hospitality and tourism field. From catering companies to local attractions or venues, each business is focused on delivering the most memorable guest experience possible, which makes them stand above the rest.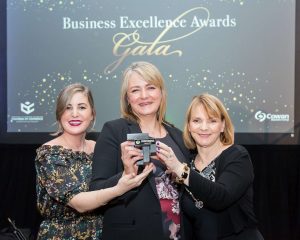 This award is given to an outstanding business or organization that has demonstrated a commitment to providing top-quality customer service and guest experience in hospitality, tourism, and the entertainment industry. The business may have:
Been in operation for a minimum of two full years
Exceeded customer expectations in the hospitality and service industry, and offers a superior-quality product or service
Been a key player in increasing awareness of the GKW area
Demonstrated measurable success
Made exceptional contributions by promoting community betterment
The recipient of this award will not only provide seamless customer service, but they will be expected to demonstrate how they've been engaged in the community and how they've been an advocate for the Waterloo Region.
In 2018, this award was awarded to Hacienda Sarria. They attract over 17,500 guests annually to the KW Region and are an economic driver in the hospitality and tourism industry. They work with over 35 local businesses and vendors, which includes breweries and regional farms, to help support our local economy. They have also expanded the region's global reach by working with major film and television productions and magazine photo shoots, including Martha Stuart Weddings and Disney Style magazines.
Good luck to all the incredible nominees below for the 2019 Business Excellence Awards!
Charcoal Group
Crowne Plaza Kitchener-Waterloo
Little Mushroom Catering
Mambella's
Don't miss out on your opportunity to celebrate these businesses with us! With over 900 guests in attendance, you will leave feeling inspired and proud of the community in which you belong! Purchase your tickets on our website.