BEA Gala – Young Professional of the Year
2019 Business Excellence Awards
Young Professional of the Year Award
The Young Professional of the Year Award is another award that has been revamped. In previous years, this award was titled the "Young Entrepreneur of the Year", which had a narrower focus on young people building a product or business from scratch.
This award is given to an individual under the age of 40 who has tackled the challenges of entrepreneurship and/or has demonstrated professional growth and success in their respective field of work. This individual: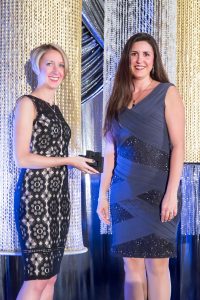 Is a part of a member in good standing
Has demonstrated leadership within their workplace and/or within the community
Has contributed to the community through active participation in community initiatives
Or has demonstrated entrepreneurial ability and innovation in any of the following areas:

New product(s) and/or customer service initiatives
Technology
Management and/or processes
In 2018, Chloe Hamilton from Warm Embrace Elder Care took home the award. She, along with her mother and sister, established Warm Embrace Elder Care, which provides compassionate care to an aging population. By the age of 22, Chloe graduated with honors, owned a seasonal franchise, and started her own business. Warm Embrace Elder Care has grown from 3 to 34 caregivers, four full time administrative staff, and one part time receptionist in 2018! Chloe is a shining example of what can happen when passion meets motivation and was deserving of this award.
Good luck to all the incredible nominees below for the 2019 Business Excellence Awards!
Beisan Zubi – Communitech
Elliot Fung – Waterloo Wellington Local Health Integration Network
Hannah Marie – KW Headshots by Hannah Marie
Kendra Ross – Oak & Rumble
Kris Ronan – Dirt Cheap
Mohsan Abdullah – Token Creative Services
Shelby Behling – Clean & Tidy
Victoria Locke – unLOCKEd Company