BEA Gala: Young Professional of the Year Award
Young Professional of the Year Award
Sponsored by Libro Credit Union
The Young Professional of the Year Award is another award that has been revamped. In previous years, this award was titled the "Young Entrepreneur of the Year", which had a narrower focus on young people building a product or business from scratch. We still wanted to maintain the spirit of entrepreneurialism in this award, but felt it was necessary to broaden the category to allow realtors, accountants, inventors, those in the non-profit sector etc, who are shining stars in their industry the opportunity to be recognized. After all, the Chamber has an entire event series centered are young professionals!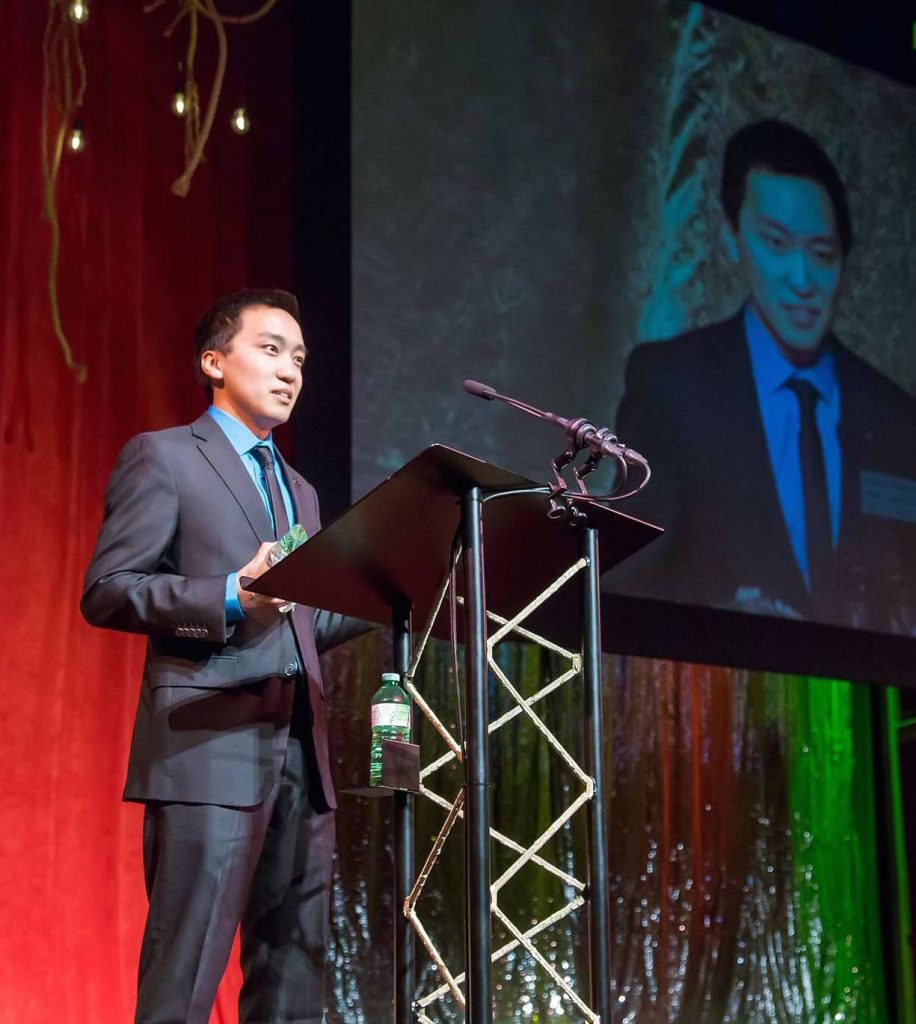 This award is given to an individual under the age of 40 who has tackled the challenges of entrepreneurship and/or has demonstrated professional growth and success in their respective field of work. This individual:
Is a part of a member in good standing
Has demonstrated leadership within their workplace and/or within the community
Has contributed to the community through active participation in community initiatives
Or has demonstrated entrepreneurial ability and innovation in any of the following areas:

New product(s) and/or customer service initiatives
Technology
Management and/or processes
In 2017, Hongwei Liu, the Co-Founder and CEO of MappedIn was the deserving recipient of this award. A former student at the University of Waterloo, Hongwei was named one of Toronto's 20 most brilliant tech innovators. Seeing a gap in the world of geographical information systems, he realized there was no way to navigate dynamic indoor spaces – think the Eaton Centre or Square One – like we do outdoors on city streets. So he and his team developed a software platform that allows retailers to make their indoor maps accessible to all customers with their Smartphone. In 2017, MappedIn signed a deal with the prominent property tycoon, Simon Property Group. Now, 9 out of the 10 largest shopping centres in Canada use MappedIn, including Cadillac Fairview.
Good luck to all the incredible nominees below for the 2018 Business Excellence Awards!
Steve Burrows – Facet Design Studio
Kris Ronan – Intrigue Media Solutions Inc.
Stephanie Soulis – Little Mushroom Catering
Richard Ventura – Mortgage InGenuity
Brock Hart – Overlap Associates
Liana Carvalho – Sun Life Financial
Carolina Soares – The Event Firm
Chloe Hamilton – Warm Embrace
Marci Matejcek – Uptown Beauty Lounge
Interested in supporting these amazing young professionals? Join us next Thursday, February 22 at our Business Excellence Awards Gala! We have less than 40 tickets left, grab yours before they're gone here.