Business Excellence Awards 2021- Nominees, Business of the Year 11-50 Employees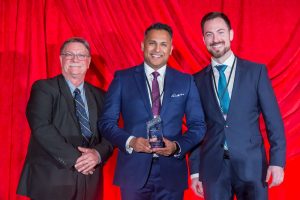 The Business of the Year Award (11-50 Employees) celebrate the small to medium sized businesses in our region that are leaders in their industries. This category has historically highlighted the innovative work year after year.
Home Care Assistance was the 2020 recipient of this award. With over 200 worldwide, this franchise has grown to be one of the seven largest franchise locations and has emerged as an innovative leader within their industry, focusing on game-changing services and a science-based approach.
Awarded to an outstanding business or organization with 11-50 full-time employees that, in the
past year, has:
Been in operation for a minimum of two consecutive years
Demonstrated innovative & proactive leadership within their business or industry
Demonstrated measurable success as a business and/or as an employer
Practiced good corporate citizenship
Made exceptional contributions by promoting community betterment
Nominees for the 2021 Business Excellence Awards Gala are:
Anytime Fitness
Clean & Tidy
Diva International
Foxnet Inc.
Jay Fencing Ltd.
The Inn of Waterloo & Conference Centre
Warm Embrace Elder Care