Business Excellence Awards 2021: Nominees, Environment & Sustainability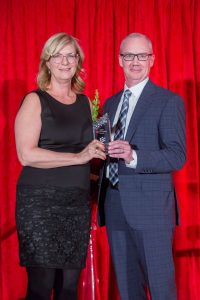 This award category praises the accomplishments made by implementing sustainability measures. The Environment & Sustainability category seeks to shine a light on the organizations in Waterloo Region making a difference for our planet.
The Cora Group was the recipient of the 2020 Environment & Sustainability Award. Without government incentives, they designed and constructed a prototype that would be used for all commercial construction, with the only motivation being 'that it's the right thing to do'. They have been working towards this sustainable future for the past 15 years and have even inspired our local Universities, who now study their innovative designs. Most notably, they are recognized for their evolv1 building, the first zero carbon net positive building in Canada.
Awarded to a business or organization that has:
Been in operation for a minimum of two consecutive years
Made an outstanding commitment to sustainable development
Self-initiated environmental actions and programs beyond legislative requirements
Found energy or waste efficiencies
Provided environmental stewardship, education, or innovation in the past year
The nominees for the 2021 Business Excellence Awards Gala are:
Accelerator Centre
AET Group
Arcadian Projects
City of Kitchener
Diva International
Joseph & Company
Vertical Interiors by McIntyre
Wake Up Coffee Solutions
WalterFedy