Female Founder (February): Tracy Valko
We're excited to announce a new program… our Female Founders series! On the first Tuesday of every month we'll announce a new Female Founder, including a video interview of them sharing their business story.
Want to be featured as a Female Founder? Contact Heather Hutchings for more details.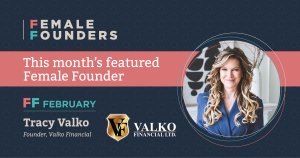 The third Female Founder that we're featuring is Tracy Valko, Founder and Chief Visionary Officer of Valko Financial Ltd.
Valko Financial represents the top mortgage brokers in Canada. Its trusted professionals provide creative financial solutions for their clients.
Tracy is the founder of Valko Financial, Chief Visionary Officer and a motivational speaker.
She has been a pillar of service and inspiration to the finance and mortgage industry for
over twenty-five years. Her professional foundation has been built on heart-centred leadership, honesty, integrity, commitment and professionalism.
Tracy has seen it all in her 25+ years of experience in the mortgage and financial
industry. After becoming one of the top individual brokers across Canada, Tracy
ventured out and founded Valko Financial. The firm was founded on heart-centred
leadership and the ability to make things happen by inspiring and encouraging others.
These principles create a catalyst for safety, authenticity, kindness, truth and excellent
service for agents and clients.
Tracy is an Accredited Mortgage Professional, has received more than 75 awards in her field, and is already a member of the Canadian Mortgage Hall of Fame. Other accolades include a nomination for the Royal Bank of Canada's 2021 Women of Distinction Award, and being part of the Global Top 100 Mortgage Professionals. Tracy served on the Mortgage Professionals board for three years as part of the Executive team.
Dearer than these honours though are the many charitable and community events Tracy
and her team have been part of in the Kitchener-Waterloo area. Tracy loves to produce
events that foster charities and bring communities and people together to
drive positive change.
Tracy's passion truly lies at home. Tracy is a wife to Bruno and mother to Meghan and
Brendan, and an avid lover of the outdoors and animals. Self-care, meditation, and
health in body and mind are central to Tracy's life approach.
To learn more about Tracy and her journey as a Female Founder, watch the interview below (or read the written format).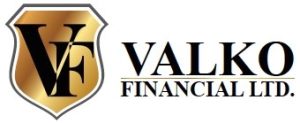 Tell us about your business.
My business is residential, agricultural, and commercial mortgage financing. We're licensed across the country. We have clients that, if they need mortgage financing in the community or if they're moving outside the community or buying investment properties, we're able to do that type of mortgage financing for them.
Where did your business idea come from?
I've come from a family of bankers but not on the mortgage broker side. So, when I was working for a bank, after I finished university, I was introduced to the broker world and realized that there was an umbrella of different mortgage products, strategies and solutions that you can provide clients for mortgage financing. And there was a big "Ah hah" in my mind saying, okay, this is what I want to do, to give people options and choices and to provide some long- and short-term solutions to their mortgage financing.
And entrepreneurship was always in the back of my mind – being able to showcase my gifts, because I'm really good at speaking with clients, and a lot of marketing that I can do as well. I thought "what a great business for me to be able to get into". I've made the business more of a community business. I spent a lot of time being able to give back to the community and events to just bring people together.
What were you doing before you started your business?
So, I've always been in the business banking field. I started out working at a bank. I went to university a little bit later on. I took business and political science, and I took law. I was accepted to law school, but life took me in a different direction, and I ended up working for one of the financial institutions. I started out originally just on the phone doing retention and renewals and worked my way all the way up, understanding each kind of process and journey for mortgage financing. And so, the broker space was just a natural transition for me, and again there was that entrepreneurship kind of spidey-sense in me that I really wanted to embrace and showcase my strengths and abilities and see what I could do in the world to make a difference. So again, doing that banking and understanding it from front to back really gave me a solid foundation for being an independent broker and then opening a brokerage.
What have been some highlights in your entrepreneurial journey to date?
I'm really proud of, to be honest, the 42 community events that we've had in the last 15 years. I mean, I've been a broker for 26 years, so it did take me a bit to get my grounding and understand what to do and be able to get the funds to do the events that we've had. It makes me smile because I never say I'm in the mortgage business. I always say I'm in the people business. It's about connection and making sure that I understand what people's needs are – giving them a voice and a safe space for them to be able to say their truth and to have someone that's always having their back, no matter what it is. I mean, one of the number one stresses in life is financing. For us to be able to provide a holistic approach to financial wellness – I'm really proud of. We've done a great job.
I always say I love people. That's why I'm in the business I'm in. So very proud of that. We've had over 75 awards in our industry over the last 26 years, which has been amazing. I personally won Mortgage Broker of the Year across Canada. I've been 100 Global recognized across the world, and I'm pretty humbled by that. But it's not the awards, it's not the recognition, it's being able to help people and give them a safe place to lay their heads at night, to save a lot of lives. I have to tell you, I have saved a lot of lives. I get emotional over that because I love people. And I think that's what you need to do in life is serve and support people.
What have been some challenges you or your business have faced?
I think economic times for sure. We've seen ups and downs in the economy. I always say I'm small with big business because I have a big mindset and we really have structured the business across the country. But you're dealing with economic times and expenses, and as a small, big business, there's expenses that come with that. When you don't have the revenue coming in as much and you've got such a big foundation… being able to support that and know you're doing good work. And I really say we are doing God's work. We're able to serve and support people. I think that in times where you're dealing with inflation like we are right now, when you've come this far, I mean, sometimes as a leader in the business, it becomes difficult. It's a hard mindset to get through. I'm a big optimist and I know we'll get through this, but seeing a lot of businesses go through this, I think is struggling for me as well, right? So, that's some of the challenges.
I think as a woman leader in the financial industry, we were less than 10% when I got in 25 years ago. We're now 26%, which is not even, to me, cutting it close to where we should be. We should be on a level playing field. And I'm still coming into those conversations of those male dominated sectors, especially in the finance business, where you're not appreciated or not validated or not recognized on an equal playing field. And I think being able to push through those barriers as a strong woman, I can provide mentorship to a lot of young ladies coming into this industry and just people in general. To be able to have that voice, to have that grounding, and to have the confidence and have people like us, to be able to cheer them on and be right beside them – that is leadership today. And I think that I've always had that leadership.
It's taken me this long to get to this point because of the barriers I had. But I'm grateful for them. Thank you for showing me the opportunity and the resilience to push through them and to be that warrior for a lot of people coming into the industry, knowing that we've had that journey and we're here right beside you. Because I wish I would have had that when I first started out, I think I would be in a different place right now. But maybe I'm here right now for the right reason. So, I think those are the barriers that I've struggled with over time. But I always look back at them in gratitude and appreciation. What have I learned and what does it take to take me to the next level, to be able to support people?
How did you navigate the challenges you faced earlier in your career?
When I've talked to a lot of successful people in different businesses, what's the number one thing they had? They had mentorship. I have to tell you, I didn't have the mentorship of a successful business person, entrepreneur in the finance business, that was a woman that understood my journey. I kind of put my nose down and said, I'm just doing this because I was told all the time, "no". I was told I couldn't go to university. As a woman, this is not what you do, especially going to law school. You're not smart enough. You're not good enough. And you push through those barriers. I mean, the only thing I didn't do is go to law school, but that was just circumstance at the time. I think getting into the field and having the passion I did to give back and seeing the ability and the connection I made with people really pushed me through.
People ask me that all the time. What is it that made you so successful? I said, "I define success by being able to see the impact I've made on people". I don't care what number I'm at in my business or what's in my bank account. What defines me is the impact, at the end of the day, how do people actually feel about me? What are they saying? What did I do? It's what you do and it's how you make them feel to me is what's successful. So really, my mentorship was myself. Going forward now, today, there's a lot of women out there that are very successful in different businesses that I listen to and take bits and pieces of my conversation to help a lot of people. But you know what? I'd say myself.
How do we help motivate the next generation to join sectors of the workforce that are more male dominated?
I think more communication out in the industry with different platforms, just like the Chamber, where you can bring women together to showcase the success that they've had in their businesses, where we can bring the younger generation into the room to hear that conversation. And then being able to partner them up, maybe with a smaller group, to be able to help and support them going forward. Because it's great to have events and to be able to speak your truth on what your journey is so that you have the younger generation listening in the room. But to be able to carry forward that relationship, I think, is essential. I was very fortunate to be able to speak at one of the universities in town to young ladies that were graduating from university and that was a big "ah hah" for me because I realized the challenges they were already facing in university and not even in the workforce yet. And it really pulled at my heartstrings because I thought of how far we got, and yet we've gone a couple of steps back because I don't think women are recognized enough for the struggles that we've had.
I mean, you know, there's that saying that for every woman that becomes a CEO, they raise another six underneath of them – women into different executive positions. We did. We need to see more CEO's, but CEO's of ourselves – doesn't mean you have to have the title at a company but just have that mindset. What a different world it would be.
We have truly different gifts that we can bring to the table to help a lot of companies get successful. Leadership today is about people. It's about emotional connection and how you can bring purpose. I have so many people in my company that could go to any brokerage out there and get more money, but they come to ours because we provide them value, we provide them support, we listen. And at the drop of the dime, I get a text from one of them, and I'm there. And that, nowadays, means more than anything in your wallet or in your bank account. I think a lot of businesses are lacking that right now. I think they're not understanding the pivot that needs to be taken from a leadership level to have the balance of men and women in the room to give that holistic perspective. Because financial wellness is about personal wellness. And when someone says they're not okay, it doesn't mean to judge them personally. It means to take their hand and make sure that they're able to get to the next day. And then you have a true community in your business. And that's what I've got. I'm so proud of it. I don't have a company, I got a community.
Knowing what you know now, is there anything that you would do differently?
Believe in myself a little bit harder and trust my gut. I don't know how many times I knew in my gut the right step to take, and I sat back because I remembered that little girl in my mindset saying, no, you're a woman, you're a girl, you can't do this, you're not good enough. And so, I was cautiously moving into that direction, when I should've just trusted my gut, just went with it. And again, I always say, what could you have said to your younger self? Love yourself a little bit more, look at yourself in the mirror every day and say, "you got this". Give yourself a high five and just love yourself because that's the true gift and, I think, the lesson in life.
What methods have you used to help grow your business?
We've done a lot of things to be able to, not only grow the business, but bring awareness. I'm a big advocate for marketing. I think I should open a marketing company because I always think of what's next, what can I do, how can I get that word out there that we're here? So, working on different ways to market, whether it's grassroots content, which I originally started with bench signs and different ways of getting my message out in the community, to then hosting big community events – that was a big win – which I continue to do. And then online, obviously. We all moved to online, right? Being able to provide online information on education, support, knowing that we're here to be able to help people provide credit coaching solutions, mortgage financing solutions, and just information in general that would help people, even if it's not about a mortgage. Like, we talk about tax time, we talk about credit repair, we talk about if you're going through a divorce. There's lots of information that we bring to that platform that people will listen to and then they give us a call. I think from the community within our business we provide a lot of one-on-one coaching.
We do a lot of personality profiling with the Desk program. That's a great way to not only understand your client, your referral partner, but it's a great way to know you. And if you know what your personality is, then you'll know how to connect to the next person you're dealing with and your peers or any of your co-workers that you're with as well. And so, we do a lot of intensive Desk profiling. It also helps me as a leader to be able to say, okay, if we need to hire another staff member, what type of personality is going to work with all of us? And that's a great way. And I think once you establish the Desk profiling, you can pretty much know someone even by a handshake. It's pretty amazing, it's pretty powerful. And it's really helped me be able to build my business and my referral base because I know how to connect and have a better conversation with people when I know their personality, and I know where their strengths are, and maybe where their weaknesses are. So, I can complement that with my conversation.
What have been some core values that you've integrated into your business?
Some core values we integrated into the business are about commitment. So, we're committed to provide, not only the best service, the best conversation, but really the best for our client. And that is from a holistic perspective. We may not be able to help them out with the circumstance, with their financing, but what can we do to be able to support them as a person? That was one of our core values as well.
One is growth – in the aspect of growing as a business, as a community, making sure we're bringing in the right partners to strengthen everyone. And I say, "we all stay in the same line", right? Doesn't matter what hat you wear, we're all staying in the same line, step by step for the greater good of people. That's the growth from the business perspective. As an individual, my growth is to make sure that I'm leveling up how I want to be as a person, how I want to be perceived with you or anyone else in the room. It's the impact that I make. It's the words that I speak to be able to teach and make every day better for myself and for the next person. That's a commitment to growth.
And then, the third one is greatness. And greatness is that every day we are giving 110% of ourselves to ourselves first. I always say you got to be the best to you to be able to bring it to the rest of the world. And every day, we're leveling up our education, our knowledge, our mindset, our people skills, and making sure that we're doing what truly is our passion. Because you can't be in this business if you're not passionate about people. I don't want anybody here just because of a number, because of a mortgage, and because of commission. It's people first and caring because the money comes after that. And once people understand that and they're in the same mindset, then you truly have that community of working with people. I built my business based on that. I built it based on caring about people. And that's why I always say the leadership I had was further ahead of the game than most of the companies out there. They're catching up now to what it is, and it's great to see because it really needs to see that shift. But it's great that we were able to bring that into a space where I am the #1 woman in Canada right now in this industry. And, I say that with pride because I do it for the people.
What are some strategies when it comes to building a team and recruiting talent?
So, the best strategy is personality profiling – The Desk, I cannot say enough about. It's a great program where you can define what your personality is, what is the perfect personality that you want for the roles that you need in your business, and then you look at the people that you're interviewing to make sure they can fit those roles. And if they can't, then what is it that's going to excel them with the personality that they have? And the other thing you can do with that too, is you can bring synergy to your business and your teams based on understanding each other's profile and how to communicate effectively. And once you do that, it's easier for you then to communicate effectively for your referral partners and your clients. The knowledge of the mortgage is a given – to understand what you need to do from a product perspective, from a rate perspective, or a solutions perspective. But understanding people is really the holistic circling approach to be able to make sure you're tying in that client, that individual, that family, to really truly understand their long term and short term needs and what they are struggling with right now.
Once you can hit that emotionally with people first, then the mortgage comes easy afterwards because you've got their trust. They know you're there to protect them, they know you've got your back, and then you've got a trusted partner with you. You do that with your business as well too. So, everyone in your team in that community trusts you because you've been able to bring out stuff they were struggling with, with their personality, to get to the next level with their business, with their skill set. And you can do that very effectively with The Desk profile.
What have been some benefits of establishing your business in Waterloo Region?
I can't say enough about Waterloo Region. I started this business knowing three people: my husband and my grandparents. That was it. And now I've got over 7000 clients in the community. It's grown exceptionally. I mean, you look at it now and it's a totally different lens than when I moved here 26 years ago. But it still feels like a community. Even though it's big, it still feels like that. I can't say that about many cities. I love the embracement of immigration. I think last year, we brought over 28,000 new immigrants into KW alone. And that's something pretty special. We embrace people, we accept them, and we help them soar. I think everybody here is really kind. You're always connecting with people. And the Chamber does a great job of bringing businesses and people together to connect and be able to build their business. And then the word of mouth and the repetition of that has been amazing. It's worked incredibly for me, for my business, and made me feel like home from the beginning. Because again, you're growing a business and you don't know very many people. To have an outlet to meet people and have conversations about what you're struggling with, what you're not – that works really well because then you can grow your business.
What inspires you?
People. That's it.
What advice would you give to other aspiring business owners?
Find a mentor. You don't necessarily have to find a mentor in your field. Find a successful mentor in their business because they will tell you stories that will inspire you, that will give you ideas, but also will be able to be a mentor for you and your business. And I think that that was one thing I didn't know. I wish I would have known back then to have someone that's in your corner that says, "hey, can we meet even once a month or twice a month", to be able to give you some support and guidance for what they struggled with, that maybe you kind of feel alone in. I don't know how many times I felt alone in my business because I truly didn't have anyone, especially as a woman. It was really tough. I think that if you can – and there's tons of people nowadays, there's tons of platforms just like the Chamber that you can find those mentors to help you have that support. Reach out, because the Chamber is a great place if you're struggling on every level, even if it's personal or financial, they'll have different places that they can connect you with businesses of people that can support you in a kind manner. And it makes a big difference because owning a business is tough. It takes away a lot from your life, takes away time from your family, it could take away time from your relationship, it can take away a lot from your dreams, but in the end, it's so worth it if you can push through the boundaries and have the confidence to go. You can really take your gifts to the next level and just help people. And I think that that is a big lesson for entrepreneurship.
What audacious goals do you have for your business in the future?
Just keep on making an impact with people. I can't say, oh, I want to be #1 in the country. I mean, I think we're #1 with ourselves first. We're #1 with our clients and that, in itself, will grow and evolve. And for myself, I just want to get the word out because I've had a lot of struggle in this business on many aspects and I think being able to speak my truth and have a forum where people can understand they're not alone… god, I wish I would have had that. I think being able to get out there and speak more and be in a forum of education and support and just being authentic. I think we need a little bit more of that in the world.
What can we expect in the meantime?
You'll keep seeing me on social media, you'll keep seeing us in the community making an impact and doing events and getting our word out and just helping people and you'll just keep on seeing us.
Can you talk a little bit about adaptability in your industry?
I think it's adaptability and pivot. I think those are the two key words. We've had a lot of change, like we've had over 26 mortgage rule changes in the last ten years. It's a lot. I mean significant changes where it's really impacting people's affordability, what they qualify for. And you're talking about people's lives. Again, I always say mortgage financing you have to take very seriously because it's providing roofs over people's heads, their families, a safe place to lay their head, memories. It's very serious. So, when you've got changes that the government makes to impact people's affordability, we must be able to communicate that in an effective and kind way to people. Being able to adapt to those changes and then understanding people's frustrations of having potentially maybe their dreams changed. That they can't afford a certain price range of a house or the house of their dreams that they want at this point.
I say adaptability because I've had to work a lot with helping support people emotionally in our business. As much as it's frustrating for families and individuals, you have to think of it on our side. We're communicating the word out to people and a lot of times crushing dreams, right? And you don't want to do that. We're here to be able to build dreams. I think that that's been really hard, especially over COVID it was super tough. A lot of people we had to make sure we had some emotional coaches there as well to help us through these. And adaptability was one thing I've had to learn. How do I adapt and pivot my conversation to be able to support people even more? Because it's okay just to speak it, but we have to actually show it.  So doing more emotional coaching is something that I mean, I love it, I'm very much an empath, so I'm more about human connection. I feel people more than just writing down a number to me. I always think, why did I get in this business when it's all about numbers? And I'm so far from that. But I think that's the gift that I can do that. So, that's for sure a big pivot.
I said – I was on a panel in my industry about three weeks ago, there's over 350 people there from our industry – and the first thing I said is, all of us need a warm hug right now because we've been pretty much beaten up with all the rate hikes that we had last year and the changes to a lot of people's dreams. It's tough. We're all impacted. Listen, we all have a mortgage too, right? It's not just the client or their families. So, I'd say adaptability and understanding, for sure. And then pivoting in different situations, like what's happened with inflation, what's happened with our market. We were super busy, no time at all, like literally to spend any time with their families over two years and then to go to a point where busy business is down over 50%, that's hard on the mind and that's hard on you emotionally. Everybody can say, well, yeah, we'll look at all the business and the money you made, but there's a cost with that too. If you're a business owner, you had to hire, you had to make sure you had support to support people, you had to put processes in place and then all of a sudden, the taps were turned off because of what happened with inflation. So, being able to pivot – kind of back to looking at a couple of years back of where your business was and making sure that you're being fiscally responsible, but also emotionally responsible. Because people have had to lay off during these times and that's tough. So that's why I say as a leader, you have to wear many hats and it's really important to have some support and mentorship there because there's been some pretty tough times over the last eight months. To be able to have support in communities like this, the chamber, so you can meet people is super important because it's affecting a lot of people's mental health.
What does work/life balance look like for you?
I truly believe that I do not think there's work-life balance when you're an entrepreneur, depending on what stage you are. As an entrepreneur, you are always looking – okay, what's next? Most entrepreneurs are very creative and they're always looking for the next opportunity or how can I grow my business or connect? And that's very much like myself. But I think, over the years, I've had to learn to sit back, take a deep breath and say, okay, how can I build in some me time, some wellness for myself? What is it going to be today that I'm going to change to make sure my tomorrow is better for me? Because it's always that saying, right? You got to put the oxygen mask on first if you're crashing on the plane before you give it to someone else. I learned that the hard way. A few years ago, I actually crashed and burned and collapsed and I realized it was an ambulance attendant that said to me – and they didn't even know me from anyone – and just looked at me and said, we've seen this time and time again. You're self employed, right? Yes. Okay, so when are you going to put the oxygen mask on? 23 years old, pretty smart kid, right? I'm 26 years in the business – well, I was 24 then, 24 years in the business, I'm like, okay, you know what, I got to start listening to this. And that's when I started to make some changes.
And so, my first two hours of the morning I look forward to because I get up really early and that's all for me. I do everything for me, from meditation to cold baths, to exercise, to prayers, to journaling, to gratitude journaling, to deep breathing. It's become the same type of habit you do when you go brush your teeth in the morning. I even do a habit there where I'm always high fiving myself in the mirror. I mean, if you look at the study out there, most successful actual NFL or NBA teams: Why are they successful? Because they're all high fiving each other. They're all cheering each other on. It releases endorphins which help you feel positive about yourself. So, I do that in the morning. I just high five myself in the mirror and say, hey, I got this. Like, I'm good. I love myself. I can do this. And it sounds silly but try it for five days and then see how you feel. I journal that and I saw the change in myself to be able to say, okay, this is better.
And so, I get all my team to do that. So, we're all like, did you do that this morning? How did you feel? It's become a routine for people. It's little things like that. Listening to birds in the morning. I listen to birds the first 30 minutes I get up. That's my alarm. It's something cheery, it makes you feel good. And I think it's little things that I do, little wins. And then, at nighttime I make sure I do gratitude journaling, I do meditation, I do stretching, I make sure I get at least 6 to 7 hours of sleep each night. Like, it's almost religious for me because I'm so go-on-the-go every day. I don't have balance during the day. I'm on point every 15 or 30 minutes or my appointments or what I'm doing. But that's the life I chose. And I think that that's what you need to do. You put discipline in your business. You got to put discipline in your personal side because you only got one shot at it. And if you don't work on your own personal wellness, your health will be impacted. And sometimes you can't turn that around or it's harder to turn it around. And I've seen it. I've seen it in my business. I've seen it with a lot of mental health. I've dealt with a lot of mental health not only in the industry, but in my family, where I've learned what you need to do just to be better for yourself. And so that's my gift to myself to make sure I'm good because I got a lot of responsibility, and I still got a lot of words that I want to say to people.
How do you help motivate your team and keep their wellness top of mind?
We have a buddy system with our team. We have people that are accountable to each other for every little habit that they increase in their day and then we get together as a community and talk about it. What was your win? What was your struggle? And how can we support you better? It's been great. Like, last year was a big thing about getting fit and being very good with your food and exercise. It was great because we had buddies to be able to support each other. And a lot of our team, not only lost weight, but they just felt better. So, it's not necessarily what's the goal of the weight you want to achieve, but how do you feel better as a person? And so, this year, it's all about mindset. Like, what do you need to do as soon as you wake up in the morning? What's the first thing you say to yourself and what are you grateful for? What are three things you're grateful for? And what's the impact you want to make that day? And so, having those accountability buddies to say, okay, I did that each day for the last seven days and have I done it consistently? What am I struggling with? So, that support system, and knowing someone's there to keep you accountable, helps you stay accountable and then you just become accountable yourself. There have been huge wins because it's not about just me, it's about being able to educate everyone else so that they're being better because they're the ones that are speaking to our clients. I've got to make sure that they're feeling optimally better for themselves and their families because that's going to impact conversations they have. It's habit stacking, right? So, that it just becomes ingrained in your everyday, just like you brush your teeth or have a shower, every little habit you increase in your day is a win for you. And a lot of times I find our teams will tell our clients this and then they do it, and they've actually formed friendships over it. It's been great when we dial back to our clients to have touch points and see how they're doing. They've made personal impact because we've been able to do it because we're having such great conversation. It's about conversation and supporting people.
What are three words you would use to describe yourself?
Passionate, authentic, and kind.
What book or podcast are you really into right now?
I'm into Ken Honda right now. He wrote the book "Happy Money". I'm taking a bunch of his courses online because I think it's just amazing. It's about dealing with money and a very different approach. It's a very holistic approach. It's changing your money blueprint by understanding the trauma that you've had from growing up to when you start work to where you are with your families and how that, in itself, will have some trauma. Everyone has it – little or big "T" trauma. And how do you deal with that and be able to let that go so that the money flows into your life, in and out, in a very organized and a very authentic approach to make sure it's healthy for you and provide balance. Because I always say to people, I can understand people's trauma in a 30-day bank statement. That's all I need. And if you can help people through that trauma, you can really change lives. And that's a big conversation and coaching program for me going forward. So, that's one book I'm reading and certification course.
My podcast is Mel Robbins. She's just fantastic. She's got such a raw, authentic approach to human behavior and trauma and just everyday struggles in life as women, what we go through, but it can affect really anyone and what you need to do to be better. Different habits you can form to make yourself better as a person and how to heal through things. It just helps me level up my conversation with my team, with our community, and with our clients. I love it. I'm just obsessed with it. Of course, I listen to the financial ones that I need to, like BNN and Bloomberg, from a financial education perspective. But there's some narrative in there that I always make sure I kind of cut away from, that I just know what's going on to help people and understand mortgages or inflation. But my passion is on more the people side.
Where can we find more about your business or connect with you directly?
You can reach me at ValkoFinancial.ca. You can contact me directly through there. You can reach me through Instagram @ValkoFinancial_ltd. I'm on Facebook as well. Tracy Valko or the Valko Financial Facebook page. I'm on LinkedIn, on Twitter, I'm on TikTok. You can message through there. And of course, you can always email me at tracy@valkofinancial.ca.
I mean, I was told at 19 – I did a beauty pageant in Brampton because I grew up in Brampton for a little bit before I went to Toronto – and I'll never forget, I was 17 and you have to do a special talent, right? Well, my special talent, it was public speaking. And I spoke about the power of purpose. Like, at 17. How would I know that? Honestly, I can't even remember what I talked about, to be honest. But I remember a gentleman came up to me and I don't even remember him being in the audience. This is how I think the universe kind of brings you messages and you just listen later on in life. And he was retired from the army, and I know he was probably in his maybe 70s or 80s. And he came up to me, and I'll never forget, he took my hand and he said, you're going to speak, and people are going to listen to you.