Female Founder (January): Chloe Hamilton
We're excited to announce a new program… our Female Founders series! On the first Tuesday of every month we'll announce a new Female Founder, including a video interview of them sharing their business story.
Want to be featured as a Female Founder? Contact Heather Hutchings for more details.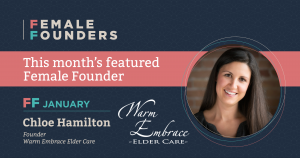 The second Female Founder that we're featuring is Chloe Hamilton, Founder of Warm Embrace Elder Care.
Warm Embrace Elder Care provides a whole range of services to suit your loved ones' needs, when they want to remain living at home but need help to do so.
Chloe Hamilton founded Warm Embrace Elder Care as a service to help seniors remain living at home for as long as possible.  After witnessing her own grandmother's decline each time she moved—from home to apartment, to retirement, to long-term care—Chloe's passion is to provide for other families the service that would have allowed her own grandmother to remain at home. Together with her mother and sister, they have grown their family business over the past 15 years to include a whole team of compassionate caregivers, ensuring they can provide 24/7 care to clients across the community.
To learn more about Chloe and her journey as a Female Founder, watch the interview below (or read the written format).

Tell us a little bit about your business.
Warm Embrace Elder Care is a service to help seniors stay living at home for as long as possible. My incredible team of caregivers help with all kinds of tasks to make it possible for people to live independently. It might mean helping with toileting or bathing or cooking, cleaning, laundry, running errands, going to the grocery store, whatever somebody needs. But the goal is to help seniors stay living in our community, in the home that they know and love and have lived in for many years.
Where did your business idea come from?
The inspiration for Warm Embrace is very personal. My grandmother suffered from dementia, and we saw as a family what it's like to journey through that process. My mum was an only child and at the time she was also busy raising the five of us young kids. And my grandmother started to need increasing amounts of help. And at that time there was no support in her community, there was no service to bring in and help her stay in the place where she had lived for decades. And when my mom moved my grandmother closer to us so she could help care for her, we watched her decline rapidly. First, she moved into an apartment and quickly it became evident that wasn't suitable. She moved into a retirement home, declined again. She fell and fractured her hip and ended up in a nursing home. And sadly, that story is all too true for other families as well. And so, we created Warm Embrace as a solution so that hopefully families can have a better outcome than we had. We aim to provide the help that my grandmother would have wanted in her home, to have allowed her to stay put where she did the best, to help her thrive where she was most at home.
What were you doing before you started your business?
So, looking back now, I can see that I probably had a bit of an entrepreneurial flair from a young age. Of course, at the time that's not what I was calling it, but even as far back as grade school, I was doing craft fairs where I would make bracelets all week long and then go to a craft fair on the weekend and sell bracelets. And then, I tutored my way through high school and did private tutoring after my classes with fellow students. Then when I hit university, I fully assumed I'd become a teacher, I studied English and history on the double major path, so I could have two teachables for high school, assuming if I tutored for years, I must want to be a teacher.
And then while I was in university, I bought into a seasonal student franchise that I ran for four years in school. And I quickly discovered that I learned way more from that than I ever learned from my classes, and that, while I was sitting in class and I was writing up client quotes or calculating numbers or putting together the schedule for next week's work crew, that maybe my passion was that and not school after all. And so, when I finished university, I realized I want to be in business.
But I wasn't exactly passionate about the construction industry I was in, and I wanted to do something that mattered. I wanted to be in an industry that made a difference, where I could feel that at the end of every day, we knew we had touched somebody's life in a positive way, in a way that someone else couldn't come along and do just as fine a job. And that was when Warm Embrace was born.
What have been some highlights in your entrepreneurial journey to date?
There have been many exciting moments to celebrate along the way with Warm Embrace. It's always an honour to be recognized by groups like the Chamber of Commerce for various awards over the years, or the Oktoberfest Women of the Year award, but the feedback that means the most to us is from our client families. And you don't have to take my word for it. You can read our Google reviews that families have posted directly about the moments that have made the biggest difference to them. But knowing that we can make a difference in their lives and hearing from them on a day-to-day basis how much we've impacted the whole family, sometimes two or three generations at once, that's the part that makes the biggest difference to us.
What are some challenges that you or your business have faced?
Certainly, like any business, we have faced many challenges over the years from things like the early days, trying to find office space when you're so small and it's just two people, to much larger challenges like, most recently, the pandemic. In our industry especially, it's been quite the roller coaster ride. But the important thing is to know that if you're focused on the client and at the end of the day, you want to make sure that you're caring for the person in front of you, all the other challenges melt away. The most important thing is how do we make this person's day better? How do we help them to have the best day possible, today, in this moment?
Knowing what you know now, is there anything you would do differently?
Knowing what I know now, of course, there's 100 million little things I would do differently along the way. But if I had to give advice to somebody else who's starting out and wanted one key piece of advice, I would suggest: make sure that you have access to even more funding than you think you're going to need. If you're asking for a loan and you're setting out to have cash available, it will always take more than you think. It will take longer to build up revenue and build up sales than you would anticipate and having that cash buffer will make a huge difference. Looking back, I realized that would have reduced a lot of stress in the early years if I had made sure that I have more cash available when starting out.
What methods have you used to help grow your business?
in our industry in particular – in home care – relationships are so important. I think most people don't look at an ad in the paper and think, this is the decision I'm going to make for my mom or my dad. It's so much more personal. And that's why relationships matter, that you have to be known. People have to trust you. If they're going to entrust you with the care of their most loved ones, they need to feel that they know you and respect you. We have spent years building up our reputation in the region and building connection with key referral partners. So, the majority of our business comes to us through word of mouth that people call us because they know us or that we've served someone else that they know. And you don't have to take our word for it. Read our Google reviews to hear from families directly as to what they can say about our service and how we've helped.
How do you define success?
Success in our world is measured by the difference that we can make for our individual clients and when we get the right caregiver paired with the right client and the two of them have the best day possible, that is how we define success. When we have client families that are telling us that they haven't seen their parents so happy in years, when they see that their dad hasn't been out of the house in six months and we're suddenly able to take him on an outing. When we see that their mom is suddenly engaging with somebody, having great conversations, and then telling family about it later, and she's excited to have something new to share, those are the moments that make all the difference in the world. That's how we define success.
What have been some of the core values that you've integrated into your business?
There are so many values that are absolutely important in what we do – ones like respect and dignity come to mind right away. But people might be surprised at some of the other values that we've also chosen to focus on, like adaptability and enthusiasm. Those are values that might not pop to mind immediately as being important in home care, but we think they are. Adaptability to be ready to go on a moment's notice, ready to work with a client in a state they're in that day. For our clients with dementia, it's important that you're ready to match them in their world, wherever they are in this moment. Through the past two years of the pandemic, adaptability became especially important when every day can look slightly different, and the rules are changing on the fly.
Enthusiasm is important because our clients can tell if you are truly there with them in the moment, if you are truly paying attention, if you truly care. Showing up and just getting a job done might be good enough, but it's not helping someone thrive. It's not bringing your absolute best. Enthusiasm is making sure that we're showing up, being completely present with our client in the moment, and helping them to have the best day possible.
Where do you find inspiration?
I'm an avid reader and absolutely love to devour books, so I enjoy reading fiction, nonfiction, you name it. One of my favorite things to do is wander through the library and just see what books are on display and find something I would never have otherwise picked up. And it's amazing what you can learn. There are so many great books out there and you can find inspiration in the words of people far wiser than me.
What are some strategies of yours when it comes to building teams?
When we're looking to grow and expand our wonderful team of caregivers, the number one thing we look for is heart. What we believe is that you can train any skill set, but heart is what really matters. If you bring a heart of compassion and you truly care about the people that you're working with, you'll be willing to learn any skill to serve them well. Looking for that heart and soul of who somebody is, is far more important to us than any letters on a sheet of paper or any particular training at a school. It's heart and soul that matter.
What have been some of the benefits of establishing your business in the Waterloo region?
Waterloo region is a great place to establish and grow a business. I love the community feel. I love that you get to know the people around you and the people you meet today are still going to be here in ten years and you can build relationships that last. Over time, you get to know people and trust people and then you can refer with confidence.
Tell us a little bit about the culture of your workplace.
Warm Embrace is all about serving families, and it's easy for us to have the family vibe because we are family. Warm Embrace started with just my mom and myself, and the two of us were running things for years, and then my sister Avery joined us back in 2012, and we've been thrilled to have her on board ever since. I couldn't do it without you two ladies. Of course, we've grown the team since then, and now we have Lisa, Lisette, and Teresa, who also support the behind-the-scenes of Warm Embrace and make the front end work smoothly for caregivers. Thank you, ladies, for all you do each and every day. If we couldn't possibly do it without you.
Tell us a little bit about starting a business with members of your family.
When we were first going to create Warm Embrace and somebody had heard that mom and I were going to work together, they had asked, are you guys similar? Are you different? How do you get along? And our response at the time was, "oh, we are so much alike. We're exactly the same, everything will be great". And their response is, "well, if you're the same, one of you is redundant". Which seemed a little harsh at the time, and we kind of bristled, but in retrospect, they were kind of correct. It turns out that we're not nearly as similar as we thought we were, and nothing will showcase that to you quite like family business.
What advice would you give to other aspiring business owners?
If you're starting your own business, the number one thing you need to be is absolutely passionate about the service or the product you're providing. It simply isn't enough to think, oh, it's going to be a big money maker. Oh, it's going to be just a job for a while. That won't be enough. It is hard work. I don't think any business owner would deny that. And the early years especially are particularly tough. The intrinsic reward needs to come from knowing that you are making a difference in the world and that you care enough about what you are providing and what you're doing to get through the tough times, to pull long days, to be up until midnight and up again at five in the morning, or whatever it's going to take. But to put in all those hours, it needs to be your passion. It needs to drive you. You need to not be able to sleep at night until you've accomplished the goal you've set out to accomplish. That fire needs to burn in you.
Can you tell us about the relationship that you have with your clients?
We get invited into families' lives at such an important moment. We've been invited into families' lives when their parents are in their late nineties and the dad is recovering from a hip fracture and the mom has dementia and previously, he was the brains of the operation and she was the feet, but now he's not really able to direct her, and she's confused as to why he's not getting up out of bed. We get brought in at that moment to make the difference so that that couple can stay together, so that they don't get split up and sent to two different facilities across town, to make the difference, so that we can help the wife be the wife she always wanted to be. She can't make dinner anymore because she doesn't know the steps to do it. But if we make dinner and hand it to her, she can deliver it to her husband, and she can take her husband dinner the way she always wanted to. Filling in those gaps and helping that couple to be the couple they always were makes all the difference in the world.
Where can we find more information about your business or connect with you directly?
You can always learn more about us on our website, WarmEmbrace.ca. We'd also love to hear from you directly at 519-954-2480.
*This interview has been edited for length and clarity.