Female Founder (July): Wendy Stahley
On the first Tuesday of every month, we'll announce a new Female Founder, including a video interview of them sharing their business story. Want to be featured as a Female Founder? Contact Heather Hutchings for more details. The Female Founders Program would not be possible without our Title Sponsor, Scotiabank.
To learn a little more about the Scotiabank Women Initiative, and why they've chosen to sponsor this program, see the video below.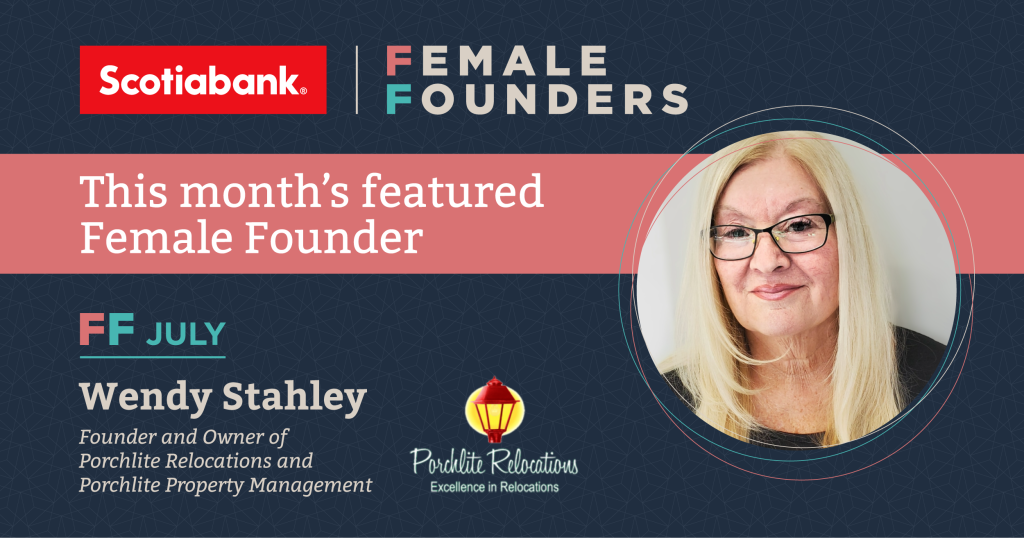 The next Female Founder we're featuring is Wendy Stahley, Founder and Owner of Porchlite Relocations & Porchlite Property Management.
From growing up on a farm, to living in various places outside of Canada, and working multiple jobs Wendy has demonstrated a strong drive to constantly seek growth and seize opportunities. Her passion for travel, meeting new people, and experiencing other cultures played a significant role in shaping her career path.
In 2007 with the help of her husband Mark, Wendy founded Porchlite Relocations with the goal of making a difference in people's lives: Understanding the challenges faced by relocating families Porchlite Relocations step by step assistance during the relocation process fills that important role for individuals and families moving to Kitchener-Waterloo and the surrounding region.
Porchlite Relocations offers community tours and comprehensive relocation programs, helping newcomers settle into their new environment while showcasing the benefits of living in the KW area. Wendy's enthusiasm for the area and commitment to assisting others in their relocation journey is inspiring.
To learn more about Wendy and her journey as a Female Founder, watch the interview below (or read the written format).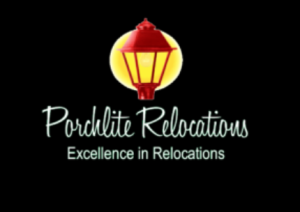 Tell us a little bit about your business.
We are a full-service relocation company, as well as community tours. We assist corporate companies with they're new hires and new arrivals to Kitchener Waterloo and area, with the relocation services. We, provide assistance in finding, long-term and short-term rentals, assisting getting their social insurance number, OHIP, setting up their bank accounts, if the kids need registered in school or daycare. The community tours are a very important process of the relocation process. It allows people to see our community, and if they fall in love with our community, which they most always do, then they will most likely take the job that they're coming for an interview for.
What inspired you to start your business?
I had taken time off for about 15 months of recovery after I'd had, a rare type of breast cancer, and I thought, I need to change up my career. I just happened to see a very small ad in the newspaper where there was a need for a relocation specialist to assist with new hires, people relocating to KW with, at that time was Rim that became Blackberry. So, I thought, well, I've travelled lots of places, I've been lots of places. I love people. I've been in this community since 1985. I thought I can do this. And so that was the start of Porchlite Relocations and Community Tours in 2007.
What did you do before starting your business?
I started out in my early twenties. I had a degree in business, in sales and marketing. I worked for some companies in the United States and in Western Canada. I also had a connection with a business partner for a short time that was in West Africa, and so I have relocated myself and my young family. I know what it's like to be on the end of the person being relocated, and I thought this would be absolutely perfect because I can really resonate with those, especially relocating if you have young children or if you're coming from a completely different country and you're coming to Canada.  I also created franchise package for, a company of Western Canada, which is how I ended up coming to Kitchener in 1985. I met my husband, who was a Kitchener firefighter, and at the same time I was taking a position in Yellowknife as a prison guard, but he convinced me to stay, we married a year later, and I've been ever since.
What have been some of the highlights in your journey as an entrepreneur?
There's been a lot of challenges, a lot of motivation that moved me on to being successful. I'd like to think I'm successful in most of the things I had set out to accomplish. Being in sales and marketing, you're meeting a lot of people. You have to be positive and be naturally energetic because otherwise people are not going to believe in your product unless you believe in it, or, and I really think that comes from believing in yourself, wanting to motivate yourself, having a natural interest in liking people. I also created a franchise package, with absolutely no history in any franchising. I kind of self-taught myself about it, then I brought that here to Kitchener from, Alberta, and I expanded that and said, hey, we need a wholesale division for Eastern Canada to promote this product. I was very proud of, of that. 
I actually was one of the first female police officers for a very short time in Calgary. And at the time, I would've liked to continue with that career, but just the way I would have to say that life was in the early eighties was not really conducive to females in the police department. So, I did not stay with the police department, although I continued to study criminology. And then I took a position, as a female guard in Yellowknife and just before I was to go to that position, I had met my husband here in Kitchener. So, I stayed here and I'm very, very happy about creating Porchlite Relocations and Community Tours.
From my experience travelling in many parts of Canada, United States, Europe, Western Africa, I've seen and met many wonderful people from different venues in life, and I like to think that porch light's probably the most, heartfelt business that I felt that we created and created a niche market as well. I love to help people, and this is what relocations is all about. It's about helping people, helping them to feel that they fit in when they come from another country to our community.  I love what I do, and we really love to help people. So, Porchlite Relocations is probably my proudest accomplishment.
What have been some of the challenges that you or your business have faced? 
In my early career, it would be being a working parent with two younger children and travelling and leaving Canada and living in the United States. The kids had to get set up in school, and they had to leave their grandparents and aunts and uncles behind. It was definitely a different culture living in the Southern United States. To me, there was always mixed emotions of I know, I love what I'm doing for business, but my kids have to follow me, so I worried about them. That was probably one of the bigger, I wouldn't call it a problem, but a concern I had when I was relocating myself to the United States. Then when I came back to Canada, we relocated out to Calgary, and the kids had to change schools.
When talking years later with my adult kids, they're saying, but, you know, mom, it gave us great experiences and that versatility of the things that, that we learned as kids, they were telling me, it turned us into the adults we became. So now, here we are many years later, and I don't feel so bad about that, that I felt as a young mom with young kids. Of course, being somebody going to another country, I mean, if I'm just, if you're just in Canada, the United States, you know, things are pretty much the same. But if you're going to another country or coming from another country, things are very different here. And when you come here and your family is hundreds, thousands of miles away, who do you rely on? So as a relocation specialist, we also tell our corporate clients and our and our private clients that we have as well, that to call us anytime.
We've had many calls and, and retained friendships with many, many people over the years. Just having a question about anything, where can I go to get my hair done? Where can I go to buy furniture? Can you recommend a dentist? Any of these things? Can you recommend a daycare? Or, you know what, I'm feeling a little bit blue today. Can you just come over and have a coffee with me? And we do that because it's all about people wanting to feel comfortable where they're living, which what makes us such a great community here in KW. We are such a multicultural community, welcoming so many other people from so many countries around the world here. I'd like to think we've helped at least a little part in, making our community as divisive or as it is because without all those different cultures coming here, we wouldn't be KW. You have to love people for what we do here and so even when we've hired other people to work for us, they've got to have the same attitudes we have.
Going back to what we were just talking about, some of the other things, the hurdles we've had obviously was Covid. We were in Florida on vacation, when we came home in March of that year, but there was no one relocating because we, as you know, we weren't even able to go to the grocery store with our mask on, and the rest of us were working from home. And then the relocation people, our business is dependent on people moving into our community. So that was a big hurdle we're thankful that we had the means that, you know, we survived but we had very few clients in the first six months of covid. There was obviously no one at one time. We had a lot of furnished condos that we would rent out short term. We were fortunately able to end a lot of the leases on those condos because we had no one to move into those furnished condos. COVID obviously was a big hurdle for us, as it was for a lot of people. And now we like to think Covid is in the background, and here we are, networking and making more connections and getting out and just feeling like human beings again and socializing.
Knowing what you know now, is there anything you would do differently? 
That's a good question. Of all the challenges in my life, there's been so much diversity between moving to the different places we've been and relocating back here, the travelling, even with the kids growing up. I don't think I'd change anything because it made me the person I am today, and without those experiences, I probably would not be in the business I'm in today. So, I've learned a lot through life and with those challenges, I believe it's made me a much stronger person. I am happy where I am, and life has brought me where I'm supposed to be.
What are some methods that you've used to help grow your business?
Networking, the Chamber of Commerce has been great value to me, being able to connect with people. I've been networking with a group called the Growth Academy, which is all female CEOs and business owners as well. We're making great connections with them. And again, the whole networking process so as we are networking, and we meet other people who are connecting with their needs and we're sharing our story with them.
For instance, another thing that I found very helpful is we started to make a guide Porchlite did prior to Covid. It was a guide to Kitchener Waterloo and a KW Adventure Guide. Those two guides were, we made them up so we could refer different businesses, for relocation clients specifically. When somebody would come here, they were looking for us to point them in the direction of some, restaurants, hairstylists, accountants, banking, car dealerships, and those were all references that we would put in our in our guide to KW. Where to go to the museum, where the libraries we're located, the Laurel Creek conservation area. All of those things were in the guide. 
I'm expanding that now the guide to include Cambridge and Guelph. That will help our clients as well as I can connect with other people that are in businesses in those areas so that we can help them. There's no charge for that, I just want to do that, as it's a referral for our clients. So, for instance, when people are relocating here from other countries other than maybe the United States, people, Americans may have driven their cars here, but for the most part, people when they come here, they need to lease or buy a car. So, I've been working with Parkway four dealership for many years because they are able to finance, based on their work permits, loans and bank loans so they can get a car or lease a car. Now, recently I've added the Cambridge Honda dealership onto that, who's willing to do that. There are different businesses again we will put in our guide that I know have a great reputation that I can say, yes, I would go there myself, yes, I would refer this company because they've always given us great service, they're dependable, all those things. So those are two different guides that Porchlite Relocations has worked on.  The goal of the guide is for new corporate client, and their clients to be able to preview the things that they need before they arrive.
How do you define success? 
Defining success to me is finding your blessings in all things in life. Be thankful for your friends, your families, and all your blessings. And to me, when you are in a positive state of mind, positive energy just comes to you, and positive things happen in your life. So, to be successful, I think having a successful life, feeling good about yourself and your, your family, your friends to me that's being successful. If you have those qualities and you're caring about others, I think everything else just falls in place.
What are some of the core values that you've integrated into your business? 
The core values come from respect, compassion, giving others honesty, integrity, all of those things I think are, would be my core values of what I would look for in people that I would hire to be in, to train as relocation specialists, that they must be caring, understanding, respectful, and have the same values as I do. Oh, and definitely you have to have passion. You have to have passion for whatever you believe in.
What are some of your strategies when it comes to creating teams and recruiting talent? 
Just as I was saying about the values that I have, the people that I would look forward to hire as part of my team would have to share those same values, compassion, understanding, and positive attitude. I'm a very big believer in positive begets, positive and negative, only begets more negative. I'm looking for people who are like-minded. I don't know, I've always had a sixth sense about people, so sometimes again I talk about the law of attraction. The law of attraction is where your energy is bringing in people who have the same type of thought process. Also, most of 'em are semi-retired or they're looking for something to do full-time, part-time, people who have travelled. It gives them experience of how other people are feeling. They have to have compassion. You can always train somebody to do the job and take people out on community tours. They need to know the city. So being, you know, being a person who's lived here in KW is important because you need to be able to know all the aspects of the city. You need to be able to keep up on what's going on in the city.
This type of industry that I'm in, when relocations, a lot of it is compassion and knowing how others are feeling so we can take the stress off of them. So, once they arrive here, they can concentrate on finding a home and getting to work and knowing that their spouse and family is okay at home and assimilating into the community. So, the people that we look to hire are people that have compassion, know about the city, and we can train them in all the things that they need to do, such as finding the different services that we provide for our clients, such as setting up the bank accounts, going to Service Canada and Service Ontario, and doing research for rental accommodations. You have to know the city in order to do some of those things.
What have been some of the benefits of establishing your business in Waterloo Region? 
This is such a diverse community. I mean, the diversity of this community is great. We always refer to Kitchener Waterloo when we're taking up people on our community tour as country, living in the city. People love that. They love Kitchener Waterloo because you're close to all farm fresh markets, you're not too far from Toronto. And yet people, because there are many different cultures here in KW, people attend to be much more tolerant of others in this city than in some of the bigger cities. The tech industry here has really grown through the years, we did thousands of relocations for Rim and Blackberry over the years, and now with other new startups, we are really finding that is a big growth area in our business. People learned to work from home during Covid, but now people are thinking, yeah, well, maybe we'll like to move somewhere else, and because this community here has always been a very welcoming community, I think people find Kitchener Waterloo much more agreeable to live in because we're not a city as big as Toronto, and yet we're close to everything here. Beaches, farmland, farm fresh fruits and vegetables, and being very multicultural I think is a very big part of our growing community. 
What inspires you?
People in general and their stories about where they've come in life, what they've done in life, and why they have come to our community and where they've been in their lives, the connections that I make with people. It comes back to people, stories, life. That's what I find really makes my business what it is, and the person who I am, because I love listening to people and their stories. And I feel we can all learn from each other's experiences.
What advice would you give to other aspiring business owners? 
Never give up on your dreams. Never let anyone tell you that you can't do something. Believe in yourself, respect yourself, care for others, and life will kind of unfold in front of you and you'll have opportunities and feel positive in all that you do.
What audacious goals do you have for your business in the future? 
So now, since we are hoping Covid is behind us, we're expanding our community tours. Community tours have always been a very important part of our business, for corporate companies, for pre-hire interviews. It's an integral part of a community tour. As we take the candidate out to do tours in the community so they can see whether or not they want to take the job, because if they like living in the community, we did typically our tours in KW and surrounding areas like Baden, New Hamburg, even over to Stratford, sometimes to Cambridge. But now we are going to expand them to Cambridge and Guelph on a more consistent basis as well. We want to expand those community tours. We would like to try to get some more doctors into KW and we're hoping that if we advertise community tours, any doctor interested in coming into the community, we would be able to have the chance to take them out to really showcase our community.
Let's face it, doctors can make more money in the United States than in Canada, but that's not always what's important. But this is such a great community. We would like to be able to focus on bringing more people into the community, especially doctors and nurses. So yes, the expansion of the community tours, hiring new people to train for relocation specialists. I've been doing a lot of networking now. So, we're networking with some different companies that we will add to our candidate questionnaire that we send out to all the candidates that have been hired before they come to Kitchener Waterloo. That'll help them to settle into the community a little bit easier. In that way, by networking, we're helping one another. I'll send my clients to them, they'll send clients in case such as clients are, they need moving service.
We refer them to a M J Campbell, if they need a short term or even a longer-term stay, we are working with Homewood Suites right now in Cambridge that provide an awesome location there and willing to give specialized rates. Again, car dealerships, the Parkway Ford, the Honda dealership, just different people in different parts, different businesses, and I'd be happy for anybody to contact me. I'd be happy to put their business in our KW guide so that our clients can see what our community has to offer as a whole.
What can we expect from you in the meantime? 
Well, other than expanding the company, just trying to stay healthy and promote a positive attitude and just want to keep on networking and meeting new people and business so that we can just help one another. I'm just happy to wake up every day and have a great life in this community. I'm just thankful for all my blessings.
Where can we find out more about your business or connect with you directly?
You can visit our website www.porchliterelocations.com, or we are in the Chamber of Commerce directory under Porchlite Relocations. You can call me at my number, which is 519-500-8223 and I'd be happy to answer all your questions and get back to you with, any concerns or additional information and love to have a conversation.
*This interview has been edited for length and clarity.