Female Founder (March): Julianne Costigan
On the first Tuesday of every month we'll announce a new Female Founder, including a video interview of them sharing their business story.
Want to be featured as a Female Founder? Contact Heather Hutchings for more details.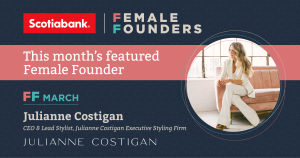 The fourth Female Founder we're featuring is Julianne Costigan, CEO and Lead Stylist of Julianne Costigan Executive Styling Firm.
Julianne Costigan Executive Styling Firm helps empower women to embrace their unique personal brands and assets, leaving them with an effortless yet chic image that allows their authentic selves and capabilities to shine through.
Julianne Costigan is the CEO and Lead Stylist of Julianne Costigan Executive Styling Firm, whose mission is to help women establish great style, build confidence and attain both personal and professional success. With over 15 years of experience in Styling and Media, she has been published in magazines such as The Kit, Elle Canada, Style Canada and Flare and as a Fashion Expert on Cityline, Global News and CHCH Morning Live.
She works 1:1 with personal clients and women of influence, offers a monthly subscription-based Digital Style Guide to her mass audience and holds her bi-annual Portraits With Impact event helping women to achieve the perfect headshot. Read more of Julianne's style advice in her monthly Shop The Kit column featured in The Kit and the Toronto Star. Julianne focuses on connecting and empowering women through thoughtful wardrobes and meaningful style at every touch point of her business.
To learn more about Julianne and her journey as a Female Founder, watch the interview below (or read the written format).

Tell us a little bit about your business.
At Julianne Costigan Executive Styling Firm, we help women establish great style, build confidence, and attain personal and professional success. We do this through a number of different ways and pillars within our business. So, number one, we are a service-based business – that's how I started. We work one-on-one with clients, mostly executive and public-facing women, where we help them to develop a personal brand and use clothing as a tool to achieve that personal brand. We also offer a digital product called the Digital Style Guide where we curate our one-on-one services and put them into a digital offering where women can subscribe on a monthly basis at an affordable price point and get all the tools, tips, tricks and our style advice. It's been a really great way for us to connect with a larger community and service anyone, anywhere. We also offer a number of different events. One is called portraits with impact, where we help women achieve a great headshot. We also do speaking engagements and master classes where we're able to talk about our tips or tricks and offer advice on a larger scale.
Where did your business idea come from?
Our business idea came from my start in Kitchener-Waterloo, where I grew up. I worked at a couple of local, High-End boutiques run by really incredible women in this community. I started volunteering there at age 13 because I wanted to work in the industry but couldn't actually get a job at that age. So, my mom said, "you know what, go volunteer and get your start that way". I started there and eventually got a job. And this is where I saw women coming in on a regular basis before a meeting or an important event in a panic saying, "I don't know what to wear. I've got this big presentation and I need a great outfit to make me feel great". It was in those moments that I realized I had the skill set to help women find pieces of clothing that were going to empower them and help them feel confident. This is something I did on an everyday basis with my own clothing, but I realized that not all women have the skill set to do that on their own. And so, there was an opportunity to do this with more women as I grew my career and my experience over time. That's where it started: in Kitchener-Waterloo in those boutiques, through education and a number of different work experiences. I realized that there was a path here that I could carve out and start my business.
What were you doing before you started your business?
Before starting my business, I volunteered and worked here in Kitchener-Waterloo at local boutiques. Then I went on to university. I studied at the Toronto Metropolitan University, formerly known as Ryerson, for Fashion Communications. And then I went and studied abroad at the Institute of Marangoni in London, England, and at IFM in Paris. During that period when I was in school, I was also working and interning at different Canadian fashion houses where I met a stylist who helped me really dive into this styling world and learn more about it. I worked for her for a few years in university and for a few years after before launching my own business.
What have been some highlights in your entrepreneurial journey to date?
Some of my biggest accomplishments to date are working with some profound and incredible women who are changing the world we live in today. Early in my career, I started in editorial and advertising work, which allowed me to work with more celebrity-type women who a lot of us would know. But truthfully, as my career has evolved, my biggest accomplishments are working with women like Meghan Markel, a peloton instructor named Olivia Motto who's paving the way in the fitness industry, and some powerful female politicians who are changing the world we live in today. Being able to help them do that through my work and our experience is really special. So, I would say that's the thing that I feel proud of and is the most exciting as we continue to grow.
And as our business evolves, what I'm realizing is most important to me is being able to connect with more women at a single time to empower them and help them build confidence. Some of the key ways we've done that in the last year and moving into this next year is connecting with them through more public platforms. We do fashion segments on Cityline where I talk about what we do with our clients one-on-one, but reaching this huge audience. The Kit, which is a fashion column and publication within the Toronto Star family, we produce monthly. We do Shop the Kit. This is where we give our style advice, answer questions that come in from their audience, and we can teach them about how to really take their wardrobe and make them feel empowered every day through the different choices that they make.
What have been some challenges that you or your business have had to face?
One of the biggest challenges I've faced as an entrepreneur is this moment in my own personal career where I was in this editorial and advertising world and realized that it wasn't my passion. I had to follow what I knew I wanted to do. There wasn't really a path carved out for this type of industry, which is working with executive women and personal clients. When I was growing up, what every stylist wanted to do was work with celebrities and in the advertising industry. That's what you saw on TV and what we talked about a lot, so you could understand how to get from A to B. But I realized when I was in it, I wasn't feeling fulfilled, which is an important part of what I needed to achieve success.
In 2019, with the help of family and friends telling me that I should really follow my passion, I left my agency and started my styling firm. It was just me. I had an intern who now works for me, and I started connecting with my personal clients that I always had on the side, and I started talking about what I was going to be doing before I was really even fully doing it. That was challenging because, in those moments, you really have to believe in yourself, and you have to surround yourself with cheerleaders and people who tell you that it is possible. I think every entrepreneur can probably talk about a moment in their life when they knew they wanted to do something, but it felt really nerve-wracking to do it.
But the only way you can get that success you are striving for is to take that leap. Fortunately, I have learned that there is a whole industry of women and men who crave our services and see them as an essential tool to achieve success and to grow in the corporate ladder or achieve personal success. We've worked with many different types of women and a few men, mostly the husbands of our female clients. I think that one of the hardest things that I've done in my career was making that leap and betting on myself.
Then something that I've noticed in my own personal career and life is that I've had mentors along the way. In my early days of dancing, three sisters mentored me, encouraged me and helped me believe in myself. And then I had the stylist who I worked for when I finished university. But as I switched paths, I didn't have anyone who I could turn to who was doing what I'm doing on a higher level. So, that's been another challenge. Of course, I'm surrounded by a number of women, my clients, family and friends who are all incredible and mentor me in different ways. But there's no one who I feel like I'm following or looking to for advice or leaning on as I navigate this industry that we're sort of carving out on our own.
Something that I've noticed as a trend, as technology becomes a new way that we're able to do business in any industry is we're almost creating the need a little bit. People don't know that our services are even available until they – either it's word of mouth spread through one of our clients or someone says "Hey if you need help with your wardrobe or you don't know what to wear, there are people who know how to do that". So, we're helping market that and create this need for our services because I think women and men both need our help and advice.
Often people forget that clothes are something that you wear every single day, and you can either let them help you or hurt you. And most people who don't know how to use clothes as a tool to empower themselves let them dictate how they're going to feel each day and how they approach their work, family life, and personal life. It's an incredibly powerful tool if you learn to use it in a way to influence your approach to the day. It can be a crazy tool that can dictate your mental health which, as we all know, is an important part of how we perform and live our lives and feel about ourselves.
Can you talk about personal branding and its connection to your professional life?
Personal branding is a new term that I think a lot of people aren't familiar with, but as social media and image play a more important part in anyone's life, personal branding is something we help our clients do. I think it's important because it allows you to take your goals and aspirations, and understand how you carry yourself, how you dress, and how all these things can play into how other people perceive you. As we all know people, whether you like it or not, judge. I judge a book by its cover. If I want to read something and it looks great, I'm going to choose that book because of the way it looks. It's similar to when you walk into a room. Sometimes you don't have the opportunity to speak or say what you want, but if you look great, people trust you immediately.
Personal branding is interesting because you think that you need a personal brand so other people perceive you a certain way, but often it can affect how you believe in yourself and how you perform. For example, today I'm wearing a pair of heels. No one sees it on this camera, but I know that it affects how I'm speaking and how I feel about myself and how confident I feel in front of the camera. I think that's what's so important about establishing a personal brand. It's about understanding what your goals are and then finding ways that you can use different tools like your clothes as a way to portray that personal brand that then allows people to understand who you are and gives you the confidence to be that person that you really want to be.
Knowing what you know now, is there anything you would do differently?
Knowing what I know now, I don't think there is anything I would do differently. Truthfully, I'm the kind of person that likes to move forward, very optimistic. Of course, I've made mistakes that I look back on, but I try and approach those thoughts with the intention of, "okay, that was a learning lesson". It's easier said than done, but you can't dwell on the past because you can't change it, but you can change the future. I feel really excited about the business that we're doing as a team right now. We've made a lot of progress in the last three years, and I think that's because I decided to commit to what I'm passionate about.
I have a team around me that believes in it too and we all support each other. I think we have a really, really exciting future ahead of us in 2023. No, I don't. I don't really regret anything that's happened to date.
What have been some core values that you've integrated into your business?
There are a few core values that have been important in our business. Number one is trust. We work with women in vulnerable moments, and so to be successful, they have to trust us. Then there's hard work. I really find that what we're doing in the fashion industry doesn't really exist, so we are carving out this path and the only way that we're going to be able to do that is by working really, really hard and being dedicated to it. And then, the last value is quality. For me, what's always been important is that we're providing exceptional, quality service. And if that means texting our clients at 10:30 at night to make them feel confident and empowered for that important meeting that they're relying on us for, I'm going to text them back. That's the extent and the quality of our service.
Tell us about the relationship you and your team have with your clients.
The relationship that my team and I have with our clients goes far beyond those moments before a meeting or the professional world. As we earn their trust in that world, we then become more of a friend to them that they lean on when sometimes their friends can't even support them. I say this all the time, but your clothes are something that you wear every single day, and they hold such power in your life. And we become that friend or that sister that our clients lean on in those vulnerable moments where we can give them advice that helps them feel really confident in those scary moments.
So, we do text our clients at 10:30 at night. We have had to find new ways to connect with our clients, like through a digital app that we use where we digitize our client's closets so that at any time, 24/7, we can log into their closets and help them put a packing list together or figure out what outfit they're going to wear. When you're able to connect with your clients on that level, really at any time, anywhere, you develop a special bond with them.
I think any business owner could tell you that the relationship you have with your clients is your biggest marketing tool. When they talk about you in front of their friend group, that's how you build business and build community. Ultimately, at our styling firm, more than just helping these women find confidence in their clothing, we're building a community and a network of women who empower each other and understand that they have this common thread amongst them that they use their clothes as a tool to feel confident. But they all have different industries that they work in. What's been so beautiful about how our business has flourished and evolved over time is that it is becoming this bigger community. We're all supporting each other in the ways we are experienced. That's been a really special part of our business that I didn't ever anticipate, but something that I'm very proud of and excited to see where it goes.
What methods have you used to help grow your business?
We have grown our business in so many ways, at different points in our career. I think mentorship has played a key role in some of the early days, and then building a community amongst our clients. A digital presence came into place during the pandemic when we had to rely on that as a tool to connect with more women.
An event that I started right after the pandemic is called Portraits with Impact. That came about because too many of my clients were communicating to me that they thought the imagery on my website was great and they didn't know how to achieve that for themselves. You think it's easy to get a great headshot. There are lots of opportunities often within businesses to stand in front of a wall and snap a photo. But for women, I think a headshot is so much more.  It's a key tool to growing your business and believing in yourself whether you work for a company or have your own business.
Portraits with Impact is this event where we give women the opportunity to sign up, and they get hair, makeup, nails, styling services, and photography all with a female team. It's a very encouraging, positive environment so that when you get in front of the camera, you feel confident. And that's hugely important in taking a great photograph that you're proud to put in front of an audience, where it can stand for you and say what you want to when you can't actually use your voice.
What's been so interesting about this event is that it started as a small 15-person event and is now a biannual event that we do with 25 women at a time. Over the last year and a half, we've photographed 100 women. And that's because some of the bigger brands that exist today, like Mercedes-Benz, and Valentino Beauty, have approached us and asked us to collaborate and create events for them. Being able to leverage the power of some of these bigger brands and the credibility that they give us has been a beautiful way that we've been able to grow and connect with more like-minded women and realize that there is an opportunity for us to see and connect with more women on a larger scale.
Our plans for 2023 involve a lot of development in the Portraits with Impact space because we've seen in just a year and a half how much opportunity that's brought us. We have some really exciting plans that I can't fully talk about right now, but hopefully some international travel and more events with these bigger brands where we're empowering their clients and their female leaders, which we hope trickles down and keeps and continues to grow this community that we've built.
What are some of your strategies when it comes to building teams and recruiting talent?
When it comes to building a team, I think any entrepreneur can tell you that it can often be the hardest part. I've actually been very fortunate to have my team literally walk into my life. One was connected through a great friend of mine, one approached me on Instagram, and one was connected through another colleague who knew someone they thought would be a great addition to the team. Currently, we are a team of four but definitely growing and the common thread amongst our whole team is not our experience, but our values. We're all small-town farm girls who loved fashion and were those outcasts in high school who followed their passion for style and fashion into school. What's so beautiful is that we're all hardworking, and we care for each other – these are all things that I think are taught and you learn over time at a very young age. And those things have made our business grow because our team is so connected, and we share so many of the same values.
So, it's been, I hate to say, but it's felt very easy building our current team. I know that's not necessarily what I can expect in the future, but what I've learned from this experience and being asked questions like this is that I know it comes down to values and not necessarily our experience. Moving forward as we continue to hire and grow our team, I'll look at those values that people applying for jobs have and their upbringing, how they grew up, and how they approach different events – not necessarily what's listed out on their resume as their experience, because I know that doesn't always translate into building the team that helps you grow.
What inspires you?
What inspires me on an everyday basis is the fact that I have to put on clothes every single day. Right now, I am five months pregnant, and my body is evolving and I'm experiencing what a lot of our clients experience when they come to us. I don't know how to dress for my body. It's taking over my life. I'm not feeling confident, and I've experienced that more in this pregnancy than the first one, which happened during the pandemic when leggings and sweaters were more acceptable. Now, I'm in a public atmosphere a lot more, so I'm experiencing that moment in the morning when you don't put on something that makes you feel great, and how it can really change how you feel about yourself, your mental health, and how you approach the day. What inspires me is realizing that we have the tools to change people's lives through this daily act of getting dressed.
And then also there are the texts and the messages that we receive from clients on sometimes a daily, weekly, monthly basis of how we've changed their day or how they received a compliment about what they wore that made them feel so incredible. Those are the things that make me continue to want to grow our business and light a fire under my butt to continue doing it and evolving it and finding more ways to connect with this audience.
What are three words you would use to describe yourself?
Hardworking, dedicated, and I have good intentions.
What's a book or podcast you're currently enjoying?
One podcast that I go back to all the time that I love and learn from is How I Built This. It's a business podcast that interviews different entrepreneurs that we would all know of, but it gets casual and informal, like this, and asks them about the real stuff. It doesn't necessarily highlight all the high moments, but it really talks about those hard times, those moments that I think any entrepreneur or person can relate to. It makes you feel like that success is a little bit more attainable, which I think we all want for ourselves and our businesses.
There are hundreds of them and there are so many inspiring stories, one of which was – oh my goodness I'm forgetting her name, but – the CEO of Spanx. She has an incredible story about getting nitty gritty with her business and I love that. I think that's so admirable in any entrepreneur. So, that's the podcast I go to and listen to time and time again.
What advice would you give to another aspiring business owner?
Advice I would give to another aspiring business owner is to surround yourself with cheerleaders. One of the most important things I have in my life is family and friends and colleagues who really make me believe that everything I want to achieve is possible. And it's incredible how someone who encourages you can make you think you can conquer the world, and someone who discourages you and tells you that you can't do something can make you shrink and feel small and not want to go after those things or take those risks. Entrepreneurship is all about risk-taking and believing in yourself. So, having a support system around you that encourages you is the most important thing that you can do in your life… and to not ask questions to people who you're not going to get the answer you want from. I've stopped doing that. It's not helpful. I know who's going to give me the answer I want, and I rely on those people in those moments when I need that advice.
What audacious goals do you have for your business in the future?
Audacious goals are a fun thing to think about. I don't think people think about that enough. What I love about January and starting a new year is you give yourself space to think about those things. I love this question.
Audacious goals for me have always been about how we can connect with more women at once. Any service-based business will tell you that you only have so much time in a day and you can only connect with so many people. I would love to have a TV show where we can talk more about what we do and how we do it because there's not enough of our type of firm in the world. I think there's a real opportunity to educate people. I think an app… we currently use an existing app and we've done some work behind the scenes to hopefully one day have our own app. But I think that is a long-term goal for me. That means we become a technology company, which fortunately enough, I come from Kitchener-Waterloo, and we have access to lots of people who hopefully one day could help us do that. I think an app would allow us to reach a more global.
Another dream I've always had is to have a store or chain of stores and filling them with pieces that someone, if they can't actually work with us one-on-one, can go into a store and feel like they're getting our advice, which again helps us reach that mission of helping more women at more times feel confident in their clothing and learn about the power of a great outfit.
Where can we find more about your business or connect with you directly?
There's a number of ways you can learn more about what we do and connect with us, through our website, juliannecostigan.com, or our Instagram. We do fashion segments on Cityline on a bimonthly basis. We do a column in The Kit, which is in the Toronto Star called Shop the Kit, where we're giving our advice every month.
You can always just pick up the phone and give us a call. We're always available and happy to chat and talk more about our services.