FEMALE FOUNDER (MAY): MELISSA DURRELL
On the first Tuesday of every month, we'll announce a new Female Founder, including a video interview of them sharing their business story.
Want to be featured as a Female Founder? Contact Heather Hutchings for more details.
The Female Founders Program would not be possible without our Title Sponsor, Scotiabank.
To learn a little more about the Scotiabank Women Initiative, and why they've chosen to sponsor this program, see the video below.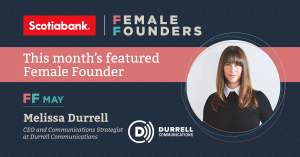 The sixth Female Founder we're featuring is Melissa Durrell, CEO and Communications Strategist of Durrell Communications.
Melissa Durrell is known for her distinctive storytelling techniques honed in her former career as an award-winning Canadian broadcast journalist. She now uses her unique skill set to amplify changemakers through brand storytelling, media training, crisis communications, executive communications, public relations and media outreach.
Grounded in Waterloo and inspired by the innovative tech sector, Melissa works as an investment pitch coach at several organizations including the globally ranked #1 private business accelerator in Canada, the AC. That passion for working with entrepreneurs led her to launching her second company Roseview Global Incubator to work with international entrepreneurs looking to build, acquire, scale and expand their companies in Canada. Over the last decade, she has helped companies raise more than $750M.
Paying it forward from her own experiences, Melissa now advocates for more women's voices in politics and business, organizing and speaking at various conferences. Serving as an elected official in Waterloo, Ontario City Council for two terms (2010-2018), her aggressive leadership style and "make it happen" attitude focused on urban issues, community building, and environmentally sustainable solutions. She has contributed to several boards including WCTWR (current), Uptown BIA (Chair), Women's March Global, Waterloo Library Board, Waterloo Park Committee, Reep Green Solutions Board, Founder of the Z Film Festival, Founder of Open Streets Waterloo, KWAG Board.
To learn more about Melissa and her journey as a Female Founder, watch the interview below (or read the written format).

Tell us a little bit about your business.
We are a global boutique PR agency working on progressive and thoughtful storytelling to amplify change-makers across our community. We focus on communication strategies, media training, media exposure packages. We work with clients in healthcare, tech, non-profit. We get to work with a wide range of clients, and we get to do this in beautiful Waterloo region.

Where did your business idea come from?
Well, 2010 was an incredible year. I was elected to the city council in the city of Waterloo and had to leave my former career as a journalist working for CTV Kitchener at the time. And, when I transitioned into city politics, I was kind of bored. It was a part-time job, and I had some extra time on my hands. So, I started to look around and a few people came to me to media train them. I started a media training company, and now it's grown into a communications company. It was really one of those incredible fortuitous, and some might say lucky, ideas that just started. And the seed just grew into this great company that I get to run today.
What did you do before starting your business?
I was a journalist for about fifteen years. I got to work in some amazing cities across this country. I started in Toronto, I worked in Ottawa. I also worked in Sudbury, Winnipeg, Saskatoon, and ended up in Kitchener-Waterloo, and fell in love with this community. I was a journalist here for about six years, and then I got the political bug. I ran for city council and was elected to Waterloo Uptown Ward. And from there, I really started to think about becoming an entrepreneur. I had a news director that said to me once that I would make a better boss than an employee. And so, I thought, 'Let's give this a try'. And since then, I've got the entrepreneur bug, and I own three businesses, so I think I am a better business owner than I am an employee.
What are some highlights from your entrepreneurial journey?
I was fortunate because before I started my company, I was kind of a political journalist. I was a general assignment journalist at CTV, but I really loved politics and so I made a lot of amazing connections with the who's who of the leaders in our city. And that really helped as I transitioned into my entrepreneurial career. I had a lot of mentors, people I could call on and get advice from.
I also think Waterloo Region was the perfect place to start my company. I really fell in love with this community from the first minute I started working as a reporter here. There's just something different. I think our former governor General David Johnston said, "What's in the water in Waterloo". I totally believe that's true. I really fell in love with the creative spirit that we have in this community. When I started my own company, there were so many resources, it was easy for me to transition into that ownership role. In the first five years, the toughest years, I was lucky to have some great mentors to work with.
And then, I would say, the journalism landscape was changing. And I say that because my company was looking to hire at the time. And so, I started to really look to journalists to be employees in my company, and it's a great fit. I'd say that was a great learning experience for me. I think like a journalist, and I think that really helped, especially with being a business owner. I can pick up the phone and call anybody, whether it's good news or bad news. Crisis communications come naturally to me, which was something that we could bring to the company. Government relations – I know how to talk to politicians. A lot of the skills that I had got as a journalist really were transferable in my company as an entrepreneur.
I think, too, a big part of my journey was really understanding what we needed to do, where we needed to grow. And I worked with a business coach, and I still do, and that was a big transition for me.
The other biggest thing in my entrepreneurial journey was I used to always joke that I had to figure out what I wanted to do when I grow up. I was a politician, I was running my own company, and I had another company that I was bringing forward as well. I really had to figure out what I wanted to do. And as much as I loved Uptown Waterloo, it was time for a new, fresh perspective to take over at the city council. It was a nice time for me to transition out. Probably one of the best and biggest moments for me as an entrepreneur was leaving politics and focusing just on my companies and helping them grow.
What are some of the challenges that you or your business have faced?
One of the biggest challenges with the public relations agency is our biggest stakeholder, which would be the media. The media landscape has changed dramatically over the last ten years. You don't have to look far to say there are far less people in the record newsroom, there are far less people in the CTV newsroom. And so, we're seeing this transition happen.
It doesn't mean that great stories are not being told and the stories of our incredible businesses in Waterloo region should be told. It's just how do you do it now with less and less reporters being able to tell those stories? That's been one of the things that we've really been working on. One of the reasons I hire so many journalists is we can actually write the stories and then submit them to the news organizations that may or may not have as many journalists on staff anymore. I think that's probably been the biggest thing.
I couldn't say challenges without talking about COVID. That was dramatic for our company and for so many other companies. We are service-based, we work with organizations in the Waterloo region and so when COVID hit them, it, of course, affected us. We were able to sort of evolve and edge out of COVID by offering some crisis communications plans. I think another big thing that came out of COVID was you really can't do communication strategy without having diversity, equity, and inclusion as part of those strategies. And so, making sure that we had the right people trained in the right places to be able to offer those resources during a very turbulent time… I think was important for us.
Knowing what you know now, is there anything that you would do differently?
If I was going to go back in time, one of the things that I would have done differently when running my company would have been specialization. When I first started the company, people were coming to me and asking me for communications help. "How do we tell our company's story?" In the beginning, especially for entrepreneurs, you're trying to grow your business, and you say yes to doing things that might be a little bit out of the space that you're comfortable with. We kind of dabbled a little bit in the marketing space. However, I think where we really are strong, due to the amazing women that work for me, is we're great storytellers. Most of us are former journalists and communication specialists. So, really falling in and understanding that that's where we live. We work with people. We tell them how to talk about their companies. We take their strategic plans and then make them into something that you can talk about.
You want everyone in your company telling the same story. I think had I figured that out sooner, we would have been in a stronger place. But at the same time, I think you also have to make mistakes in order to come out the other end and feel really strong about where you are. Yeah, I made some mistakes, but at the same time, I had an amazing team that I've built up today and I feel really good about some of the risks that we took and some of the things that we definitely learned from.
What are some of the methods you've used to grow your business?
When we started to grow the company, one of the big things that we started to do was some free webinars. We started to talk to people about what we were doing. I think freeing me up, doing less in the business and more of the marketing was truly one of the places that worked best for us. I love being on stages. I love coaching at either Communitech or the Accelerator Center. So, at the very beginning when we were growing the company, I was pitch coaching a lot, talking to companies about how to present all my tech CEOs on media training, and those kinds of things.
That started to pay off and the business started to come in. We really, truly were word of mouth, or if you want to use the marketing term, it was thought leadership. I was giving out free speeches and free workshops in order to create some trust within the community. A big thing for us too is giving back to this community. We always have had at least 10% of what we do pro bono to clients in this community. We worked with some incredible organizations through doing this.
I'm also really involved with amplifying female leaders in our community. If there's International Women's Day, if there are panels that are talking about equity and equality, I'd love to be either moderating them or being on them. That's one of the things that we've done a lot, and I encourage all of my employees to do the same thing. We're all volunteering within the community to give back. A big part of our marketing plan and how we grow the company is we give back. And we've been fortunate enough to see it come back to us at least twofold.
How do you define success?
This question is interesting to me because if you'd ask me ten years ago what I would consider success it would be making payroll and being able to pay my lease. And during 2020, I think that became a thing again. So sometimes it's just making all the bill payments at my company and making sure my employees are well taken care of.
But then, today I came into the office and one of my clients was featured on CBC. That's success for me because it's success for my client. So, getting big media hits is always a big thing for us. Growing the company is a big part of what I see as success. Making sure my employees are happy. They want to come to work. They're excited about it.
My definition of success almost changes every single day. For me, it's like I'm healthy and happy, and I love what I do. I love my clients. My family's in great shape. That's sort of how I'm defining success these days. Guess I'm just getting older.
What are some of the core values that you've integrated into your business?
One of the biggest core values for Durrell Communications is social responsibility, giving back. That is an integral part of our business plan. It's the values. It's the people who I hire, making sure that they've got their cup is full enough that they can also volunteer in this community and make it better.
I love that saying that you want to make sure that the world's a better place because you've been in it. And I truly believe that. I want to hire people like that. I'd like to be known as somebody like that. That is a huge value that we definitely hold dear. I think too, for us, a big part of it is passion for this community. You've got to love and live and breathe the Waterloo Region. I mean, essentially for many companies in this region, we're their mouthpiece. We're amplifying their stories. We're telling people about them. And so. I think you've got to love it. You've got to be passionate about it. You've got to love talking. A value for me is just that you love living in this community and you want to tell people about it.
Can you tell us a little about the team you've built?
I worked in several very male-dominated fields before I started Durrell Communications. And when I started to hire, I really was intentional about the environment I wanted to create at Durrell Communications. I wanted women to feel strong and powerful and that their voices were heard. As it started to happen, it was incredible.
These amazing female leaders, many of them which I've been working with for twelve years, have moved on to other companies. And they're strong and they're powerful and they're running these companies. It almost became like this amazing flywheel where we were hiring strong women and mentoring them and giving them a voice and giving them the confidence and helping them – I shouldn't say giving them, they had it – but just enabling it and promoting it and empowering them. And now I feel like we've got this awesome stable of incredible women at Durrell Communications and I couldn't be prouder to be working with each and every one of them.

What are some of the strategies you've used when building your team?

Building a strong team at Durrell Communications was important. When I named the company Durrell Communications, I never thought that it would just be me. And so, building up an incredibly talented team, especially since our team is almost entirely all women, was a big thing for me. When I was working in other organizations, I really struggled with mentorship and trying to talk to people about how to get better, all those sorts of constructive criticisms. When I built Durrell Communications, I really wanted to make that an integral part of it.
Mentorship and talking to my staff and making sure that they understand what their deliverables are, but also how to be great humans, and we have business goals and personal goals, and I think that's been a big part of building that strong team for us. We're all on the same page. We're rooting each other on. We use a great local company called Chocolate Soup, and I think they're a chamber member as well, but they help us with all the big milestones at our company, from birthdays to anniversaries.
The biggest transition for me, though, was realizing that I couldn't run this company by myself and starting to build a management team around me. My father gave me great advice when I was younger. He said, "If you're the smartest person in the room, you're in the wrong room". So, I built a great management team. They're all way smarter than I am, and they know what they're doing, and they can do all the Excel sheets, et cetera. That's been a huge part of it for me, allowing them to be able to bring to the table great ideas to help us grow this company. And it's also freed me up to be able to do what I love, which is working with amazing CEOs and entrepreneurs to help them tell their stories.
What have been the benefits of establishing your business in the Waterloo Region?
Do you have enough tape for this one? I love Waterloo region. It's interesting to me because when I first came here, I came as a journalist, so I was looking at it through a very different lens. I was reporting on what was going on in this community, but at the same time I was a younger woman and I'd just been married and my husband, who is a high school teacher, really wanted to put some roots down. And as a journalist, you're always looking for what's the next station I'm going to be moving to. But there was something about Waterloo Region that… We just stayed. And then as I transitioned into politics, now you're in it. I love Waterloo Region because it is a community where good things happen, people believe in each other, and people help each other. Nothing's ever done on an individual basis. It's always about collaboration. And I mean that from the bottom of my heart because I've been involved in many different organizations and all of them are trying to do what's best for the community.
I've lived in a lot of different cities as a journalist and growing up, going to university, and I've never felt that in a community before. It's really special in this community. I'll never leave. My husband and I bought this really old 1886 house in Uptown Waterloo. I'm dying in that house. I love this community. We're here to stay. And I feel like I've got the best company in the world. Because what I get to do is tell the world about all the amazing companies that are here in Waterloo Region. So, I'm not going anywhere.
What inspires you?
This community inspires me. The amazing tech, engineer mathematician leaders who are solving the world's most complex problems and have these really innovative solutions. People say, "I'm so worried about climate change" and all these huge things that are happening to the world. There's some solace for me that we are solving these problems, and we're solving them right here in Waterloo Region with the brilliant minds that work here. They inspire me every single day.
My company inspires me. The employees at my company inspire me. They come up with great ideas and amazing ways that we can tell the stories of the companies that we get to work with.
I have two teenagers right now, and they inspire me. They've got such a unique way of looking at the world, this Gen Z, and it's helping me look at the world in a different way. I think that's incredible.
There are so many amazing female leaders in this community, some of which I get to call friends. They inspire me every single day. They're constantly trying to figure out how we can make our community better, make it more equitable, and make it a better place for everyone to live. They inspire me. The people who put their names forward and are elected to be our politicians. They inspire me. It's a hard, hard job and I appreciate the work they do. I'm grateful for them. My husband, who's the best history teacher in Canada, inspires me. And I would say, yeah, that's a lot of inspiration. I'll leave it at that.
What advice would you give to other aspiring business owners?
One of the things that I learned was to create a vibrant workplace for people to come to. I really wanted everybody to feel inspired when they came into my workplace. We are in an old building in Uptown Waterloo. We pretty much have the entire third floor. I've got all the headlines of the companies that we've worked with. They're on the walls. Big open workspace so people can choose standing desks, couches, all sorts of places. Because I want people to come to work, and I think that that's important.
COVID amplified that in a way that I don't think I would have realized five years ago. That connection of people, and whether you're standing in front of a whiteboard or whether you're brainstorming around a boardroom – doing that digitally, virtually, it's just not the same thing. For my company and what we do, there's a lot of brainstorming and that must happen in person if it's going to be done to the best that it can be done. Creating a great workspace if you're in the service industry where people want to come in and it makes their brains start to have great ideas and all that, that's an important thing for me.
But here's the harsh reality. Probably some of the best advice I ever got was to hire slow and fire fast. And I stick to that advice, and I give it to every entrepreneur that asks me for advice. So, I will pay it forward to today.

What audacious goals do you have for your business in the future?
Audacious is an interesting word because it's so big and great and I want to be really careful and intentional about how I run Durrell Communications. I mean, for me, an audacious goal would just be to be the number one public relations agency that everyone goes to in Waterloo Region, maybe even Ontario.
But one of the things that we do really, really well is media training. And I work with some incredible former journalists in this program that we run. I think it would be really interesting to be the number one media training go-to across Canada. Of course, we'd always stay situated in Waterloo Region. We can travel, but I think that would be something that I could really contribute to across this country in a meaningful way.

What can we expect from you in the meantime?
Durrell Communications will continue to tell the stories and amplify the amazing leaders in this city, in this community. Like, look, we drink three to four cups of coffee a day, so we'll be the caffeinated communicators and continue to do that. We love to do that.
Where can we find out more about your business or connect with you directly?
You can find Durrell Communications on the web at durellcomm.com. We're on Instagram, we're on LinkedIn, we're on Twitter, as well as Facebook. We are in Uptown Waterloo on the third floor, just above King Street Trio, right across the street from the public square. Always feel welcome to come and pop by and say "hi", and brainstorm – we've got whiteboards everywhere. And please reach out to me directly. You can find me on Twitter at @MelissaDurrell and on Instagram at @UptownDurrell.
*This interview has been edited for length and clarity.