Female Founder: (November) Nancy Priest
On the first Tuesday of every month, we'll announce a new Female Founder, including a video interview of them sharing their business story. Want to be featured as a Female Founder? Contact Heather Hutchings for more details. The Female Founders Program would not be possible without our Title Sponsor, Scotiabank.
To learn a little more about the Scotiabank Women Initiative, and why they've chosen to sponsor this program, see the video below.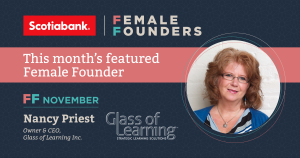 The next Female Founder we're featuring is Nancy Priest, CEO and Founder of Glass of Learning Inc.
Nancy Priest is the founder of Glass of Learning Inc. 
For over 20 years Nancy has been designing innovative learning strategies and solutions that assist organizations to achieve their business objectives. She is an award winning program designer and speaker, who has researched, developed and facilitated learning solutions for a wide variety of organizations around the world.  Her broad operational and managerial experience along with strong business acumen, allows her to bring practical and realistic insights to business challenges.
Nancy is a graduate of Ryerson University.  She is a Certified Training & Development Professional (CTDP), Certified Virtual Facilitator (CVF), and currently certifies Canadian Learning Practitioners.
Nancy has served two terms on the Board of Directors for the Canadian Society for Training & Development, (now The Institute for Performance and Learning) served as a judge for both the Canadian Learning Awards, and the International Learning Elite Awards.
Nancy is currently a member of the Chief Learning Officer magazine's Business Intelligence Board and is a member of the Teaching and Learning Team at University of Toronto, Ontario Institute for Studies in Education (OISE), teaching Evaluation.
To learn more about Nancy and her journey as a Female Founder, watch the interview below (or read the written format).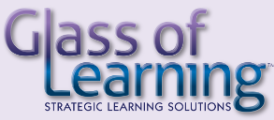 Tell us a little bit about your business.
My business is Glass of Learning Inc., and we design learning solutions for business and what I mean by that is that even though our employees come to us with education, they come to us with experience, there are many things that we need to teach our employees about how to do things the business way. So, we when we go into organizations, we figure out what's really going on and then we design a solution. The solution could be process improvement, it could be leadership training because knowledge and skills are only one piece of the puzzle on why people don't perform. It could be about building trust; it could be all sorts of different things but first thing is important to figure out what's really going on.
Every learning solution that we design, we also design a learning transfer process because people don't go to one or two or five days of training and suddenly change their behaviors we need an infrastructure and a support manager involvement when participants learn training because too often manager has no idea what the individuals have learned so we create that structure so that managers are able to support and coach any one of their people who are attending training. We also do virtual learning, and we do in-person learning and we do a lot of our learning in French and English.
Where did your business idea come from?
I never thought about starting my own business, but it did eventually just surface for me. I had spent basically all of my career in corporate learning. I had 20 plus years experience before I started my business. I was working with organizations all over the world designing and delivering learning solutions and then I really wanted to focus on the types of projects that I was most interested in, so I really just transitioned from what I was doing to doing it now for myself.
What have been some highlights in your entrepreneurial journey to-date?
One of the things we're very proud of is that we have won 22 awards for our programs, our learning programs as well as our learning process. 20 of those (awards) were on an international stage competing with other businesses around the world. We won a gold Stevie award recently, (Stevies are the Academy Awards for business) and that was for our leadership development process and program. We won an award for our virtual learning platform, because in the pandemic we quickly realized we needed to switch from classroom training to virtual training and so we had to learn all about virtual training, and we created a platform so that there was one spot for our participants to go to be able to do "Interactive Learning."
We also created a learning transfer platform, and the learning transfer platform is so because as I say people don't go to one day of training and suddenly change their behavior, they need to have a structure to be able to do that so we create that structure, so they can build new habits and make change in their process and have the managers involved, that's a very important piece.
What is your advice for upcoming entrepreneurs?
I think it's important for every entrepreneur to realize that despite all the specialties that you have and all the experience, there are many things that we don't know about running a business and so having the right talents to support you draws you out of that because you know the things that we do that are not our specialty take more energy take, more time, and that really drains on the business so getting the right talents to support you are really important.
Early on I started to realize that I just don't know how to do this, and the other thing is, is that when you're so focused on running the business you're not focused on building the business and those two things can conflict certainly so that's an important piece.
What methods have you used to help grow your business?
I think an important piece for us has been to really document the things that we do, you know because there's a lot of things in business a lot of practices that you don't do every single day and when you have to go back and think oh yeah, what did we do? How did we do that? When it's written down or documented in a structured way, it's really easy to go back to it and find that. It's also easy to train new employees to be able to take on those tasks so that's been a big lesson learned that we're able to do.
I think the other thing also is getting the right people in the right spot in a small business we don't have the resources to be able to hire another person if someone's not working out, so we have to make sure they're the right person. I mean too often when your business is a little bit bigger it's really easy to just bring another body and bring another body in and are they really the right person to be able to do the job? So that's something that we want to look at that, you want to be sure that you're keeping in mind with that and structured learning for anyone who is coming in because despite the talents that you've hired, they don't necessarily know the way you want to do things, and so having a real clear training plan is an important piece.
What was your catalyst for your business in the early stages?
Well one of the first things I did when I started the business was, I reached out to our professional association, which is the institute for performance and learning formerly known as the Canadian Society for training and development. There are chapters all across the country in every province and many chapters in some provinces depending on the size. So I reached out to the chapters and I volunteered to speak, to run a session, to come to their meetings and on my own dime I traveled across the country, and I went and I spoke at different chapters and that was a really great thing to do initially because I was able to get a lot of new names for my database and also find customers, who wanted to work with me. So that was a great start.
Another thing that we do is, all of our business come from referrals which has been amazing and so looking for referral partners, people that say are the champions of your business and wanting them to refer us and we're happy to pay them because that's just a natural thing that we need to do. We also you know I think it's important to keep up to date with what's happening, I take part in a lot of webinars, go to conferences, speak at conferences. I think you want to keep yourself fresh with what you're doing what your industry doing and also what's the industry of your customers doing we do a lot of work with manufacturing, so I subscribe to different manufacturing publications and sometimes pass that information on to my customers. as well saying: "Hey have you heard about this?"
How do you define success?
I define success by the customers that I work with, having taught learning evaluation I'm always creating a learning evaluation plan, so I want to meet that learning evaluation plan, I am looking to improve turnover, reduce absenteeism, increase opportunities for employees to get promotions. I'm looking to increase engagement – many organizations have engagement surveys so I always choose a few questions that we can impact and then look at how we can improve those. Achieving those results are very inspirational for me because we can see we have made a difference, and we can see the change in those people and that's what you need to really get the organization going.
What have been some core values you have integrated into your business?
One of the key ones for me is collaboration. We collaborate as a team even though I have a lot of ideas on what I want to do, I always talk it through with my team and we also collaborate with our customers. Although we come in and we figure out what's going on and I could go away and design a solution, I never do that without interacting with the customer, so collaborating with the customer, getting the right fit for them, making adjustments to the plan, working back and forth that is huge. Another one is curiosity; it is important to remain curious. Curious about our customer, curious about their business. curious about what's happening in our industry and that keeps us learning and growing so that, and aware of what's happening that could be impacting our customers.
Another one is fun. I think it's really important that we're having fun, people learn more when they're having fun, so we keep our engagement highly interactive and high energy so that it is fun for people to learn and then they remember more. I also think you need to have fun in the work that you do, (it) gets old really fast if you are not passionate about what you're doing and enjoying what you're doing so that's an important piece.  Another one is service, we provide a service to our customers, and we are always looking for ways that we can continue to build on that service, what else can we do to support this customer? How else can we help them to be successful? What are some of the challenges that they're facing?
Sometimes people ask me to put together emails for them or want to talk through some of the challenges they're having with people that they're interacting with, with their peers at a senior level, we can support any of those types of things if it makes our customer feel like they are well grounded and able to move forward with the process.
What are some key elements of team building?
With building the teams a few things that I might have touched on a little bit and one is figuring out what talents do you really and truly need? Is there someone else on the team who could take on some of those things? Who is interested in taking on some of those things? Do we need to provide training? And so, we really look closely at the skills that we need to bring on the talent, that we need and then we write a detailed job description.
We also create a detailed training plan because even though you make come with the talent that we're looking for, there's a glass of learning way that we do things and so we want to be able to share that with our employees. Having that documented process and procedures for how you execute certain tasks is very important.
I think another thing is even just collaborating with peers we have. Even though we have a core group of contract people that work with us, we have a wide range of contract people that we can draw on, the reason we have a wide range of contract people is because there's so many different talents in the Learning and Development space and so we look for those talents to say you know what, when we need someone who does this or that then we have those capabilities that we can draw on for any specific project that we have.
What have been some of the benefits of establishing your business in the Waterloo Region?
Well, some of the benefits of you know am very grateful – I've been able to be a part of is the fact that there are many resources for small businesses and entrepreneurs in this area. I don't know if that's the same in other areas but certainly in our area there are many resources available, and I really believe in learning I'm in the learning space.
I also need to keep learning and so how I keep learning is by reaching out and it's fantastic you can just pick up the phone and you can call these different areas and say look I'm interested in this what could you tell me about that and that's been really helpful so I've taken a variety of courses because again as I say when you start a business you are not a specialist in every single area and so you need to learn about digital marketing and you need to learn how to set up your books and all of those multitude of things so that you can run a successful business because it is necessary. So, I certainly have appreciated that opportunity of being able to learn and grow and reach out to the many resources that are available.
What's your take on diversity in the workplace?
Absolutely, I love to be able to go to market with a diverse team quite honestly. Sometimes it's hard to find the right people with the right skills that we're looking for at that time, that fit sort of the diverse qualifications that we're looking for, but definitely I think that is a really critical thing and that's definitely something that we're interested in is to even continue to work with – just different cultures and keep it diverse certainly because a lot of corporate learning and development is an international language, it is used throughout the world because every single organization needs to train their people to do something and so I would love to tap into those people who have worked in other countries, other industries, other businesses, and being able to do that because that I think brings a whole richness to our team when we learn from other people and other things that they have been doing in their countries and in their space.
If not for your business, what would you be doing?
Well hard to say because you know I have been passionate about learning for 30 years, it's like every handful is a new surprise, every day is interesting and different, and I love to do that but I'm also an instructional designer, I'm also a creator – I love to create and so I study silver smithing I create things for my grandchildren, I create activities and games for them so I think I would be doing something creative and creating something.
Who do you go to for advice?
That is actually really critical, I have two sons and I have always had my two sons as directors in the business simply because I mean they come from very diverse backgrounds themselves that they work in and I very much value their insights and opinions on what I'm doing so I definitely tap into that and then even with my family as well when I design a new experience, I will try it out with my family and so they're never sure what I'm going to bring to the next family activity… they're like my test group and I also have done that with with my friends when I need a bigger group. I have tested out activities with my friends and get their opinion and their feedback on the things that that I'm designing. So yeah, it's very helpful to have that input.
Where can we find out more about your business or connect with you directly?
I can be reached at Nancy@glassoflearning.com, and our website is glassoflearning.com. You can look there and check out the things that we do you can see a variety of videos, testimonials, all the things that we're involved in, and then also there you can sign up for our newsletter. In our monthly newsletter we create tips, and hints, and ideas for leaders to use as leaders and also with their teams. We look forward to checking in with you and finding out more.
*This interview has been edited for length and clarity.