Hockey Helps the Homeless Tournament Coming at Perfect Time
Ian McLean
President + CEO
Greater Kitchener Waterloo Chamber of Commerce
Our community is only as strong if every citizen has a safe and warm place to live. Homelessness has become a major issue in Waterloo Region as Out of the Cold program locations are closing their doors due to a number of reasons. Homelessness is an issue the Chamber takes seriously and has even taken the issue to the highest public policy advocacy group in the country at the previous Canadian Chamber of Commerce AGM.
As we move into winter support for those without a warm place to lay their head grows in importance, luckily the Hockey Helps the Homeless Tournament is making its debut in Waterloo on October 24th. The tournament was created in 1996 by Gary Scullion and a group of Toronto businessmen after they converted an industry hockey tournament into an event that entertains and gives back to the community. Hocket Helps the Homeless offers participants the unique chance to play alongside current and former pro hockey players. Since its creation Hockey Helps the Homeless has helped communities raise millions of dollars needed to help those in need.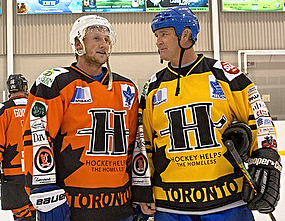 The fundraising goal for the tournament is $200,000 that will be distributed to four hardworking non-profits that includes the YWCA (which recently announced it will open an Out of the Cold location this year), the House of Friendship, Lutherwood, and the Homelessness and Housing Umbrella Group. The public is welcome to join and watch the action at RIM Park on October 24th free of charge and help the community end homelessness in Waterloo Region one hockey player at a time.
For information on the Hockey Helps the Homeless be sure to take a look at their website today and see how you can and your friends can get involved and have a shot at playing with those who have made it to the top of the hockey world.