Jony Studios is on a Mission to Help Musicians, Businesses, and Authors
Recently Named #1 Recording Studio, by Readers' Choice Awards, Jony Studios is on a mission to help musicians, businesses, and authors elevate their brand!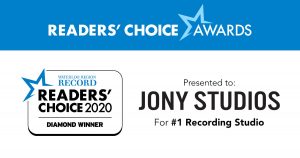 If you want your business represented well, having high quality audio and video recordings has become tremendously important in 2020.  It displays your commitment to consistent communication to your customers and classifies you as a top contender in your marketplace.
Right now, a new era of audio and visual productions are available to our community through Jony Studios. Their offerings go beyond the typical recorded Zoom call or Live Streamed content. They enable businesses to provide clear communicative information to their current audience and potential customers. As your number of listeners grow, you have the ability to reach a wider client base. Additions such as Podcasts, Audiobooks, and Videos will ensure your message is greeted with open eyes and ears.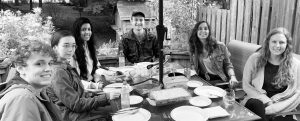 Want to ensure your messaging is received loud and clear?
Seek a professional studio to engineer your recordings.
Jony Studios, a recording studio based in Waterloo, is proud to announce that it has been recognized as the Diamond Winner for Best Recording Studio 2020, presented by the Record Readers' Choice Awards.
The Readers' Choice Awards is an award administered annually. This special designation recognizes businesses from all industries that demonstrate excellent client satisfaction and quality of service. The criteria for this recognition focus on an ability to add real value to clients above and beyond the other companies in the market.
"We would like to thank all of our amazing team members and clients for their support in making this moment possible for Jony Studios."– Jony Mansilla (Creative Director/Founder)
They have made it their mission to help musicians, businesses, and authors elevate their brand and grow through audio/video production and marketing services!
Jony Studios provides a mix of Audio Production (recording/mixing/mastering), Video Production (music videos/corporate videos, etc.), Podcast Editing and Production Services, Audiobook Production Services, and Digital Marketing (web/graphic design, SEO, brand development) to take Waterloo Region's Creators to the next level.
Jony Studios is a professional recording and video production studio located in the Kitchener-Waterloo area, providing a wide range of high-quality music production, marketing, and audio services.
Learn more about Jony Studios here: www.jonystudios.com