How to Leverage Your Tradeshow Booth Before and After You've Already Packed Up
David Tubbs
Marketing & Communications Lead
Greater Kitchener Waterloo Chamber of Commerce
Tradeshows happen in countless different industries and communities throughout the year. They hold tremendous value in building brand awareness, making great connections, generating buzz, and getting in front of potential customers and clients. With Tradeshows like the Chamber's Business Expo brings in thousands of attendees that creates a lot of great energy in the room.
But how do you leverage that energy and those new connections into business after you've broken down your expo display and left the building? Here are a few tips on making the most out of your booth space at a tradeshow:
Think About Your Booth Layout
Booth layout is something to think about well in advance of the tradeshow. What does the site provide you with? A table? Power outlet? Chairs? Find out what you have available to you before assessing your layout.
Ideally you want your booth to be open and inviting. Don't be stuck behind a table sitting in a chair if it can be helped. If you have a product or service that can be sampled by visitors you want to have enough space to interact and show off the product. If a long, fold out table is provided push it to the side to hold a monitor or TV and allow for an open environment. It seems like a small change to your layout, but can make a big difference in the eyes of tradeshow or expo visitors.
High top tables are always welcome pieces to bring with you as they allow you talk with visitors while standing. Plus, leaning against the tables offer a little bit of welcome relief from standing for hours on end.
Strength in Numbers
Don't come alone. There are several advantages in having more than one person manning your booth throughout the day. At high traffic times you never have to turn prospective visitors because you can't talk to them. During low traffic times you will have a chance to step away from your booth and start networking in 10 minute intervals. And for sheer practicality reasons, having two people manning a booth makes set-up and break down faster.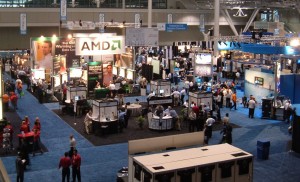 Look for Ways to Engage
Have you ever been to a department store and walked through the beauty department and been asked by someone holding perfume if you would like a sample? Ninety-nine per cent of the time people walk past with either a no eye contact or a dismissive wave and head shake. This is not a way to engage visitors at your tradeshow.
Start with eye contact and try to draw them in with a game, a small giveaway, or an interactive booth. Not everyone will need your product and by aggressively pushing it can hurt you in the end. Having a little bowl of candy or an interactive game helps bring in people either through pure curiosity or a love of candy and chocolate.
Categorize Your Visitors
You can likely to meet dozens of new prospects, if not more, at a tradeshow and they are all different in their own way. They might be interested but aren't decision makers. The person could merely be polite and hand over a card because you offered yours with a clear intention of not being overtly interested. Because there are so many different types of visitors, start putting them into categories shortly after they leave your booth.
This could entail making detailed notes on the back of their business cards or putting specific leads into a stack in a basket. It's up to you how you logistically keep track of your visitors, but by categorizing them beforehand will help save time on not prioritizing lower, perceived value leads.
Have a Social Media Plan
More and more tradeshows have filled with ongoing social media buzz that lasts before, during, and after the event. Tap into that by finding out the hashtag for the event. For example, the Business Expo's #BizExpo hashtag is used throughout the event by not only all the partner Chambers, but also many visitors and attending businesses. By tapping into that you can start to generate your own buzz and let your existing followers know your there.
Also remember to take time to tweet, Facebook post, Instagram, or Vine your presence. Those hours can fly by without a single post if it isn't top of mind. Make a plan and stick to it. This will only help build exposure for your business and keep it moving forward after you're all packed up.
Follow Up
It might sound ridiculously obvious, but you have to follow up with those you connected with and do so in a timely manner. Email them, add them to LinkedIn, or call them. It doesn't matter. Set aside a solid block of time in the days following the tradeshow and reach out to your most promising new contacts.
The Business Expo is on November 18th and is an annual tradeshow hosted by the Greater KW, Cambridge, and Guelph Chambers of Commerce that brings over 1200 visitors to one place. Secure your own booth today!