Warm Embrace Elder Care – The Impact of the Business Excellence Awards Gala
Being nominated for a Business Excellence Award is truly an honour. To know that someone in the community appreciates your business and is willing to nominate you, is a huge vote of confidence. The list of nominees is always exceptional and being included among them is a distinction in itself.
The 2021 Business Excellence Awards were unique not just due to the online format of the BEA Gala, but because they were based on the prior year of business operations during the pandemic. It goes without saying that throughout 2020, there was no such thing as "business as usual" and it was an exceedingly difficult year for many businesses.
At Warm Embrace Elder Care, we continued operations 24/7 throughout the pandemic. Our incredible front-line team of caregivers adapted to PPE use and additional safety protocols to ensure their own safety, and that of our vulnerable clients. When it seemed that so much of the world had retreated and hunkered down, our brave and loyal team continued serving elderly clients in need across the community.
We are so grateful for our team and we tell them so regularly. It is one thing for us to affirm our team and express gratitude for their diligence and exceptional efforts; it is quite another for the business community to acknowledge their efforts. So, when Warm Embrace Elder Care was selected as the recipient of the 2021 Business of the Year Award, we were elated that our front-line team of caregivers could be acknowledged for their essential role throughout the pandemic.
We continue to be proud of our caregivers for their infection control diligence as we maintain our record of not a single case of COVID-19 transmission amongst caregivers or clients. Our caregivers have proven how safe homecare can be when caring for the elderly in their own homes. For many of our elderly clients, we are their main social contact, and it is a privilege to share time with them.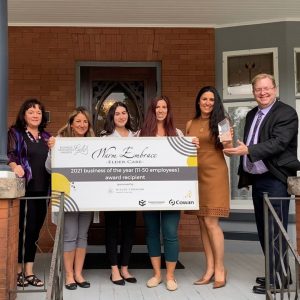 As a company, we are pleased that Warm Embrace did not lay off any staff, even at the height of the pandemic. We were able to maintain our team and provide gainful employment. We continue to expand and are now hiring additional caregivers to join our growing team. Currently, we're celebrating 14 years in business, and we look forward to many more years of providing dignified care to the elderly.
Thank you to the Greater KW Chamber of Commerce, and to the anonymous nominator, who recognized the critical work of our amazing Warm Embrace caregivers by awarding our team the 2021 Business of the Year Award.
This blog was written by Chloe Hamilton, Founder Warm Embrace ElderCare.
Nominations are now open until October 22th for the 2022 Business Excellence Awards Gala.