What's Estate?
What's Estate?
It's a question we hear all the time – "what is Estate Jewellery?" Estate Jewellery is previously loved jewellery. These pieces have been brought into our stores by someone looking to get rid of old or unused jewellery. Our master goldsmiths then refurbish the piece to have it looking like new! Refurbishing the jewellery could mean a simple polish an clean, or it could be a total overhaul of the piece. Some pieces have stones that are in great shape but the mount needs to be rebuilt. Some pieces have mounts that are still in great shape but maybe a stone is scratched or chipped and they would replace it with a new stone. When stones are remounted the goldsmith may also decide to change the design of the piece and you could have a totally redesigned piece built from the old jewellery. The possibilities are truly endless but the results are always the same – a great newly refurbished piece for an incredible price.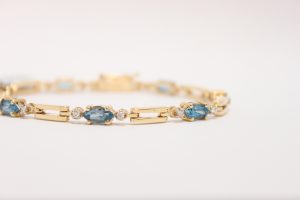 The reason Estate Jewellery is so sought after is because you can get an extremely valuable piece for a great price. Because the piece has been previously loved we are able to sell it to you at a more modest price point than if it were brand new. Basically, the value is still there because either the gold or stones are still of great quality. Take these two gold chains for example; they
are both 10 karat, 18 inch, yellow gold box chains, but look at the difference in price from Estate to New, it is nearly doubled!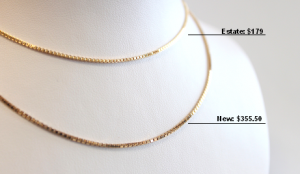 Estate Jewellery isn't just special because of the great quality you can get for a low price. It's also fun to see what unique pieces you can find. Some estate pieces have been around for many, many years, they've had their own journey and their time at Silveri is just the next chapter in their story. These pieces can be extremely different from those you would see in our new jewellery and are perfect for finding something that is unlike any other jewellery around these days. On the other hand some estate pieces are just a few years old and are still found in mainstream jewellery lines but again, they give you more bling for your buck. So whether you're looking for jewellery that is on trend or vintage, there is something for every style in Estate.