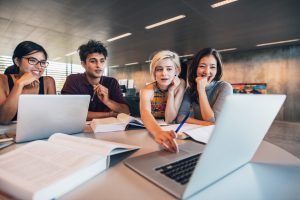 Do you have work that needs to get done but you don't have the staff to do it?
Do you have a project that you need help with on a short term basis?
If so, then perhaps a post-secondary student could help with your current talent challenges, enable more productivity and provide you with a source for innovative ideas!
---
The Greater Kitchener-Waterloo Chamber of Commerce (GKWCC) has partnered with the University of Waterloo (UWaterloo), Wilfrid Laurier University (WLU),  and Conestoga College (CC) on an exciting new project to help small businesses (less than 50 employees) connect with post-secondary students who are available for co-op work terms, project work, as well as other experiential learning opportunities.
Why should I participate?
Students can bring immense value to your organization by providing you with the opportunity to:
add temporary resources to your organization that will enable you to be more productive
access innovative ideas that students bring
raise awareness of your organization and industry
build a strong talent pipeline
How will the Chamber help my small business connect to post-secondary students?
One of our team members will talk with you about your talent needs and answer any questions you have about working with post-secondary students. Based on your needs, we will connect you with the appropriate post-secondary school(s) and continue to be available to answer your questions throughout the process.
What are the ways that I can engage with a post-secondary student?
Co-op opportunities and capstone projects are just a few types of experiential learning your business can take advantage of. Experiential learning also includes apprenticeships, internships, interactive simulations, practicums and more!
Students from a variety of programs, with a range of previous experience, are available and eager to help you!
Accessing Student Talent Webinar Series
Check out our previous webinars here and stay tuned for upcoming webinars!
Check out our newest blog posts! 
Meet the Chamber's New Co-Op Team
Create and Effective Job Posting to Hire Students
Employer Insights: Working with Students
Interested in learning how a student could help you? Contact Us!

---
Project Partners
This project is funded in part by the Government of Ontario